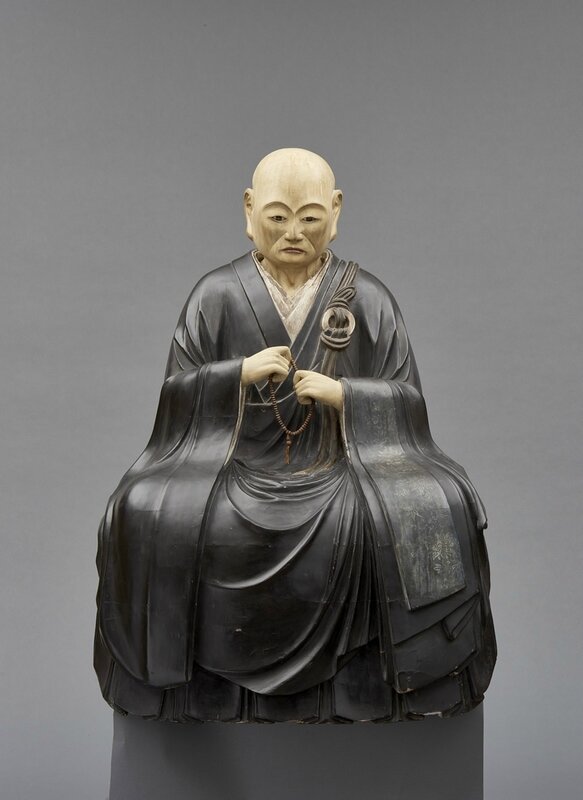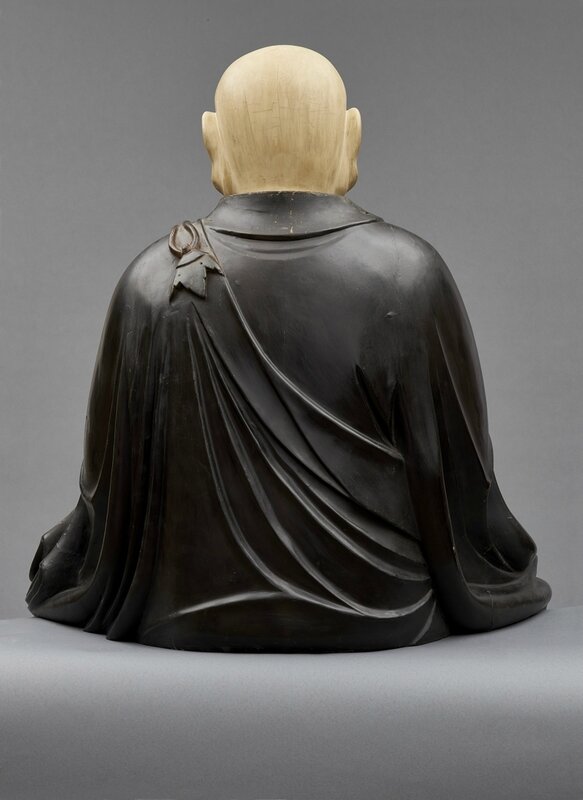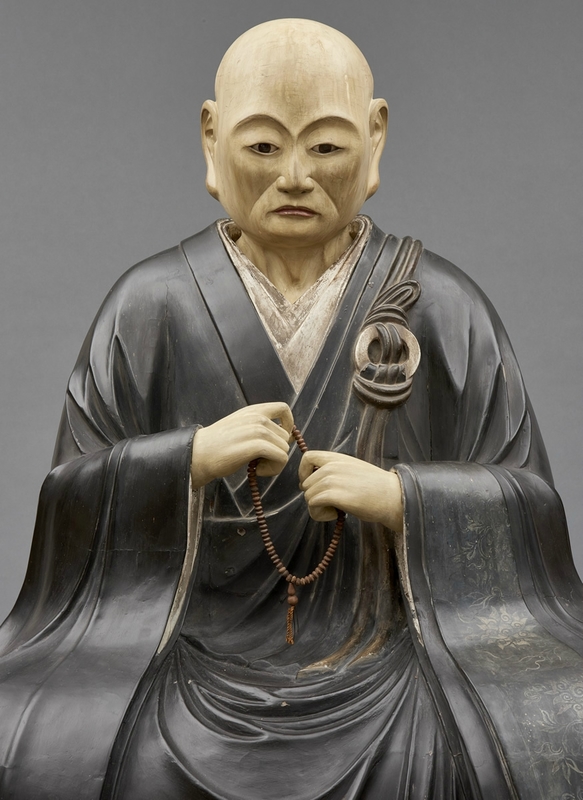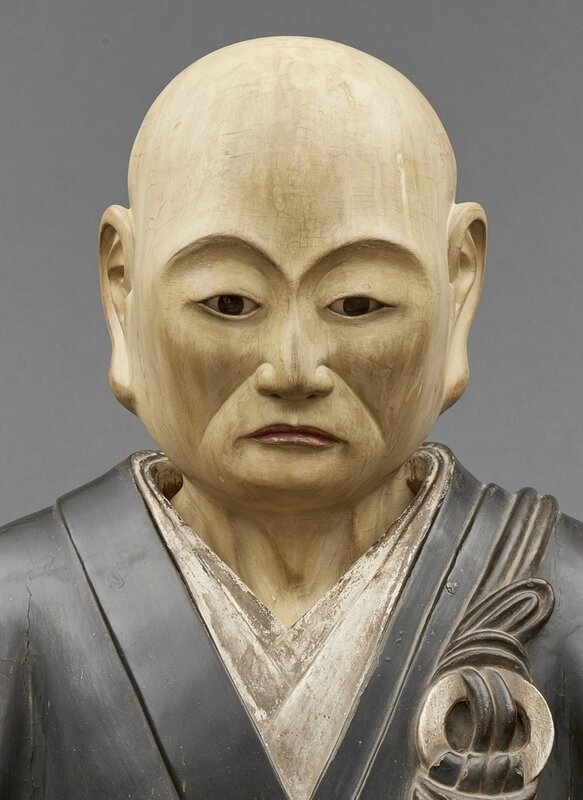 Lot 197. Importante et très grande sculpture en bois peint figurant un moine portant une robe noire assis et portant un rosaire à la main. H. : 112 cm; l. : 79,5 cm; Prof. : 56 cm. Estimation : 65 000 € / 85 000 €. Courtesy Boisgirard Antonini Paris
A l'origine, le moine était assis sur une chaise et ses chaussures étaient possiblement positionnées devant lui. On voit souvent cette pose sur les peintures de patriarches et de moines de haut-rang. La statue d'un moine dans cette position est plus rare car ceux-ci sont souvent représentés assis les jambes croisées ou debout.
On peut voir un exemplaire d'une telle statue (figurant le moine Fuō Kobushi assis sur une chaise avec des chaussures devant lui) dans le temple Seiunji (préfecture de Yamanashi). Cette statue date de 1353. Une autre statue datant du XIIIème siècle (celle-ci figurant Buttsu Zenji sur une chaise, mais sans les chaussures devant lui) se trouve au Hōkokuji dans la préfecture d'Ehime (Exposition spécialement consacrée à la portraiture bouddhiste au Musée National de Nara en 1981). Comme de coutume, la tête (de taille légèrement supérieure à celle d'une tête humaine) arbore des yeux incrustés et a été sculptée séparément, pour être raccordée plus tard au corps de la statue. Des tests radiocarbone séparés de la tête et du corps de la statue démontrent que le bois du corps est plus ancien que celui de la tête. Il est possible que la tête (figurant un visage sans expression à l'aspect plus sévère et hautain que des statues plus anciennes) soit en fait une tête de remplacement (d'une tête plus ancienne ayant été endommagée) datant du début de la période Edo. Le côté gauche de la bordure de la robe porte des traces de laque dorée et de volutes florales. Quelques restaurations. Y compris le support en bois.
Important and very large painted wooden sculpture of a monk in a black robe sitting while holding a rosary in his hands. Originally the monk was sitting on a chair with possibly in front of him his shoes. This pose is often seen on paintings of patriarchs and high ranking monks. A statue's monks sitting on chairs are not very often seen as most statues of monks show them sitting down with crossed legs or standing.
An example of a statue of a monk sitting on a chair with shoes in front of him is the statue of Fuō Kobushi in Seiunji Temple (Yamanashi Province) dated 1353 and a statue without shoes that of Buttsū Zenji in the Hōkokuji (Ehime Province) dating to the 13th century (Special Exhibition of Buddhist Portraiture, Nara National Museum 1981). As is usual the slightly larger than life head with inlayed eyes is carved separately and inserted in the body. Radiocarbon tests of the body of the statue and of the head show that the wood of the body is older than of the head. Possibly the head with a rather stern and lofty but slightly less expressive face than older statues often show, is an early Edo Period replacement of an earlier head that was damaged. The left hem of the robe shows traces of gold lacquer flower scrolls. Some restaurations. Including wooden stand.
Art du Japon chez Boisgirard Antonini Paris, 75009 Paris, le 13 Décembre 2017 à 14h00