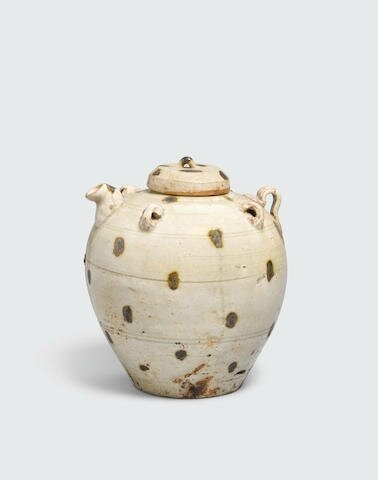 Lot 864. A spotted celadon ewer and lid, Trần dynasty, 13th-14th century; 7 1/4in (18.5cm) height of ewer, 7 7/8in (20cm) height with lid. Estimate US$ 3,000 - 5,000 (€2,500 - 4,200). Unsold. Photo: Bonhams.
Of compressed ovoid form with a short spout and a striated strap handle on the shoulder separated by four leaf shaped loops, the walls also incised with string bands visible beneath the pale olive-green glaze marked with iron brown dots of irregular shape, the wide foot and shallow base unglazed; the lid with faceted walls similarly glazed and fitting over the short neck of the ewer.
Note: For ewers of similar form with four leaf-shaped loops on the shoulder, see John Stevenson and John Guy,Vietnamese Ceramics: A Separate Tradition, 1997, p. 237, nos. 117 and 118 (as 13th/14th century). for an alms bowl and a beaker with the same spotted glaze, dated to the 13th/14th century, see Philippe Truong, The Elephant and the Lotus: Vietnamese Ceramics in the Museum of Fine Arts, Boston, New York, 2007, pp. 83-84, nos. 50 and 51. The spotted glaze may have been inspired by the many Longquan vessels exported to Southeast Asia during the Yuan dynasty: see the Southeast Asian Ceramic Society, Singapore, Chinese Celadons and Other Related Wares in Southeast Asia, 1979, pp. 190-195, no. 152 and nos. 154-157 (all as 14th century).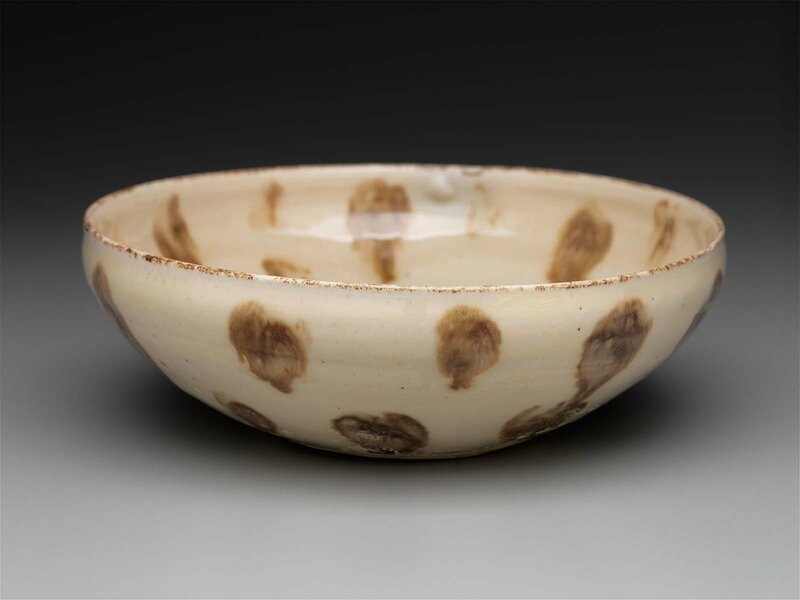 Alms bowl, Vietnam, Trân dynasty, 13th–14th century. Stoneware with bluish gray and yellow-brown glaze, five spur marks; 2 7/16 x 6 7/8 in. (6.2 x 17.5 cm). Gift of John D. Constable, 1989.801 © 2017 Museum of Fine Arts, Boston
Catalogue raisonné: Truong Philippe, The Elephant and the Lotus: Vietnamese Ceramics in the Museum of Fine Arts, Boston, 2007 Museum of Fine Arts, Boston, Cat. 50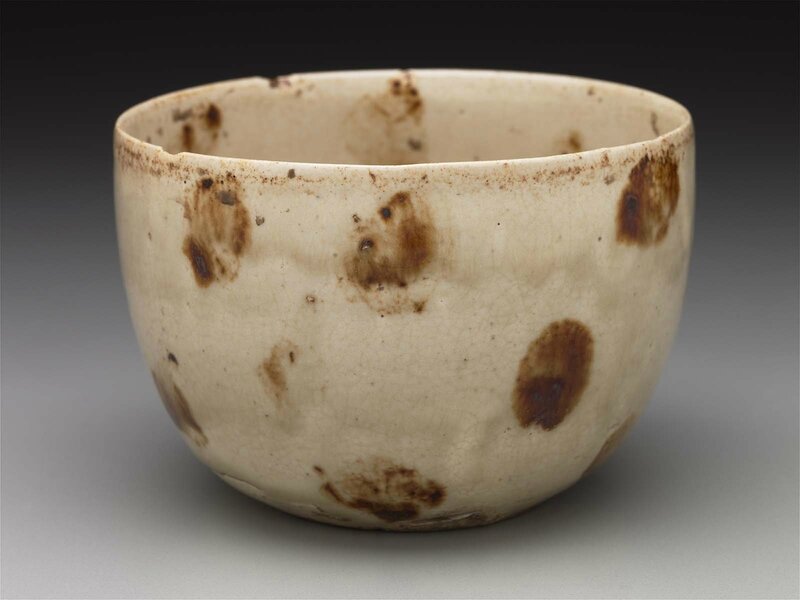 Beaker, Vietnam, Trân dynasty, 13th–14th century. Stoneware with bluish white and yellow-brown glaze, unglazed stacking ring; 3 1/16 x 4 1/2 in. (7.7 x 11.4 cm). Gift of John D. Constable, 1989.800 © 2017 Museum of Fine Arts, Boston
Catalogue raisonné: Truong Philippe, The Elephant and the Lotus: Vietnamese Ceramics in the Museum of Fine Arts, Boston, 2007 Museum of Fine Arts, Boston, Cat. 51
Bonhams. FINE ASIAN WORKS OF ART, 18 Dec 2017, 11:00 PST, SAN FRANCISCO