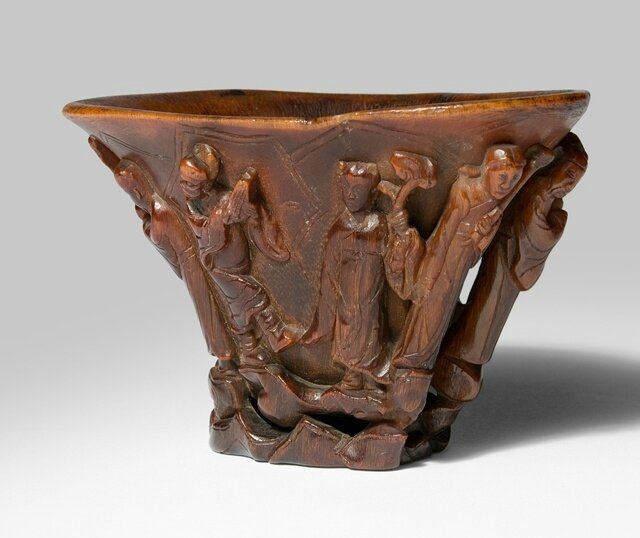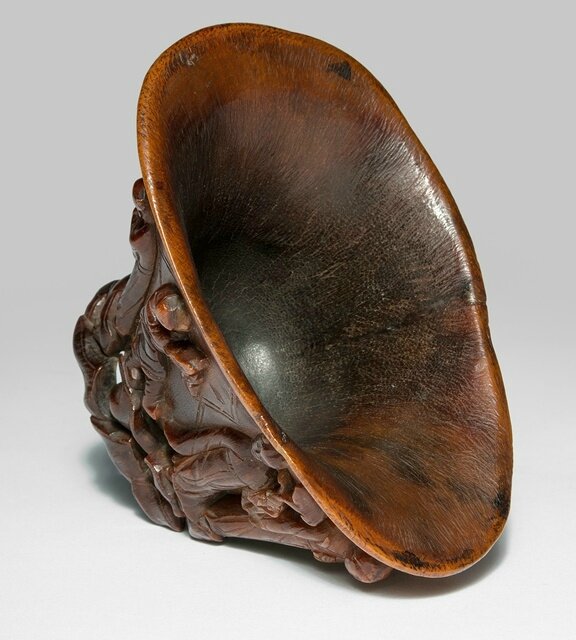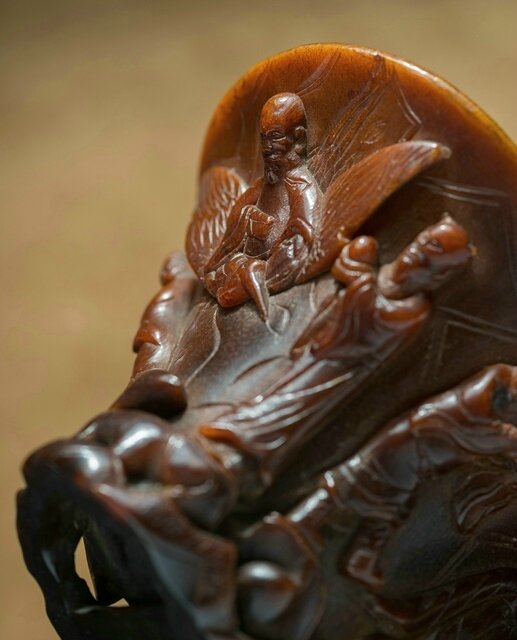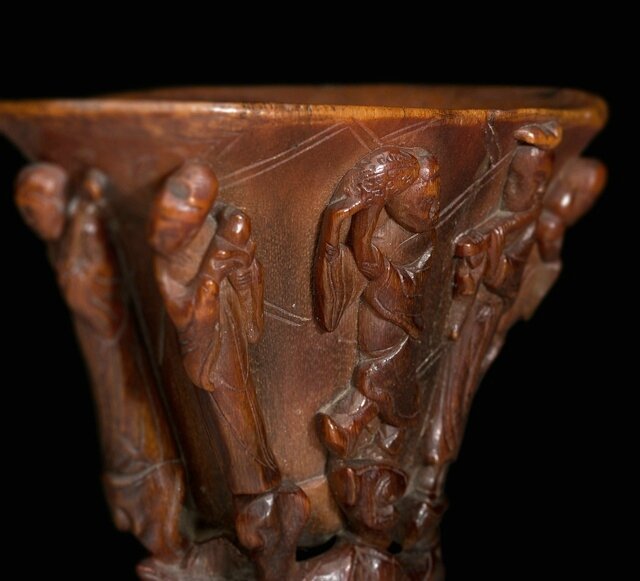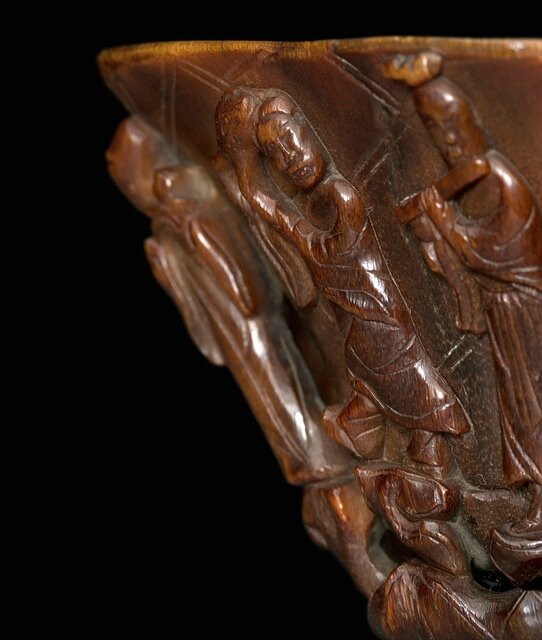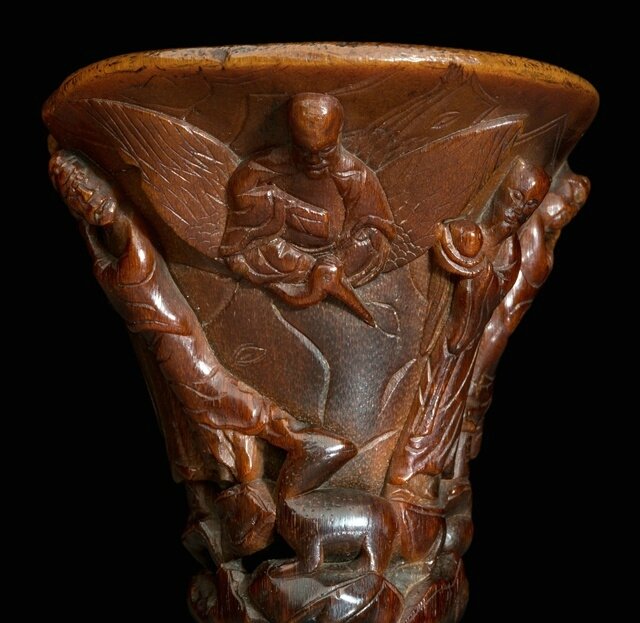 Lot 263. A fine and very rare rhinoceros horn 'Shoulao and Eight Immortals' libation cup, Wanli period (1573-1620). L. 14,3 cm. Estimate 30,000/50,000 €. Lot sold 28.000 €. Courtesy Nagel
finely carved as a veined lotus leaf, carved on the exterior in relief with Shoulao, the God of Longevity, flanked by a deer and flying on a crane, surrounded by the Eight Immortals, each holding his respective attribute, all below relief carved ruyi-shaped clouds, raised on an openwork base in the form of rocks, the interior undecorated, the horn of honey-brown tone. Slightly chipped, few small repairs, very minor losses.
Provenance: Property from an old North German private collection, inherited 1970 from a family member by the present owner.
Note: Compare related rhinoceros horn libation cups, similarly carved with the Daoist Immortals, 17th century, in the Osaka Municipal Museum, and in the Chester Beatty Library, illustrated by J.Chapman, The Art of Rhinoceros Horn Carving in China, London, 1999, pls.266 and 270-271; see also the cup illustrated by T.Fok, Connoisseurship of Rhinoceros Horn Carving in China, Hong Kong, 1999, pl.82.
For a related rhinoceros horn libation cup, early Qing dynasty, carved with the Eight Immortals, from the Qing Court collection, see The Complete Collection of Treasures of the Palace Museum: Bamboo, Wood, Ivory and Rhinoceros Horn Carvings, Hong Kong, 2002, pl.148.
The figures represented on the exterior of the rhinoceros horn cup are Shoulao and the Eight Immortals, a group of legendary deities depicted in Chinese Daoist mythology, consisting of Lu Dongbin, He Xiangu, Lan Caihe, Zhang Guolao, Han Xiangzi, Zhong Liquan, Li Tieguai and Cao Guojiu. Together they form the auspicious pun representing wishes for longevity, baxian pengshou. This subject matter would have been suitable for a birthday celebration.
See a related rhinoceros horn 'Eight Immortals' libation cup, early 17th century, which was sold at Christie's Hong Kong, 28 November 2012, lot 2165; another related example, 17th century, was sold at Christie's New York, 15 September 2011, lot 1233.
A carved rhinoceros horn 'Eight Immortals and Shoulao' libation cup, Ming dynasty, early 17th century. Price realised HKD 1,340,000 (USD 173,744) at Christie's Hong Kong, 28 November 2012, lot 2165 © Christie's Images Ltd 2012
A very rare 'Eight Immortals' rhinoceros horn cup. 17th century. Price realised USD 290,500 at Christie's New York, 15 September 2011, lot 1233. © Christie's Images Ltd 2011