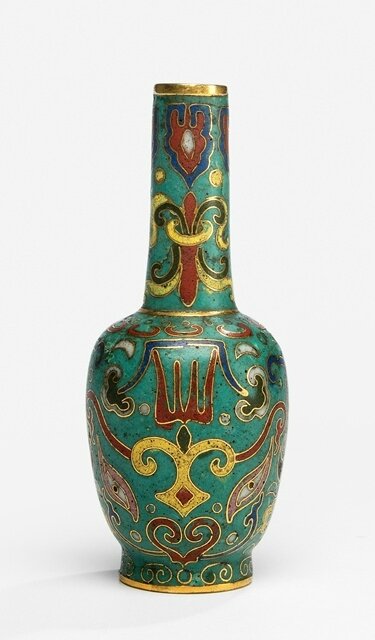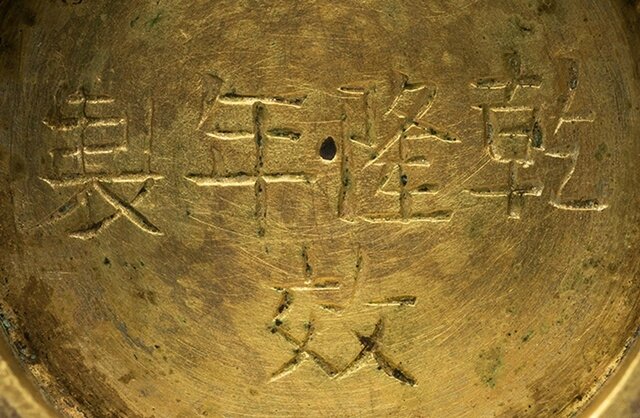 Lot 314. A fine miniature cloisonné enamel 'Taotie' vase, incised Qianlong four character mark and additonal character "xiao" and of the period (1736-1795). H. 11,1 cm. Estimate 8.000/12.000 €. Lot sold 6.000 €. Courtesy Nagel
Driven by the Qianlong emperor's call for inspiration to be derived from antiquity, decorative designs on various art objects (including cloisonné enamel) imitated ancient bronze forms and patterns. This is demonstrated in the present vase with brightly enamelled archaic taotie masks. Few very small losses to enamel, very minor wear.
Provenance: Former property from an old Berlin private collection.
Note: For related examples of archaic designs on Qianlong period cloisonné vessels, see The Complete Collection of Treasures of the Palace Museum: Metal-bodied Enamel Ware, Hong Kong, 2002, pls.94 and 115. An additional incised character is occasionally found underneath the Qianlong four-character mark, as in the present lot, 'xiao'. The additional characters can be a single number between one and five; an auspicious invocation; or an apparent instruction to distinguish the use and category. However, some scholars have suggested that it could have been a way to number the large number of objects in a correct order. See H. Brinker and A. Lutz, Chinese Cloisonné: The Pierre Uldry Collection, New York, 1989, pp.74-79.
For a related cloisonné enamel vase, Qianlong mark and period, see B. Quette, Cloisonné: Chinese Enamels from the Yuan, Ming, and Qing Dynasties, New York, 2011, p. 291. Based on its size and bottle shape, this vase was very likely made to hold incense instruments, as was a cloisonné enamel bottle vase of this type in the Clague Collection illustrated by Bèatrice Quette in Cloisonné: Chinese Enamels from the Yuan, Ming and Qing Dynasties, Bard Graduate Center, New York, 2011, p. 291, no. 130. As with the present bottle, the Clague bottle has an additional character, duan, below the reign mark. The author discusses, pp. 72-75, the small cloisonné vases, censers and instruments (luping sanshi) made for the burning of incense, and notes that a special group of these pieces made for the Qianlong court had an additional character below the reign mark, and "display particularly elegant craftsmanship."