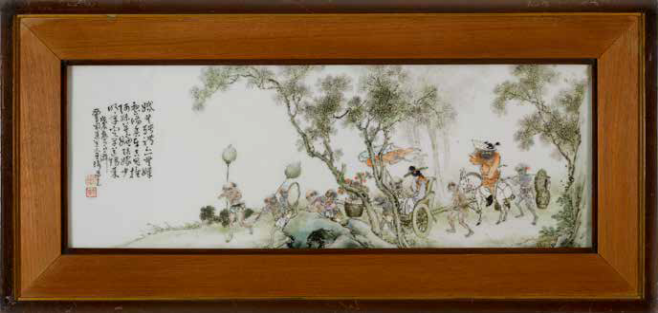 Lot 990. A polychrome enameled porcelain plaque, Wang Qi, dated by inscription to 1928; 8 x 23in (20.2 x 58.5cm) visible dimensions of porcelain. Estimate $60,000 - 80,000. Sold for US$ 312,500 (€263,824) inc. premium. © Bonhams 2001-2017
Of long rectangular section, depicting the demon queller Zhong Kui looking on stoically while his elaborate cortege of subjugated devils deliver his clearly distraught sister unwillingly to her marriage through a misty wood, beside the lengthy inscription including the wuchen date and the signature reading Xichang Taomi Daoren Wang Qi xieyi.
Note: After being deprived of his rightful place as top exam finisher due to his unattractive appearance, the Tang dynasty scholar Zhong Kui committed suicide in a rage by slamming his face into a pillar. His angry soul however would still go on to find employment in the service of the state as the emperor's personal 'queller of demons.' See Bartholomew Hidden Meanings in Chinese Art (San Francisco: Asian Art Museum of San Francisco, 2006), 285 for a succinct synopsis.
Something about this well-known legend seemed to exert an irresistible attraction on Wang Qi (1884-1937) for the length of his career. Simon Kwan's Chinese Porcelain of the Republic Period: the Muwen Tang Collection Series [Minguo Ciqi: Muwen Tang Shoucang Quanji] volume 6,(Hong Kong: Muwen Tang Fine Arts, 2008), includes no fewer than three pieces by Wang Qi depicting the demon queller, no. 22-24, pp 102-107. See as well the vase offered in these rooms as lot 8186 in Bonhams sale 22510 of 10 December 2015.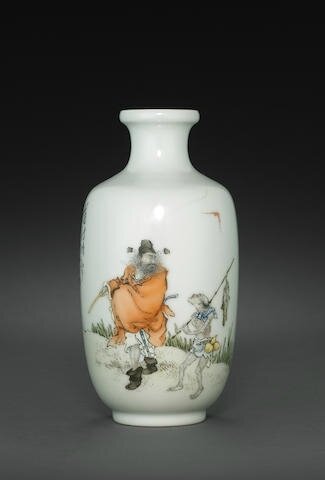 A small polychrome enameled vase, Wang Qi, dated by inscription to 1927; 6 5/8in (17cm) high. Sold for US$ 12,500 (€10,552) at Bonhams San Francisco, 10 December 2015, lot 8186.

© Bonhams 2001-2017
What the demons that appear in all of those examples share in common with those in the present lot is that they all seem less like ferocious enemies to be slayed and more like begrudging and annoyed assistants to an equally begrudging and annoyed Zhong Kui. Queller and quelled perhaps thus find a tenuous common ground in their shared experience as being homely outcasts from a society concerned only with superficial beauty.
Indeed in the present lot, Wang Qi characteristically utilizes porcelain of long horizontal shape to explore these ideas with an imagination and technical virtuosity equal to some of his finest other published examples in this format: see Kwan no 27 pp 112-113 Op. cit. as well as the plaque offered in these rooms as lot 8191, 19 December 2016. As only Wang Qi can, the plaque progressively unveils a spectrum of exaggerated and grotesque facial expressions and body language as the elaborate team of devils delivers Zhong Kui's sister to her wedding through the dreary woods. Angry, embarrassed, irritated and concerned, Wang depicts the quelled minions in every uncomfortable shade of the emotional rainbow. Perhaps equally demonic in his own way, Zhong Kui avoids making eye-contact with the weeping sister he's giving away, a maiden renowned for a beauty she here hides from the viewer by burying her head in her sleeve. Zhong can only hide underneath a broken fan himself, also unable to make eye contact with the viewer-- Wang Qi in this way rendering the potentially one-dimensional folk tale of Zhong Kui and his personal demons with a fully formed psychological portrait of sadness, trauma and perhaps a bit of shame.
Bonhams. FINE ASIAN WORKS OF ART, 18 Dec 2017, 11:00 PST -+ SAN FRANCISCO