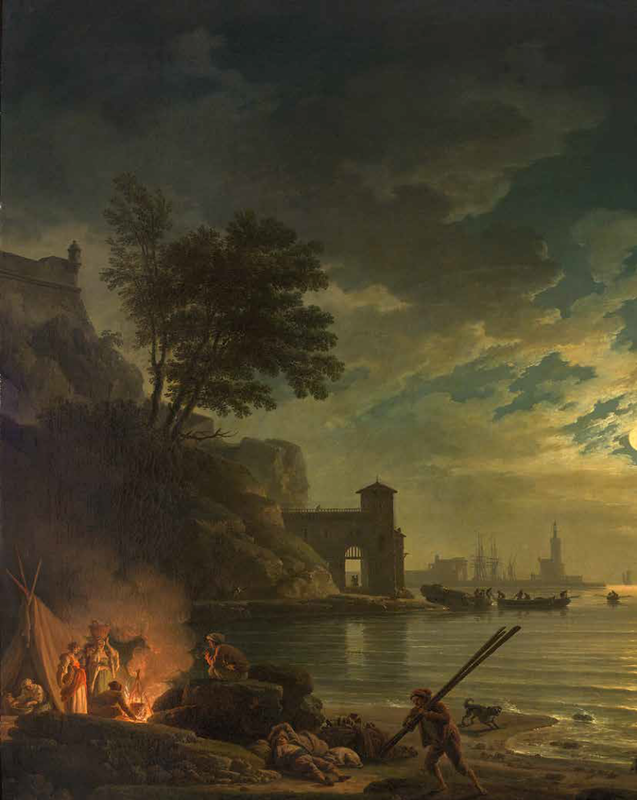 Lot 87. Claude Joseph Vernet (Avignon 1714-1789 Paris), Clair de lune, signed and dated 'J. Vernet/ f.1772' (on rock, lower left), oil on canvas, 114.8 x 164cm (45 3/16 x 64 9/16in). Estimate £100,000 - 150,000 (€110,000 - 170,000). Sold for £752,750 (€849,911) inc. premium. Photo: Bonhams.
Provenance: Commissioned November 1771 by Henry, 8th Lord Arundell of Wardour (1740-1808), Wardour Castle, Tisbury, Wiltshire and by descent until the
Arundell sale, L.W. Arnett of Darlington, Wardour Castle, 10 September 1952, no. 144 (paired with La Tempête)
With Galerie Popoff, Paris, by 1957
Literature: J. Britton, Beauties of Wiltshire, London, 1801, vol II, p.10
G. Waagen, Galleries and Cabinets of Art in Great Britain, London 1857, p. 392, letter VIII
L. Legrange, Les Vernets. Joseph Vernet et la peinture au XVIIIe siècle, Paris, 1864, p.350, no. 253, and p. 367, no. 163
F. Ingersoll-Smouse, Joseph Vernet, Paris, 1926, vol. II, p. 23, cat. no. 954-955
P. Conisbee, 'The Shipwreck, 1772, by Claude-Joseph Vernet', in Mélanges en Hommage à Pierre Rosenberg: Peintures et dessins en France et en Italie XVIIe-XVIIIe siècles Paris, 2001, pp.153-158
P Conisbee et al. French Paintings of the Fifteenth through the Eighteenth Century. The Collections of the National Gallery of Art Systematic Catalogue. Washington, D.C., 2009, p. 432, under no. 92, ill. fig.1
Note: Typical of Vernet's work at the height of his success, the present Clair de lune was almost certainly commissioned from the artist by Henry Hoare (1705-1785) on behalf of Henry, 8th Baron Arundell of Wardour (1740-1808), as one of a pair to hang at his newly built New Wardour Castle near Tisbury in Wiltshire. The pendant, known as The Shipwreck now hangs in the National Gallery of Art, Washington (see fig. 1, no. 2000.22.1). The works were sold as a pair in the Arundell sale at Wardour Castle on 10 September 1952 (lot 144) and the Washington picture is then recorded as being with Galerie Popoff, Paris, by 1957. On the reverse of the present painting is a storage label with a pencil inscription which reads 'Popoff', suggesting that this Clair de lune was also with Galerie Popoff making it the most likely candidate to be the partner of The Shipwreck in the National Gallery of Art, Washington.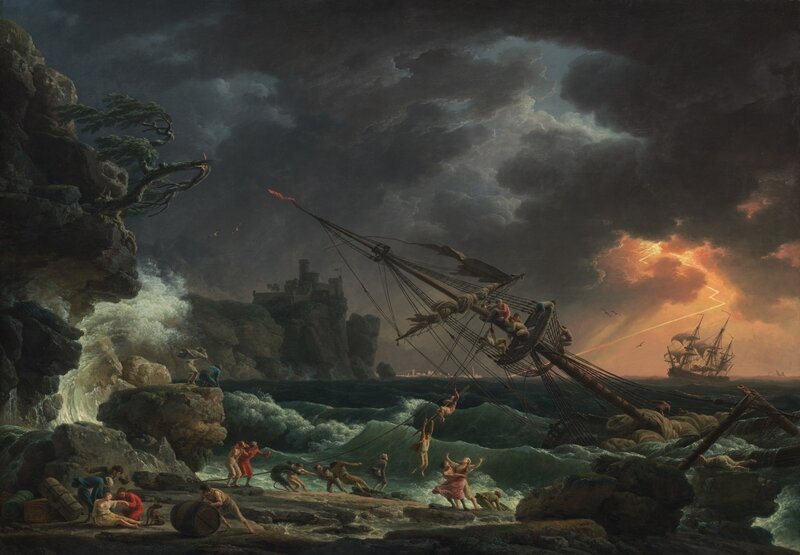 Fig. 1 Claude-Joseph Vernet, The Shipwreck, 1772, oil on canvas, 113.5 x 162.9 cm, Patrons' Permanent Fund and Chester Dale Fund. National Gallery of Art, Washington.
The commission on behalf of Lord Arundell came via Vernet's agent and patron, the banker Henry Hoare. In his Livre de Verité, Vernet's record of all commissions and payments, he writes that 'In a letter of 25 November 1771 M. Henry Hoare commissioned from me two paintings for Milord Arnundell [sic] a Moonlight and a Storm at Sea; he offered me 200 pounds sterling for each and did not indicate the size. I proposed to him to make them 5 feet wide by 3 feet 6 inches high, or 5 feet by 3'1 . The paintings were completed by the summer of the following year and, again in his Livre de Verité under 'Receipts', Vernet writes that 'Around the last days of the month of August 1772 I received from M. le chevalier Lambert 9000 livres as payment for two paintings that I made for Milord Arnundell' 2.
That Arundell's request for a 'Storm at Sea' and a 'Moonlight' is so open in its particulars is typical of commissions coming to Vernet by this stage in his career. His reputation as a marine and landscape painter was so well established that any potential patron knew exactly what a work by the master would be like. Also typical of this commission is that it was for a pair of works. Vernet often depicted his landscapes or marines in pairs, or even fours, with contrasting aspects of nature, for example Night and Day or Storm and Calm. The Shipwreck in Washington shows a ship running ashore during a dramatic storm. The strong winds are indicated by the bending trees on the cliff and the sharp angle of the lurching ship's mast. This drama is contrasted with the calm of the present Clair de lune with the cool silver light of the moon illuminating the sea and the warm glow of the campfire lighting the foreground. John Britton chose to mention them amongst the highlights of paintings hanging at Wardour Castle during his visit in 1801, when the pair is recorded as hanging on the staircase along with a view of Lake Nemi by Richard Wilson.
Henry, 8th Baron Arundell of Wardour was an avid patron of the arts. At the age of 16 Henry inherited Wardour Castle which had been greatly damaged during the Civil War. He borrowed the funds to build New Wardour Castle and the original castle was left in the grounds as a romantic ruin. Built in the Palladian style, the new castle, or house, was designed by James Paine with some additions by Giacomo Quarenghi, the architect best known for his work in Imperial Russia and more particularly in Saint Petersburg. The building was completed by 1776 and it is recorded that in 1801, the present work and its companion were hanging on the staircase. By Gustav Waagen's visit half a century later, they were in the Drawing room when he noted they were 'distinguished for careful execution as well as poetic invention'.
A native of Avignon, Claude Joseph Vernet first trained in France but then moved to Rome aged 20 where he joined the studio of the successful marine landscape painter Adriaen Manglard. He made numerous visits to Naples but remained in Rome until 1753. During his time in Italy he forged a very successful career as a marine painter with his works proving popular with both French diplomats and Grand Tourists. The English were among his most consistent patrons, no doubt encouraged by Vernet's English wife, Virginia Cecilia Parker, daughter of a captain in the papal navy. By 1746 he was approved by the Académie Royale in Paris, enabling him to exhibit at the annual Salons. Vernet's most prestigious commission came in 1753 from the marquis de Marigny, Surintendent des Bâtiments on behalf of King Louis XV. The artist was summoned back to his native country to paint twenty views of the Ports de Frances, one of the most significant commissions of the king's reign. Vernet returned to France to commence work on the series but it was left incomplete 10 years later when he abandoned the project having completed only 15 of the proposed 20 views.
1. (Par une letter du 25 novembre 1771 M. Henry Hoare me demandé deux tableaux pour milord Arnundell [sic] un Clair de Lune et une Tempête de mer, il me propose 200 livres sterlins pour chaque et ne fixe pas de mesure. Je luy ay propose de les faire 5 pieds de large sur 3 et six pouce de haut ou 5 pied sur 3' (Legrange, ibid, p. 350, no. 250)
2. Vers les derniers jour d'aoust 1772 j'ay reçu de M. le chevalier Lambert 9000 l. pt prix de deux tableaux que j'ay fait pr Milord Arnundell[sic] ordonnez part M. Hoare' (Legrange, ibid p. 367, no. 163)