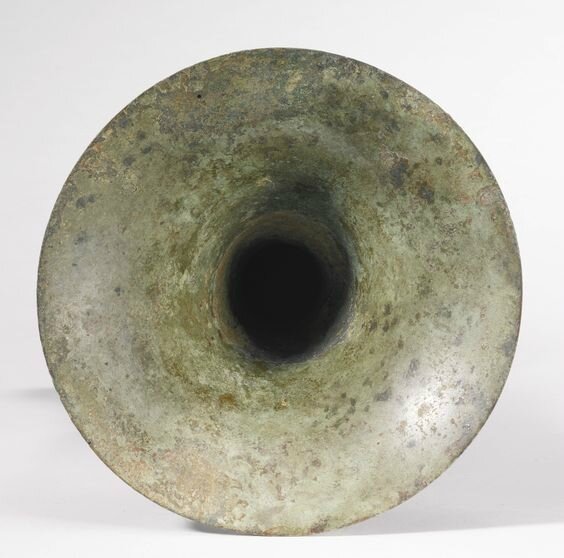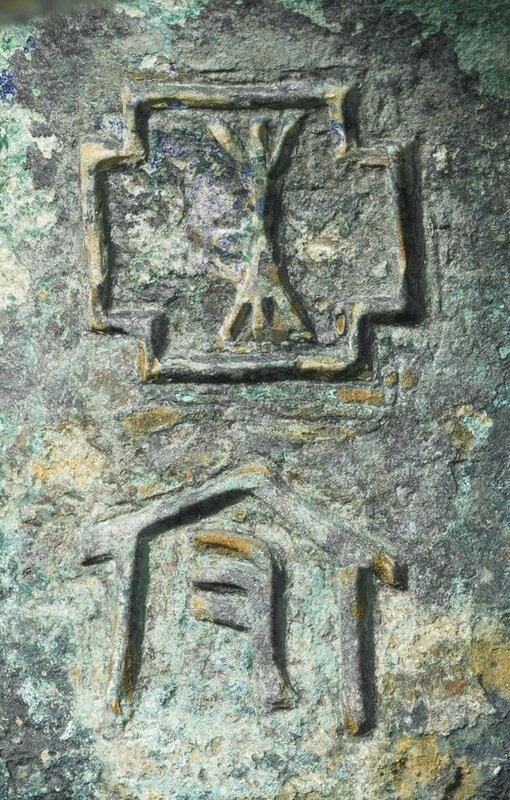 Lot 35. A Bronze Ritual Wine Vessel (gu), Late Shang Dynasty, 13th-12th century BC. Height 12 3/8 in., 31.3 cm. Estimate 60,000 — 80,000 USD. Lot sold 245,000 USD. Photo: Sotheby's
of slender, waisted form, crisply cast around the mid-section and splayed foot with pairs of taotie masks with raised eyes on a fine leiwen ground, centered by notched flanges and divided by a pair of bowstrings interrupted by two cruciform apertures, the tall flared neck encircled at the base by a narrow band of hooked scroll serpents with protuberant eyes all below four upright triangular blades enclosing parallel hooked lines and further leiwen, the patina of silvery green color with areas of light encrustation, the base interior with a three-character inscription, Ya Mu Shou.
Provenance: Collection of Captain S. N. Ferris Luboshez (1896-1984), Falls Church, Virginia.
Sotheby's London, 29th March 1977, lot 171.
Sotheby's London, 15th April 1980, lot 18.
Christie's London, 16th December 1981, lot 314.
Collection of Dr. Ip Yee.
Sotheby's Hong Kong, 19th November 1984, lot 2.
Literature: Wang Tao and Liu Yu, A Selection of Early Chinese Bronzes with Inscriptions from Sotheby's and Christie's Sales, Shanghai, 2005, no. 225.
Chen Mengjia, A Classified Catalogue of Bronzes of the Yin and Zhou Dynasties, Tokyo, 1977, no. A481 (R149).
Hayashi Minao, Conspectus of Yin-Zhou Bronzes, Tokyo, 1984, vol. 1, Gu, no. 127.
Note: The present vase is distinguished by its fine proportions and crisp, even casting. A similar vase to the present is illustrated in Robert W. Bagley, Shang Bronzes in the Arthur M. Sackler Collection, Cambridge, Massachusetts, 1987, p. 255, no. 38. Another with the same bands of decoration in the Palace Museum, is illustrated in Bronzes in the Palace Museum, Beijing, 1999, no. 43.
Sold at auction in our London rooms 29th March, 1977, lot 171, the gu was offered as one of a selection of seventeen pieces from the famous collection of Captain and Mrs. S. N. Ferris Luboshez. A lawyer and inventor who held numerous patents, Luboshez served in the US Navy during World War II and ended his tour of duty as a Central Field Commissioner based primarily in Shanghai. It was during his four years living in China from roughly 1945-1949 that he collected a large group of early ceramics from the Han and Tang dynasties as well as Shang and Zhou dynasty bronzes. It was through his official position that he gained access to many fine pieces which he purchased in Shanghai, Beijing and on frequent trips to Japan. For further reading on Luboshez see Jane Tilley Griffen, 'The Luboshez Collection', Arts of Asia, Vol. 2, No. 4, 1927.
The vessel was also in the collection of Dr. Ip Yee who was a legendary figure in the art circles of Hong Kong. He was interested in a wide range of art and formed a vast and important collection. He generously donated many objects to Chinese museums, and, after his death, his collection was auctioned by Sotheby's in Hong Kong in 1984, to benefit numerous children's charities and museums. He was instrumental in the organizations of several seminal exhibitions such as the Chinese Bamboo Carving (HK Museum of Art, 1978), An Anthology of Chinese Ceramics (HK Museum of Art, 1980) and Chinese Jade Carving (HK Museum of Art, 1983).
Sotheby's. Fine Chinese Ceramics & Works of Art. New York | 17 sept. 2013