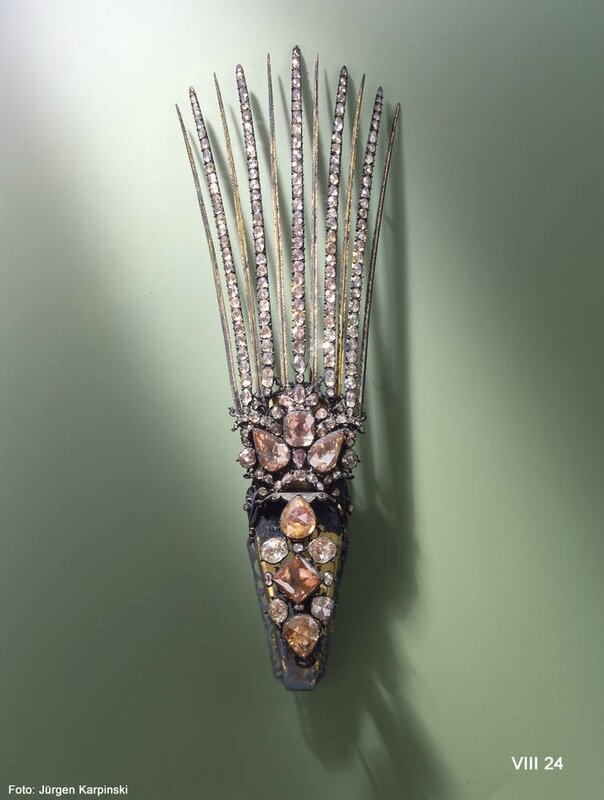 Hutaigrette (agate garnish). Johann Melchior Dinglinger (1664-1731), jeweler. Dresden, before 1719. 193 diamonds (one table stone, 192 roses), formerly red foil, gold, culling and holder silver, gilded. H 23.3 cm, W 8.0 cm. Green Vault, VIII 24. © Staatliche Kunstsammlungen Dresden.
For almost four decades, August der Starke made ten sets of jewels for his royal representation, but of course also for his personal pleasure.
The term "clothing" meant an ensemble of pieces of jewelery that belong together both materially and stylistically.
Only two sets of jewels of Augustus the Strong had an aigrette.
This includes the agate set, whose original and imaginative "Egrette of Gold on the Huth" came from the hand of Johann Melchior Dinglinger.
An Aigrette was a specific German Hutzier, which had its origin in the Renaissance jewelry.
It is a towering hat decoration, which was extremely decorative by effectively inserted heron feathers.
To attach to the hat served decorated with red foil large diamond bottom bow
which was connected to the hat brim of the then fashionable Dreispitz.
In the middle of the temple, the main stone of the piece of jewelery is an over-the-top, exactly faceted diamond table.
The plate mounted above the temple adorns a crown-like composite diamond bouquets.
Hidden behind the plate is the sleeve, in which the heron feathers could be inserted.
From the bouquet spring slightly curved gold feathers, which are either slightly wider and decorated with diamond roses, or narrow and decorated by delicate engravings.
Together with the bird feathers that soar in motion, the majestic gold and diamond feathers towering over the hat must have had a decidedly decorative effect.
For the princes of the late Baroque, the precious hat jewelry was of particular importance.
In ceremonial, the prince alone was allowed to keep his hat.
The hat jewelery replaced to a certain extent the jewelery of a crown, which at that time was placed on the head only in the one-time process of coronation.