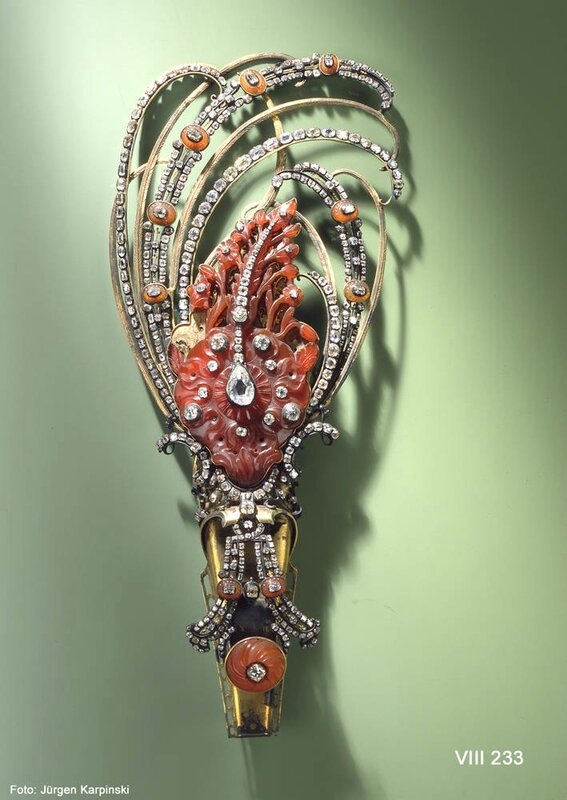 Hutaigrette from the carnelian garnish, Johann Melchior Dinglinger (1664-1731) Workshop, Jeweler & Johann Christoph Hübner (1650-1677), lapidary. Dresden, before 1719. Carnelian plate, open cut, ten round carnelian, one diamond drop, 408 brilliants (original set of three diamond drops, 418 brilliants) gold, silver, partly gilded. H 26,0 cm. Green Vault, VIII 233. © Staatliche Kunstsammlungen Dresden.
Only two sets of jewels of Augustus the Strong had an aigrette as hat decorations.
These were Jagdgarnituren from agate and carnelian.
The extremely elegant, agile Hutzier appears then as today as the main work of the almost completely preserved carnelian.
The large gemstone has the shape of a symmetrical rose blossom with naturalistically arranged stamens in its center.
This soft-cut flower, which rises from a goblet, has small ornamental leaves on the upper sides.
The sensitively crafted natural form of the rose receives its own dynamics through a leaf truncate to the right.
The stone carving and jewelery work originated in Dresden.
Johann Melchior Dinglinger probably worked here as a designer and executive goldsmith with the stone cutter Johann Christoph Hübner.
So he completes the stone cutting work by asymmetrically growing from the sides of the carnelian rose feathers of gold-plated silver.
Just as in the Aigrette of the agate set (VIII 24), narrow, engraved, alternate with wider, brilliant-set feathers.
In doing so, Dinglinger avoided the regularity of the achataigrette by inserting opposing gilded feathers.
The lower plate, which is a part of the temple with which the jewel was attached to the brim, is adorned with an "A" composed of numerous diamonds as the monogram of August II.
Behind it is a sleeve for inserting heron feathers.