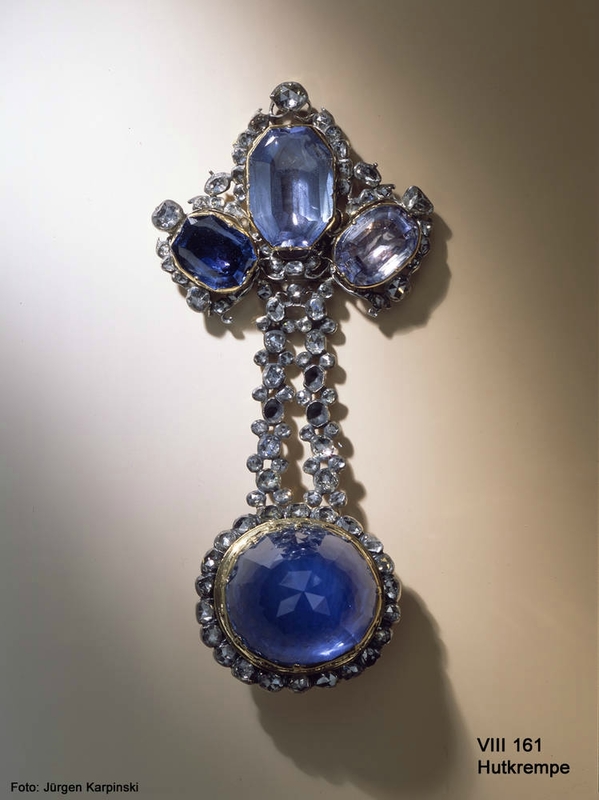 Hatagraffe (sapphire garnish), Johann Melchior Dinglinger (1664-1731), jeweler. Dresden, around 1722. A lynx sapphire, three sapphires, 97 diamond roses, gold, silver. 12.3 x 5.6 cm. Green Vault, VIII 161. © Staatliche Kunstsammlungen Dresden.
King Louis XIV of France possessed only three different sets of jewelery, so Augustus the Strong, Elector of Saxony and since 1697 King of Poland, had planned for himself 24 of these sets of jewelery.
Ten sets were finally executed and remained unique.
The sapphire set contains the oldest jewelery of the elector king still preserved today.
In December 1701, the Saxon Chancellor of Beichlingen acquired those exceptionally shaped gems, which made up the fame and pride of a princely ornament, and which gave the hat agape a special ornament.
It was the "extra big sapphire in forma of a small round mountain".
Mineralogically speaking, the stone is an opaque blue cordierite, which was called luch sapphire in the 18th century.
It has been hollowed out inside and lined with silver foil to make it transparent.
The magnificent Hutzier was deposited in December 1707 with numerous other components of the first sapphire set as collateral for a loan in a Rotterdam bank.
In April 1719, the piece of jewelery returned to Dresden, but not soon enough to be worn by the king in September 1719, like most parts of the sapphire set, at the wedding celebrations of the Crown Prince.
The present-day hat brim received its version in the workshop of Johann Melchior Dinglinger around 1722 and completed the other parts of the sapphire set now outfitted with many hundreds of diamonds.
Under King August III.
from Poland, the son of August the Strong,