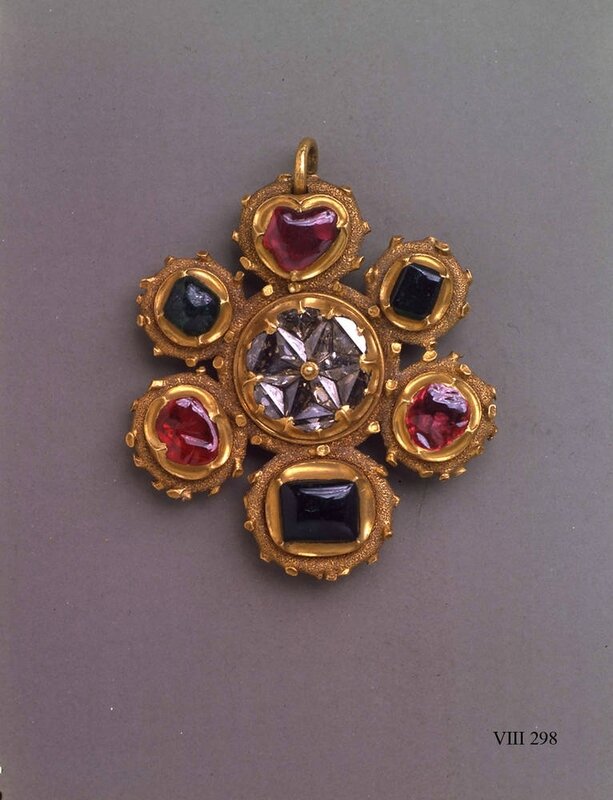 Rosette pendant, Nuremberg or Augsburg, 1st third of the 16th century. Gold, 12 diamonds, 3 rubies, 3 emeralds. H 5.3 cm, W 4.5 cm Green Vault, VIII 298 © Dresden State Art Collections.
This pendant is one of the oldest gems in the Green Vault.
It comes from the possession of the Elector Anna of Saxony (1532-1585).
The center of the gem forms a star of twelve diamonds cut diamonds.
There are three emeralds and three rubies alternately around this star.
Naturalistic golden branches cover the unpolished color stones and adapt to their shape.
The composition of the diamond star of several cut stones has its cause in the fact that the multiple facet cut was not yet known at the time and the sparkle of the gems could be generated only by the assembly of many burr-cut stones.
Similar diamond stars can be found on several gems dated between the late 15th and mid-16th century.
An entry in an inventory from 1592, which lists the elector's jewelery, tells us that the pendant hung on a gold chain, see Inv.-No.
VIII 262. The Danish princess Anna married in 1548 in Torgau the Duke and later Elector Augustus of Saxony.
In her rich dowry she also brought robes and jewels to Saxony.
The jewelry multiplied until the end of her life many times and was after her death in 1585 in four "Cleinoter Laden".
These were four cabinets set up in the bedchamber of the Elector's pair, where August also kept his 14 boxes of cash and gold.
Each of the jewelry cabinets had 9 drawers containing collars, attachable jewelery, decorative belts, bracelets and finger rings.