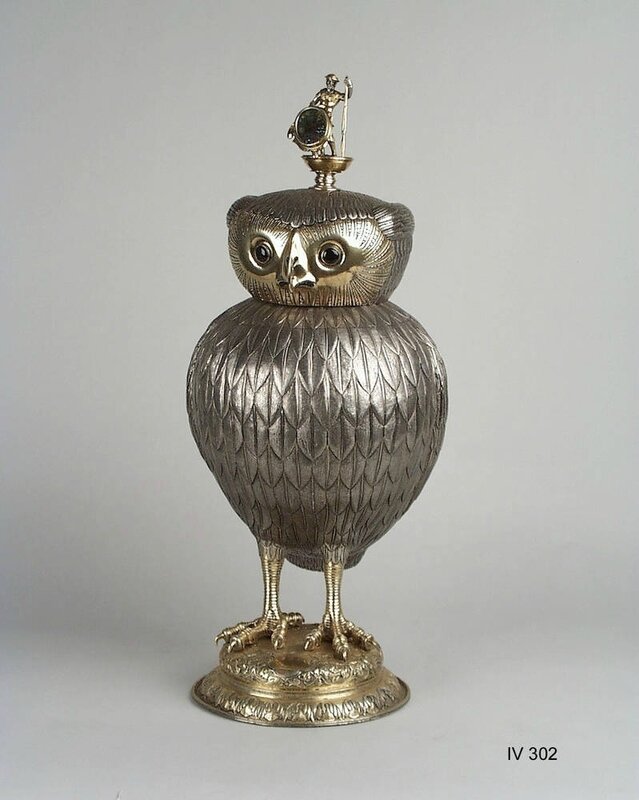 Owl as a drinking vessel, Southern Germany, around 1540. Silver, gilded, reverse glass painting, enamel. H 45.0 cm. Green Vault, IV 302. © Staatliche Kunstsammlungen Dresden
Although the owl is rendered in a very stylized way, the extremely fine chiselling of the plumage and the effective alternation between gilded and non-gilded parts are impressive.
The cover figure in the shape of an ancient warrior presents a shield with the Saxon-Saxon alliance coat of arms in reverse glass painting, which was probably added later under Christian I.
Taking off the head of the owl, her body can absorb liquid.
The owl probably served as a welcome, as a representative drinking vessel, where guests were served a welcome drink on special occasions.
His background from the "Secret Collegiate College" suggests that until then, it was in one of the regal castles for whose inventories this institution was responsible.
The goldsmiths of the sixteenth and seventeenth centuries developed a multitude of different forms of vessels, including those in the form of animals, in almost limitless ingenuity.
Among these, the owl cups make up one of the largest groups.
As inscriptions on some pieces show, the owl, the attribute of the goddess Minerva, has been understood as a symbol of wisdom.
But the nocturnal animal could also stand for excess, gluttony and drunkenness.
Some had bells attached to their legs, referring to the use of the owl as a decoy and, from this, its importance as a symbol of temptation (to drink).
The ambiguity and inconsistency of allegorical interpretations may well have been intended.
The Dresden owl vessel is one of the earliest examples of this species and proves by its enormous dimensions as a truly princely object.
Its size also gives a good impression of today's terms excessive alcohol consumption in the courts of the time.