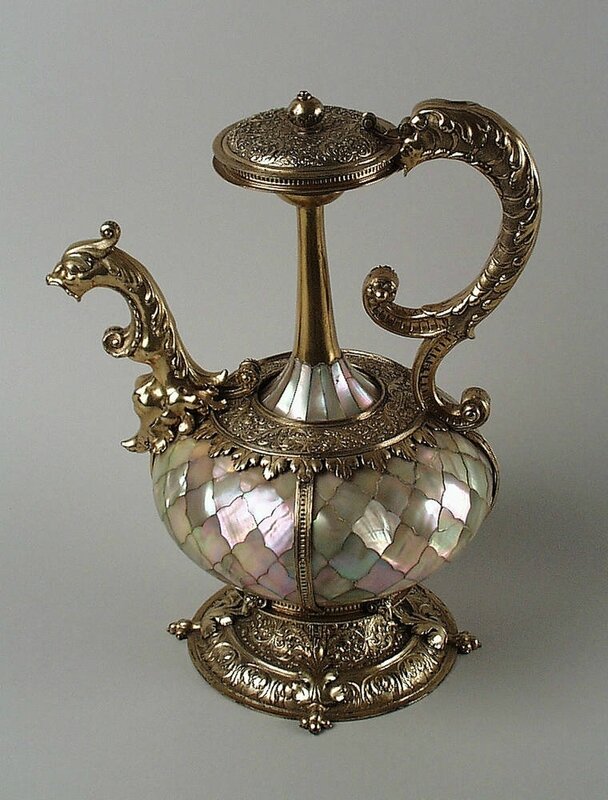 Mother-of-pearl jug, Gujarat (India), the mounts: Nuremberg or Antwerp, around 1540. Silver, driven, cast, chased, hallmarked, gilded, copper (pot), mother-of-pearl, cut. H 29.0 cm, W 23.3 cm, dia foot 15.9 cm; Weight: 1392 g. Green Vault, IV 256. © Staatliche Kunstsammlungen Dresden.
The jug, densely covered with mother-of-pearl tiles, and the pomp of the same material (IV 181) were imported to southern Germany via Portuguese traders from Gujarat in north-western India.
In Nuremberg or Antwerp, around 1540, the two vessels were given a uniform version by a goldsmith in order to adapt them to the taste of a German prince of the Renaissance.
The pot, whose original core of copper is still hidden under the new silver frame, was slipped over a neckpiece with a bird-like spout, attached to it by a tall, tendril-like handle and a tall, beautifully shaped foot.
All newly added parts are artfully connected by clasps.
The European version remained surprisingly close to the Indian vascular tradition.
Even the flat lid of the silver version is reflected in the popular contemporary rose water trimmings of the Mughal palaces.
Traditionally considered to be the first baptismal font of the Wettin family, the watering set, which was particularly valuable because of its old age and its magnificent goldsmith work, can not be archived.
In 1832 she came from the dissolved this year Kunstkammer in the Green Vault and is now on display in the vault.