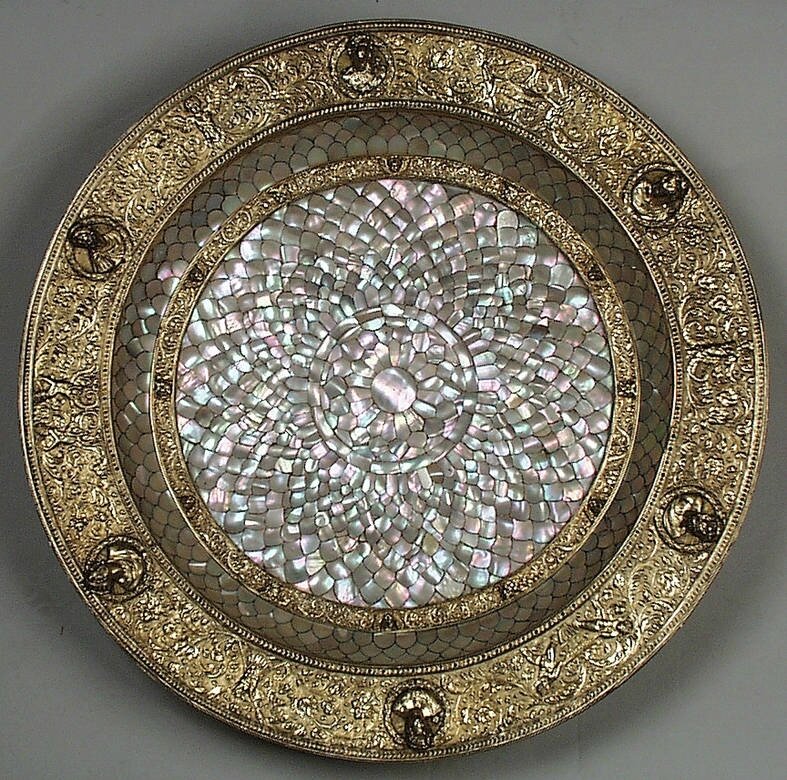 Rose water basin, Gujarat (India), the mounts: Nuremberg or Antwerp, around 1540. Silver, driven, cast, chased, hallmarked, gilded, wood, painted green on a cream background (basin), copper (pot), mother-of-pearl, cut. Diameter: 56 cm, H 8,6 cm; Weight: 4911 g. Green Vault, IV 181. © Staatliche Kunstsammlungen Dresden.
The pompous basin covered with mother-of-pearl tiles and the corresponding pot of the same material (IV 256) were imported to southern Germany via Portuguese traders from Gujarat in north-western India.
In Nuremberg or Antwerp, around 1540, the two vessels were given a uniform version by a goldsmith in order to adapt them to the taste of a German prince of the Renaissance.
The pelvis was adorned by the technically and artistically adept master with a wide rim with sculptured princely busts, surrounded by ornamental friezes modeled on the designer Peter Flötner.
By means of putty and pins, this attached edge was connected with the likewise gold-plated precious metal strip in the base of the bowl and the base ring with the wooden core of the vessel.
If one dissolves the raised surface of silver from the vessel body,
so a bright red painted ground is visible, as can be found in most of these Indian nacreous works.
Traditionally considered to be the first baptismal font of the Wettin family, the watering set, which was particularly valuable because of its old age and its magnificent goldsmith work, can not be archived.
In 1832 she came from the dissolved this year Kunstkammer in the Green Vault and is now on display in the vault.