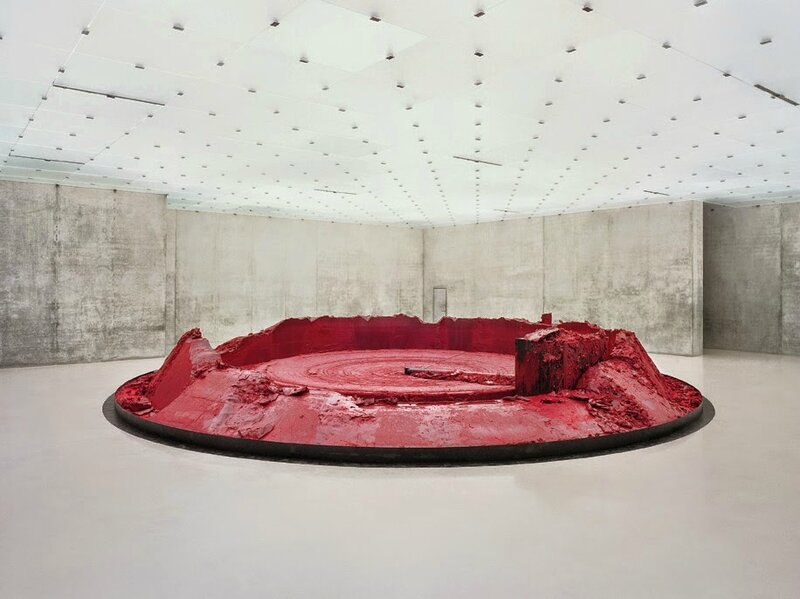 Anish Kapoor, My Red Homeland 2003. Peinture à la cire et à l'huile, bras en acier et moteur. Diamètre : 12 m. Vue de l'installation au Kunsthaus Bregenz, 2003. Photo : Nic Tenwiggenhornacier. © Anish Kapoor / Adagp, Paris 2017.
SAINT-ÉTIENNE.- For its 30th anniversary, the Musée d'Art Moderne et Contemporain de Saint-Étienne Métropole has invited famous British artist Anish Kapoor. Given carte blanche in the large center room of the building, he is showcasing My Red Homeland installation until Spring 2018, alongside exclusive artworks showcased for the very first time thanks to the longtime relationship of the artist and exhibition curator Lorand Hegyi, also Emeritus General Director of the museum.

Born in Mumbai in 1954, Anish Kapoor is one of the greatest contemporary sculptor artists of our time. He has been living and working in London since 1972. In the 1980s, he proved himself on the international art scene with sculptures of a new kind, playing with forms, media and interpretations. His works require to be experienced rather than observed.

In 1990, he was chosen to represent Great Britain at the Venice Biennale. The following year, he won the prestigious Turner Prize. Today, his works are showcased in the world's greatest museums. He also took part in the 4th edition of the Monumenta held at the Grand Palais in 2011.

After several stays in the area, especially in 2015 on the occasion of the Biennale d'Art Contemporain de Lyon, Anish Kapoor is now coming back with a new and original exhibition for the MAMC+.

For the 30th anniversary exhibition of Musée d'art moderne et contemporain de Saint-Etienne, the artist has created an installation that brings together a seminal sculpture with recent works that manifest a vicerally charged narrative. The directly affective, hyper-intense sensuality of these chaotic, dramatic and stricken formations hints at disconcerting, dark and perplexing metaphors for existential fears of the self-destruction of cultures and the corrosion of values. By the gigantic dimensions of universal, irrevocable downfall, the sculptural metaphors for obscure, destructive energies embody the true tragedy of existence – and thus, paradoxically, reflect the light of the sublime.

From the beginning of his work as a sculptor, British-Indian artist Anish Kapoor has created a specific, extremely coherent, aesthetic aura that radiates, in many ways, a sort of sensitivity and spirituality that is contemporary par excellence. It could be claimed that Anish Kapoor's enormous, complex and multifaceted oeuvre manifests the artistic philosophy of the "post-minimal" situation, with a sculptural style determined a-priori, neither by formal structural principles, nor by self-referential, tautological definitions, nor yet by puristic, reductive methods that would exclude any personal or emotional narrative. In the 1980s, the break with Minimal Art and the tradition of geometrical, structural Abstract Art signaled not only the new direction of a young generation of artists, but also a radical opening towards non-Western cultures, a globalization of the art world, and the emergence of completely new formations that constitute a symbiosis of diverse cultural contexts.

Anish Kapoor was one of the foremost, groundbreaking makers of such new sculptures, focused on creating fragile, fluid micro-constellations and fostering processes of sensitization. Instead of defining structural relationships, this new style of sculpture emphasizes the ephemeral character of formations, and the sensual, yet also hidden spaces of material realities. Anish Kapoor's sculptures reject all abstract formalism, and formal or compositional constraint; rather his sculptures emphasize the sensual and the poetic, their material presence holds their enigmatic and poetic power in concrete sculptural manifestation. By this, he allows the connotative realms of imagination to unfold in complete freedom, without forcing any didactic objective or directed reception on the beholder. Such openness of perception is consistent with the material and sensual variety, the inscrutability and elusiveness of the sculptural formations, making constant change, formational open-endedness and the ambiguity of the material manifestation the focus of the aesthetic experience.

Anish Kapoor works with a diverse range of materials, so that fluidity, ephemeral openness and the elusiveness of objects as well as their spatial situations create a hyper-intense and often enigmatic world of experience, continuously destabilizing, doubting and interrogating the properties of form. The specific quality of Anish Kapoor's oeuvre lies in how he combines introverted immersion and the almost mystical experience of the inscrutability of form, with a heightened and irresistible sensuality.

Anish Kapoor's recent works reveal a dramatic voice that has become ever stronger, and seems louder and more dominant than the quiet of spiritual meditation. His installations show the effects of enormous tensions, chaotic destruction and painful injury, seeming to convey certain contemporary experiences, feelings of insecurity, fear, fragility and vulnerability. Anish Kapoor creates works that operate as sites of sometimes tumultuous happenings that often take on cosmic dimensions. A fundamental friction dominates these sites in which he evokes forces that are both generative and destructive in perpetual conflict.

Translation : Caroline Steegmann
Du 11 novembre 2017 au 08 avril 2018
Anish Kapoor, Red images in the red, 2016 © Anish Kapoor / ADAGP, Paris 2017.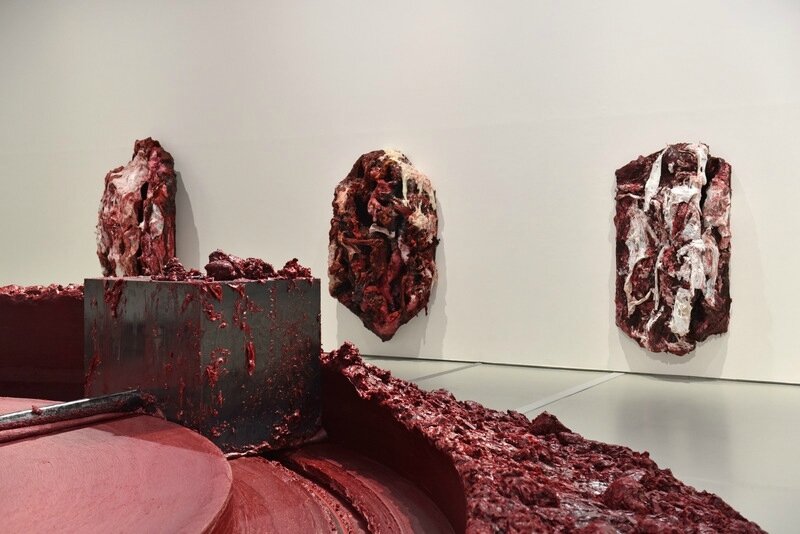 Anish Kapoor, vue de l'exposition "My Red Homeland". Photo : Charlotte Piérot. © Anish Kapoor. Tous droits réservés, DACS / ADAGP, Paris 2017.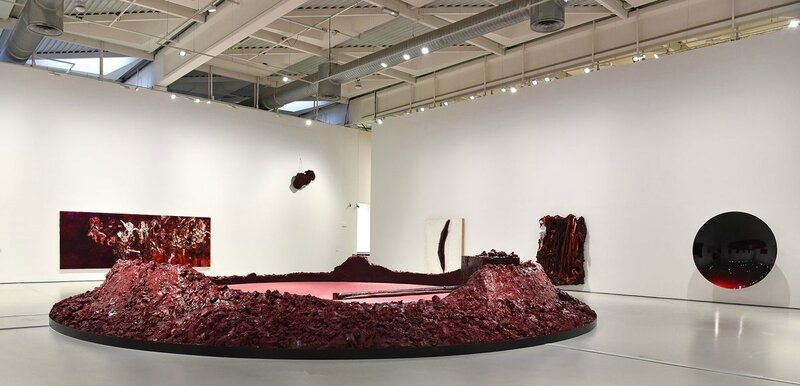 Anish Kapoor, vue de l'exposition "My Red Homeland". Photo : Charlotte Piérot. © Anish Kapoor. Tous droits réservés, DACS / ADAGP, Paris 2017.