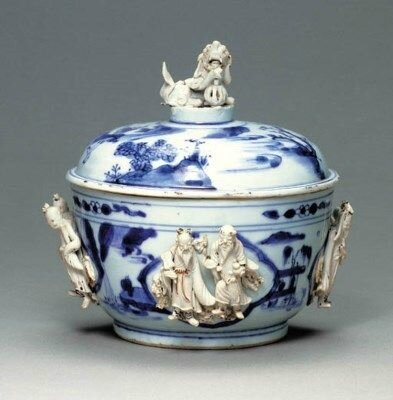 Lot 148. A Rare Biscuit-Decorated Blue and White Bowl and Cover, Tianqi period (1621-1627); 6in. (15.2cm.) high. Falk Collection no. 257. Estimate USD 10,000 - USD 15,000. Price realised USD 30,550. © Christie's Images Ltd 2001
The deep sides applied with biscuit figures of the Eight Daoist Immortals arranged in pairs within quatrefoil cartouches painted in underglaze blue reserved on a landscape band below a border of detached foliate sprays, the low domed cover painted with figures in a river setting below a biscuit figure of a Buddhistic lion, with traces of gilding and pigment on the biscuit figures.
Provenance: J.P. Morgan, New York.
James A. Garland, New York.
William H. Whitridge, Baltimore, Maryland.
Gift from Myron S. Falk, Sr, who purchased it at the Parke Bernet Galleries, Inc., New York, 16-18 November 1939, lot no. 526.
Literature: L. Bushell and W. Laffen, Catalogue of the Morgan Collection of Chinese Porcelains, New York, 1910, pl. XVI.
Exhibited: Neolithic to Ming, Chinese Objects - The Myron S. Falk Collection, Northampton, Massachusetts, Smith College Museum of Art, 1957, no. 34.
Chinese Ceramics of the Transitional Period, China House Gallery, China Institute in America, New York, 1984, no. 3.
Note: Bowls of this type with applied relief figures which have survived in good condition are extremely rare, since they were very susceptible to damage and would also have been very time-consuming, and therefore expensive, to make. Nevertheless, the first half of the 17th century saw an increasing use of biscuit-fired relief decoration on porcelains made at the Jingdezhen kilns. Among the most complex of these applied relief elements are the finely modeled figures, which usually represent the Eight Daoist Immortals, as on the Falk covered bowl. These figures, which would originally have been cold-painted with pigments and gilding, were applied both to blue and white vessels, like the Falk example, and to white wares, such as the small pierced bowl in the Percival David Foundation, which has somewhat simpler figures applied to the exterior sides. See R. Scott and R. Kerr, Ceramic Evolution in the Middle Ming Period, Percival David Foundation, London, 1994, p. 36, no. 76. Like the Falk bowl, these too have the remains of pigment and gilding adhering to protected areas.
Covered bowls of the type represented by this Falk example are particularly interesting because, although the iconography makes it clear that they were made for the Chinese domestic market, they have also been found in Europe and in 17th century European paintings, suggesting that they were also exported. A bowl of this design, with the Eight Immortals in biscuit, but without a cover, now in the Princessehof Museum, Leeuwarden, is illustrated by D.F. Lunsingh Scheurleer in Chinese Export Porcelain, Faber & Faber, 1974, pl. 25. A bowl of the same type as the Falk covered bowl, shown with its cover resting against the side, is also depicted in a Dutch painting entitled Still-Life with Nautilus Cup, dated AD 1662, by Willem Kalf (1619-93), illustrated by A. Rosenbaum, in Old Master Paintings from the Collection of Baron Thyssen-Bornemisza, Washington, D.C., 1979, no. 39. This painting is particularly interesting as it shows how brightly painted the biscuit figures originally were. The inclusion of the bowl with the mounted nautilus shell also provides an indication of how highly prized such bowls were in Europe at that time.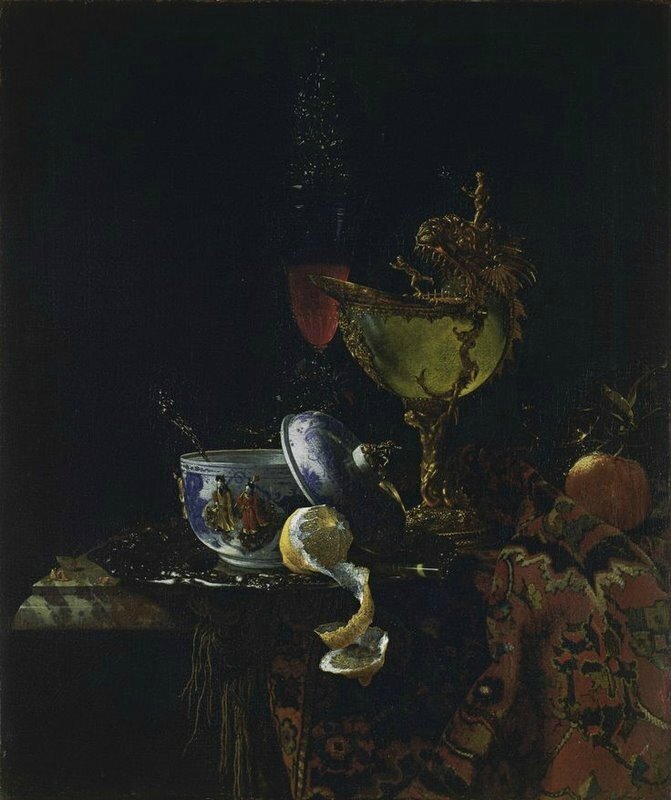 Willem Kalf, Still Life with a Chinese Bowl, a Nautilus Cup and other Objects, 1662. Oil on canvas, 79.4 x 67.3 cm. Museo Thyssen-Bornemisza, Madrid. INV. Nr. 203 (1962.10) © Museo Thyssen-Bornemisza, Madrid
Christie's. THE FALK COLLECTION I: FINE CHINESE CERAMICS & WORKS OF ART, 16 October 2001, New York