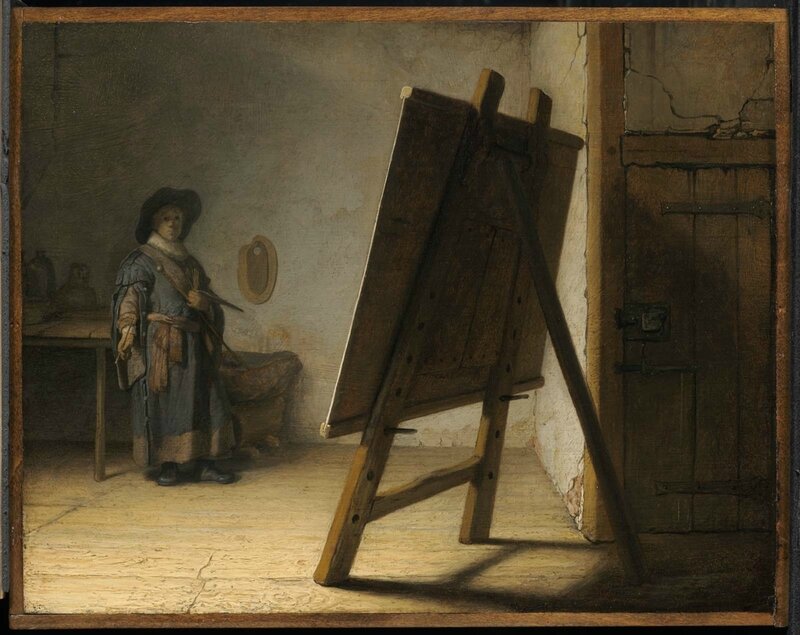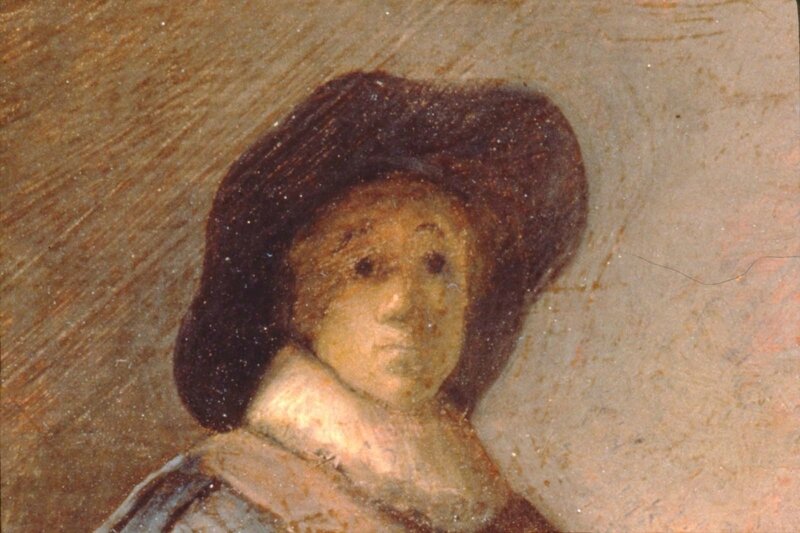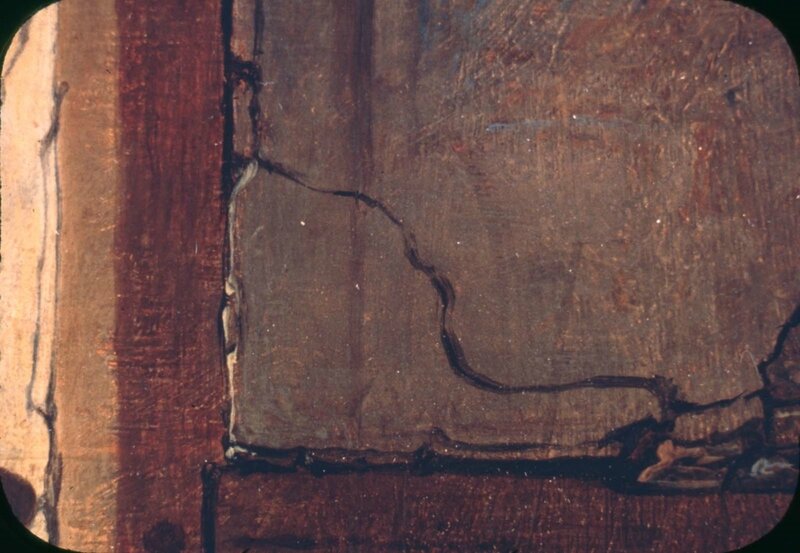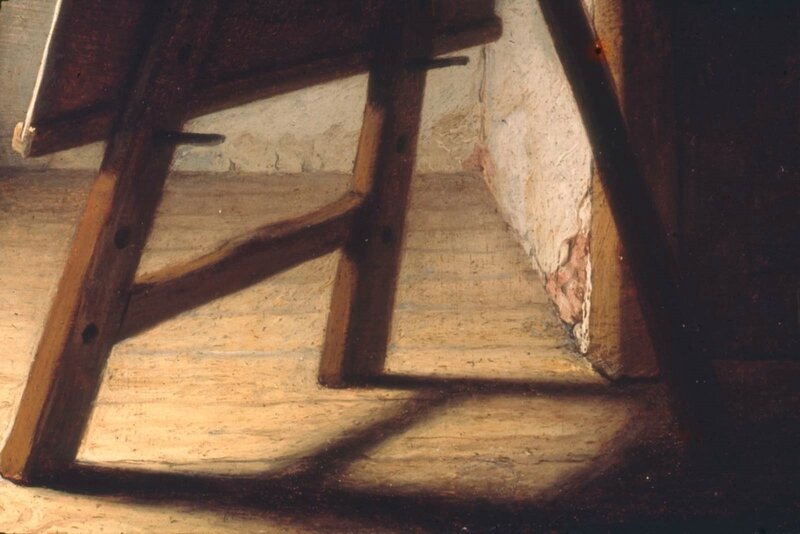 Rembrandt Harmensz. van Rijn (Dutch, 1606–1669), Artist in his Studio, about 1628. Oil on panel, 24.8 x 31.7cm (9 3/4 x 12 1/2in.), Zoe Oliver Sherman Collection given in memory of Lillie Oliver Poor, 38.1838 © 2018 Museum of Fine Arts, Boston.
In this small painting, the young Rembrandt seems to represent the daunting moments of conception and decision necessary to the creation of a work of art. An artist confronts his easel in a studio bare of everything except his essential tools. This drama, with its emphasis on thought rather than action, is intensified by the expressive use of light and shadow. The painting's daring perspective is also important: the distant figure of the painter seems dwarfed by his work, looming large in the foreground.
Provenance: Chevalier Antoine de la Roque (b. 1672 - d. 1744), Paris; April, 1745, posthumous La Roque sale, Gersaint, Paris, lot 65, to Nelson. 1773, Le Favre and Jean Baptiste Pierre Le Brun (b. 1748 - d. 1813), Paris; January 11, 1773, Le Favre and Le Brun sale, Basan, Paris, lot 25. George Douglas (b. 1761 - d. 1827), 16th Earl of Morton and his wife, Susan Elizabeth Buller-Yarde-Buller (b. 1793 - d. 1849), Countess of Morton, Dalmahoy House, Kirknewton, Midlothian, Scotland [see note 1]; April 27, 1850, Countess of Morton sale, Christie's, London, lot 70, not sold [see note 2]; passed to the Countess of Morton's brother, John Buller-Yarde-Buller (b. 1799 - d. 1871), 1st Baron Churston, Lupton, Devonshire; until 1925, by descent within the family; June 26, 1925, Lord Churston and others sale, Christie's, London, lot 14, sold for £1417.10 to Zink, probably for Robert Langton Douglas (b. 1864 - d. 1951), London [see note 3]. By 1926, Zoë Oliver (Mrs. Henry S.) Sherman, Boston [see note 4]; 1938, gift of Zoë Oliver Sherman to the MFA. (Accession Date: December 31, 1938)
Note: [1] In the 1926 Churston sale catalogue, the painting is said to be "formerly in the collection of the Right Hon. The Earl of Morton, at Dalmahoy, Kirknewton, Midlothian." The seller of the collection in 1850 was his (deceased) wife, the Dowager Countess of Morton. [2] The painting brought only six guineas when it was put up for auction in 1850. [3] Although published sale results give the purchaser as "Zink," Robert Langton Douglas is said to have acquired the painting by C. Hofstede de Groot, "Rembrandt's Painter in His Studio," Burlington Magazine 47, no. 272 (November, 1925): p. 265. [4] First published in her collection by W. R. Valentiner, "Two Early Self-Portraits by Rembrandt," Art in America 14 (1926): p. 118, fig. 1.