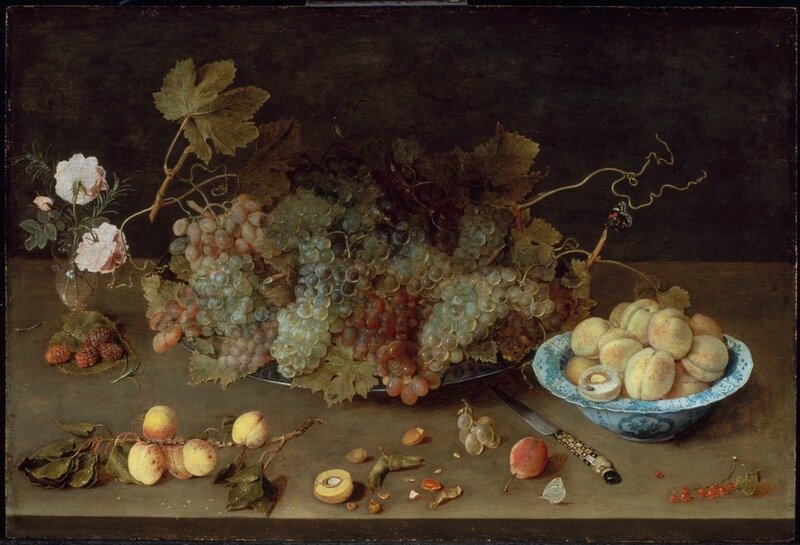 Isaak Soreau (German, active in second quarter, 17th century), Still Life with Grapes on a Platter. Oil on panel, 60.7 x 89.8 cm (23 7/8 x 35 3/8 in.), Juliana Cheney Edwards Collection, 62.1129 © 2018 Museum of Fine Arts, Boston.
Provenance: Miss K. Ames, Holmdene, Burghfield, Berkshire, England; 1962, by descent to her nephew, W.A.R. Ames; June 29, 1962, sold Ames sale at Christie's, London [ as Ambrosius Bosschaert], no 113, and bought by Hallsborough Gallery, London, England in partnership with Julius H. Weitzner, London and NewYork [see note 1];1962, sold by Hallsborough Gallery and Weitzner to the MFA for $20,000. (Accession date: December 12, 1962)
Notes:

[1] according to a letter of January 23, 1963 from Susanne A. King, Manager, William Hallsborough Ltd. in curatorial file, this painting was bought by William Hallsborough Ltd. together with two other dealers, including Mr. Weitzner, "in whose name the actual purchase was effected." King also adds that the painting originally came from the collection of Miss K. Ames, at whose death it was left it to Mr. Ames and his sisters, who put it up for sale at Christie's.