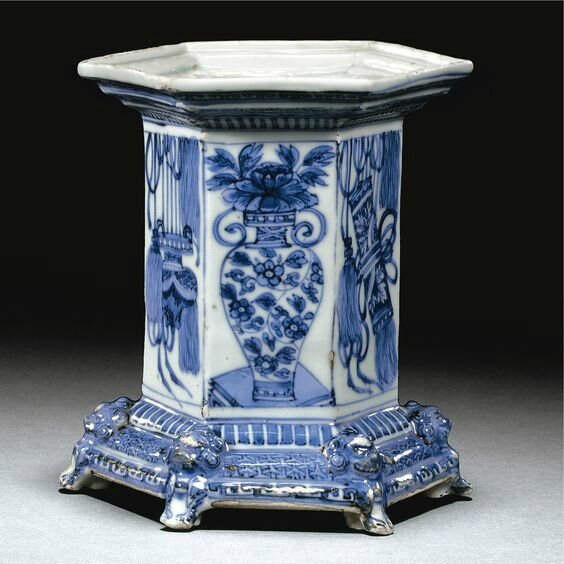 Lot 84. A rare and large hexagonal blue and white salt for the Western market, Ming dynasty, Wanli period (1573-1620); 15.2cm., 6in. Estimate 50,000 — 70,000 GBP. Lot sold 162,000 GBP. Photo: Sotheby's 2007
each of the straight sides of the body painted in rich cobalt-blue tones with a rectangular panel variously enclosing vases of flowers and 'Auspicious Symbols', all below the stepped flaring rim with dentil and diaper bands and above a similarly painted stepped spreading base supported on six lion mask and paw feet, the interior and base glazed white.
Note: Blue and white vessels of this form are extremely rare and only a few examples appear to be recorded. The form is derived from Dutch and German silver of the late 16th and early 17th century. See Sir Charles James Jackson, AnIllustrated History of English Plate, New York, 1969, chapter XVIII, where a number of round and square pedestal salts are illustrated and dated between 1577-1586. Another silver salt example of similar hexagonal form with a domed cover is published in Michael Clayton, The Collector's Dictionary of Silver and Gold of Great Britain and North America, London,1971, p. 230, dated to 1550.
The decoration found on the present salt was much favoured for the export market and can be found on wares of other forms; for example see two pear-shaped vases attributed to the early and mid-17th century painted with the design of auspicious symbols and treasures published in Christiaan J. A. Jorg, Chinese Ceramics in the Collection of the Rijksmuseum, Amsterdam, Amsterdam, 1997, pls. 50-51. Jorg ibid., p. 65, notes that such bottles 'were common in cargoes of the VOC ships returning to the Netherlands and frequently figure in the Company's records. Unlike dishes, saucers and bowls of Kraak porcelain, hollow forms such as bottles, ewers and jars do not have the characteristic thin body of Kraak porcelain and are more heavily potted. Nevertheless, all authors accept them as Kraak ware because of their decoration in - usually moulded - panels'.
Thomas de Keyser, Portrait of a young silversmith, circa 1630. Reproduced by kind permission of the Marquess of Bath, Longleat House, Warminster, Wiltshire.