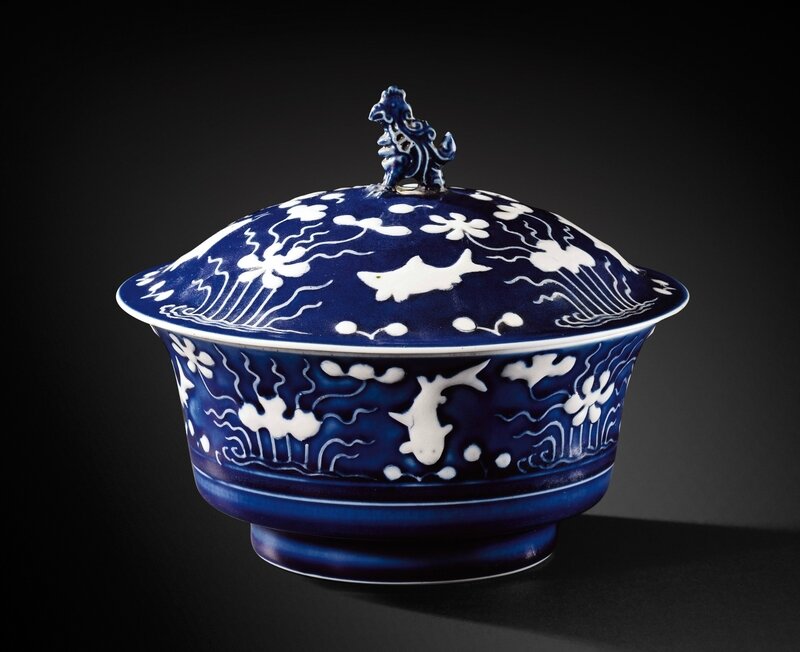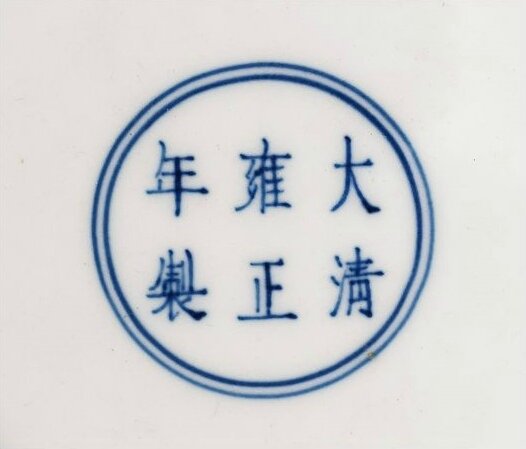 Lot 331. Bol en porcelaine émaillée bleu, Chine, marque et époque Yongzheng (1723-1735). Diam. 17,2cm ; 6 ¾ in. Estimate 7,000 — 9,000 EUR. Lot sold 60,750 EUR. Photo: Sotheby's 2008
Les contours droits montant vers un bord évasé, décoré en léger relief de poissons et fleurs de lotus stylisées en émail blanc sur un fond bleu nuit, l'intérieur émaillé blanc avec la marque en zuanshu Yongzheng à six caractères dans un double cercle en bleu sous couverte; le couvercle décoré de façon similaire avec une prise en forme d'oiseau archaïque.
A porcelain bowl with later cover, China, Yongzheng mark and period (1723-1735)
Note: The present bowl with its matching cover represents the finest slip-decorated wares produced in the Imperial kilns at Jingdezhen during Yongzheng's reign. The design of 'fish amongst aquatic plants' inspired by early fifteenth century Ming wares was especially favoured by the emperor who was an enthusiast for promoting Xuande and Yongle porcelain reproductions. For examples of the Ming design see a Xuande dish included in the Special Exhibition of Hsuan-te Wares, National Palace Museum, Taipei, 1980, cat. no. 83, and another dish illustrated in The Complete Collection of Treasures of the Palace Museum. Monochrome Porcelain, Hong Kong, 1999, pl. 64, both dishes of blue-glaze with white slip-decoration.
A Yongzheng covered bowl of the same pattern in the Honolulu Academy of Arts is illustrated in Sekai toji zenshu, vol.12, Tokyo, 1956, pl. 56. Another bowl and cover from the collections of George de Menasce, Pierre de Menasce and F. Gordon Morrill, and included in a number of important exhibitions such as the O.C.S. jubilee exhibition The Ceramic Art of China, London, 1971, cat.no. 234, was sold in our Hong Kong rooms, 20th May 1987, lot 586.
See also a Yongzheng bowl of this design but lacking its cover from the Grandidier collection in the Musee Guimet illustrated in Sekai toji zenshu, vol. 15, Tokyo, 1983, pl. 157 and 158; and another sold in our Hong Kong rooms, 28th April 1992, lot 121.
Bol à décor de poissons et fleurs de lotus, règne de Yongzheng (1723-1735), fours de Jingdezhen, porcelaine, 8 x 17,5 cm. Ancienne collection Ernest Grandidier, G1569, Paris, musée Guimet - musée national des Arts asiatiques. Photo (C) RMN-Grand Palais (MNAAG, Paris) / Daniel Arnaudet