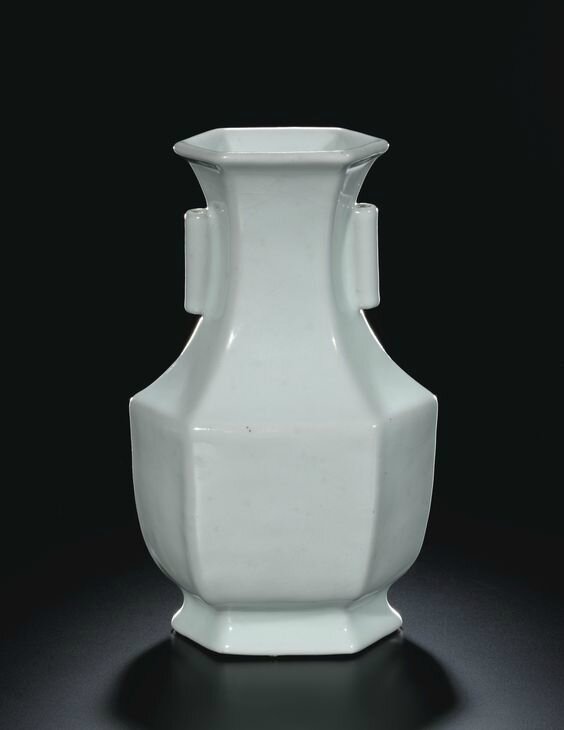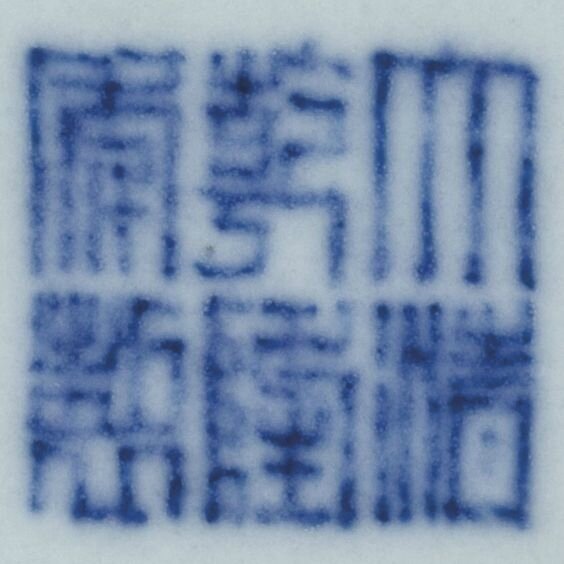 Lot 3070. A hexagonal guan-type vase, hu, seal mark and period of Qianlong (1736-1795); 28.8 cm., 11 3/8 in. Estimate 1,500,000 — 2,000,000 HKD. Lot sold 1,240,000 HKD. Photo: Sotheby's 2013
elegantly potted, of hexagonal form rising from a splayed foot to angled shoulders, sweeping up to a waisted neck and everted rim, set with a pair of tubular lug handles, applied overall with a rich caesius-coloured glaze suffused with a fine mist of bubbles, subtly draining to a pale greyish shade along the vertical edges, save for the footring left unglazed and dressed in a brown wash imitating the purplish body of the Song dynasty guanware, the recessed base inscribed in underglaze blue with a six-character seal mark, carved wood stand.
Provenance: Mayuyama & Co. Ltd., Tokyo.
Note: Vases of this type that were inspired by the archaic bronze vessel, hu, were first produced in the Yongzheng period and enjoyed heightened popularity during the Qianlong reign. They were decorated in a range of glazes that were inspired by the celebrated wares of the Song dynasty, such as Ru, guan and Ge. Three closely related vases were sold in these rooms, 9th October 2007, lot 1526, 26th October 2003, lot 50, and 20th May 1981, lot 822; and another, but covered in a Ge-type glaze was also sold in these rooms, 8th April 2009, lot 1651. For the Yongzheng prototype, see a guan-type example from the Qing Court collection and still in Beijing, published in The Complete Collection of Treasures of the Palace Museum. Monochrome Porcelain, Hong Kong, 1999, pl. 204.
Further Qianlong vases of this form but covered in various glazes include a sky-blue example, illustrated in Sekai toji zenshu, vol. 12, Tokyo, 1956, pl. 46; one covered in a teadust glaze, published in Chinese Ceramics in the Idemitsu Collection, Tokyo, 1987, pl. 965; and a moulded celadon-glazed vase, included in the exhibition Ethereal Elegance. Porcelain Vases of the Imperial Qing. The Huaihaitang Collection, Art Museum, The Chinese University of Hong Kong, Hong Kong, 2007, cat. no. 50. Vases of this form are also known decorated in underglaze blue, for example see one in the Palace Museum, Beijing, illustrated in Treasures of the Royalty. The Official Kiln Porcelain of the Qing Dynasty, Shanghai, 2003, pl. 238.
Sotheby's. Fine Chinese Ceramics and Works of Art. Hong Kong, 08 april 2013