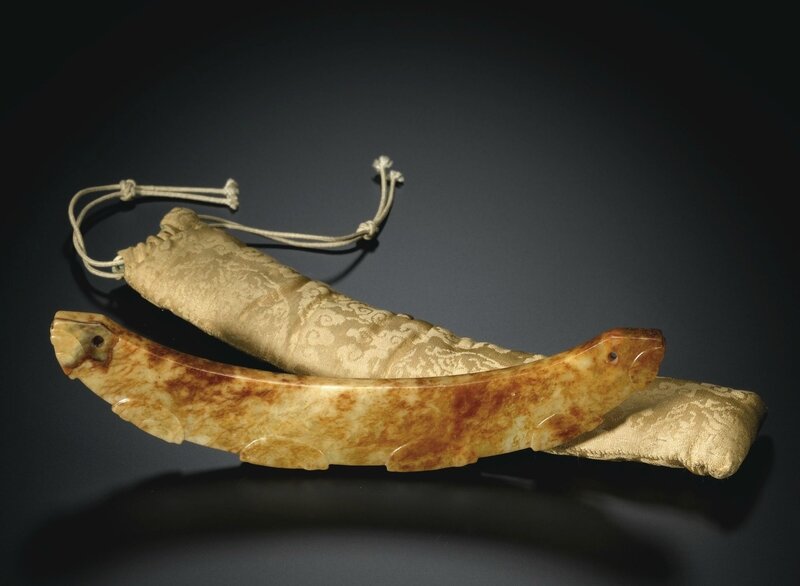 Lot 3014. An extremely rare archaic jade ornament, huang, possibly Liangzhu culture, Neolithic period-Shang dynasty. Estimation 2,000,000 — 3,000,000 HKD. Lot sold 2,440,000 HKD. Photo: Sotheby's 2013
of crescent form, perforated at both ends, the longer side decorated in low relief with six mythical-animal masks of various sizes, with the central two being the largest, and those at the ends the smallest, four of which face one direction while the remaining two the other, the stone with a smooth surface of a warm celadon-tinged yellow tone streaked with natural toffee-brown inclusions and veining, yellow silk pouch; 19.6 cm., 7 3/4 in.
Note: A huang of this type, but both ends carved with more pronounced dragon heads and both the top and bottom decorated with oval masks, in the National Palace Museum, Taipei, is illustrated in Teng Shu-ping, Neolithic Jades in the Collection of the National Palace Museum, Taipei, 1992, pl. 22.
Masks with large eyes are common in Liangzhu jades but the eyes on these huang differ in their long, straight and oval pupils rather than the conventional slanting ovoid pupils. The Liangzhu culture (3400-2250 BC) was the last Neolithic jade culture in the Yangtze River Delta of China. The culture was highly stratified, with jade, silk, ivory and lacquer found exclusively in elite burials while pottery was more commonly found in the burial plots of poorer individuals. The jade from this culture is characterised by finely-worked large ritual jades, commonly incised with taotie motifs.
Sotheby's. Fine Chinese Ceramics and Works of Art. Hong Kong, 08 april 2013