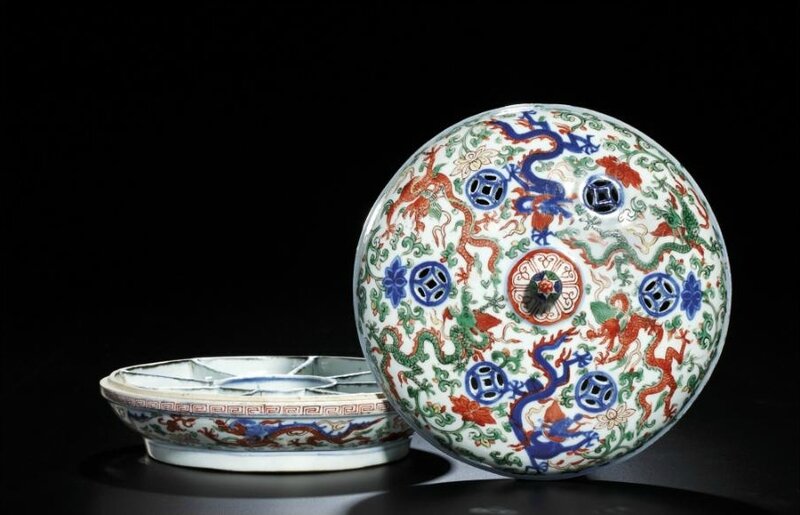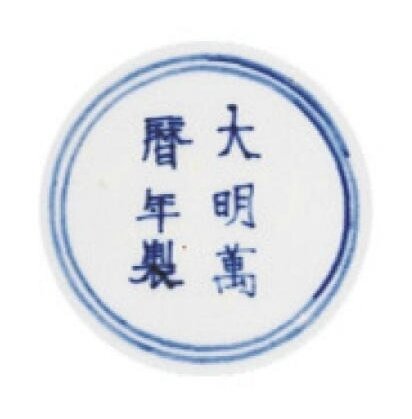 Lot 1620. A very rare wucai sweetmeat box and cover, mark and period of Wanli (1573-1620); 24.2 cm., 9 1/2 in. Est. 1,000,000 — 1,200,000 HKD. Lot Sold 1,640,000 HKD. photo Sotheby's 2009
the domed cover vibrantly painted with six sinuous ascending and descending dragons in underglaze blue, iron-red and green enamel, separated by pierced cash symbols, reserved on a ground of flames and lotus scroll painted in blue, iron-red, yellow and green, surmounted by a finial knop decorated with upright plantain leaves, the box similarly painted with four striding dragons, the interior of the box divided into a central circular walled compartment surrounded by eight smaller segments, the rims of both box and cover encircled with a key-fret border, the fifth claw of the yellow and iron-red enamelled dragons effaced.
Provenance: Sotheby's London, 9th July 1974, lot 248.
Manno Art Museum, no. 442.
Christie's Hong Kong, 28th October 2002, lot 539.
Literature: Sekai Toji Zenshu, vol. 14, Japan, 1976, pl. 108.
Note: This box and cover appears to be the only published example, although there are several similar variations. Compare a related box and cover sold in our London rooms 15th July 1957, lot 186 and another in the R.F.A Riesco Collection, Mostra D'arte Cinese, Venice, 1954, cat. no. 722. Also see Ryoichi Fujioka, Min no Akae, Toj Taikei, vol. 43, Heibonsha,Tokyo, 1972, colorplate 25, and a box painted with dragons and phoenix sold in these rooms, 12th June 1984, lot 248.
Similar boxes with different polychrome designs can be found in the Idemitsu Museum of Arts, Tokyo, one with butterflies among flowers and rocks, illustrated the Sekai Toji Zenshu, vol. 14, Tokyo, 1976, pl. 109; the other with fish, crabs and waterplants, Chinese Ceramics in the Idemitsu Collection, Tokyo, 1987, pl. 205.
Sotheby's. Fine Chinese Ceramics & Works of Art. 08 Oct 09. Hong Kong