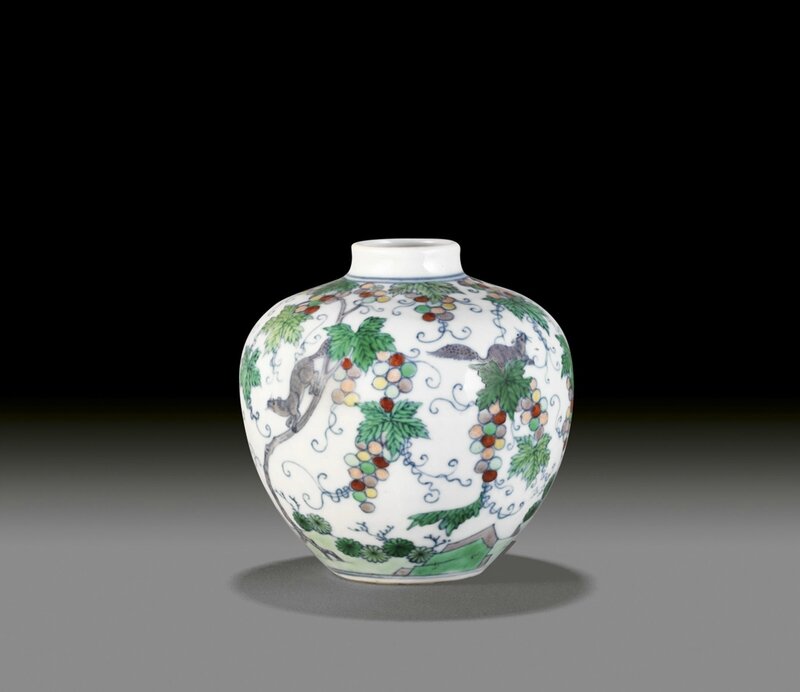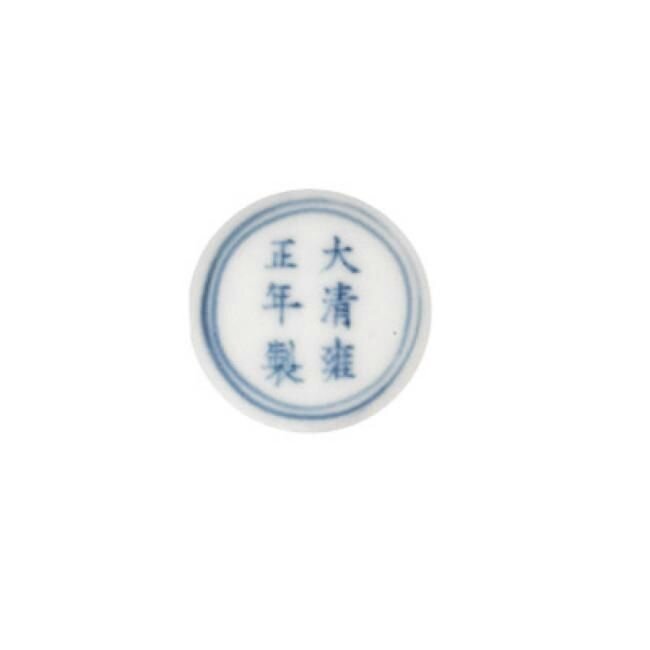 Lot 1610. A fine and very rare doucai 'Squirrels and Grapes' jarlet, Mark and period of Yongzheng (1723-1735); 8.8 cm., 3 1/2 in. Est. 1,500,000—2,000,000 HKD. Lot Sold 5,420,000 HKD. Photo: Sotheby's 2009.
well-potted, the body of globular shape with gentle shoulders rising to a short neck, depicting four squirrels playing amongst suspended grape vines, set amidst rock formations and flowers, the base with six-character mark within double-lined borders in underglaze-blue.
Note: Doucai vases of this charming form and superbly painted with fruiting vine branches and squirrels are extremely rare and no other example appears to have been published. Compare Yongzheng doucai double-gourd vases, with reign mark and of the period, also of miniature size but decorated in a more minimalist manner with a single long vine branch and a squirrel eating a bunch of grapes at the lower edge, such as one from the Russell Collection, illustrated in Soame Jenyns, Later Chinese Porcelain, London, 1951, pl. XLVIII b, sold in our London rooms, 25th June 1946, lot 83; and another from the H.R.N. Norton Collection, sold in our London rooms, 5thNovember 1963, lot 211, again, 2-3rd December 1974, lot 528, and again in these rooms, 23rd October 2005, lot 465.
The grapevine motif appears to have been inspired by Xuande prototypes; see one in the Palace Museum, Beijing, illustrated in The Complete Collection of Treasures of the Palace Museum, Blue and White Porcelain with Underglaze Red (I), Shanghai, 2002, pl. 142; and another, from the Mrs. Walter Sedgwick Collection, sold in our London rooms, 2nd July 1968, lot 127, and again at Doyle New York, 16th September 2003, lot 90, from the Morrill Collection. Compare also a Chenghua cup painted with grapevine and bitter melon in the doucai palette and a dish also decorated with a grapevine in doucai included in the Special Exhibition of Ch'eng-hua Porcelain Ware, National Palace Museum, Taipei, 2003, cat nos. 181 and 182.
Although grapes featured as a decorative motif on metalwork from the Tang dynasty (618-906), the combination of squirrels and grapes did not appear in Chinese painting until the late-Yuan (1279-1368) or early Ming dynasty, and grew in popularity from the sixteenth century. Due to the highly reproductive power of squirrels and large clusters of grapes on vines, this theme symbolises the wish for ceaseless generations of sons and grandsons.
Sotheby's. Fine Chinese Ceramics & Works of Art, Hong Kong, 08 Oct 2009