Attributed to Pierre Gole (Bergen, Holland 1620-1684 Paris), French middle-table, France, Louis XIV period, circa 1680. Ebony and fruitwood marquetry, H 77 x W 117 x D 73 cm. © Galerie Berger
Pierre Gole, an important cabinetmaker who was raised to 'furniture maker-in-ordinary' under King Louis XIV. He was the first to create marquetry in tortoiseshell and brass, a technique which became famous with André Charles Boulle (1642-1732).
Attributed to Robert Osmond (Canisy 1711-1789 Paris), Mantel clock representing 'The Rape of Europa', Louis XV period, circa 1750-1760. Gilt bronze and round white enamel dial, signed 'Fol Fils à Paris'. H 70 x W 53 x D 23 cm. © Galerie Berger
Robert Osmond, a bronze-caster famous for his clock cases.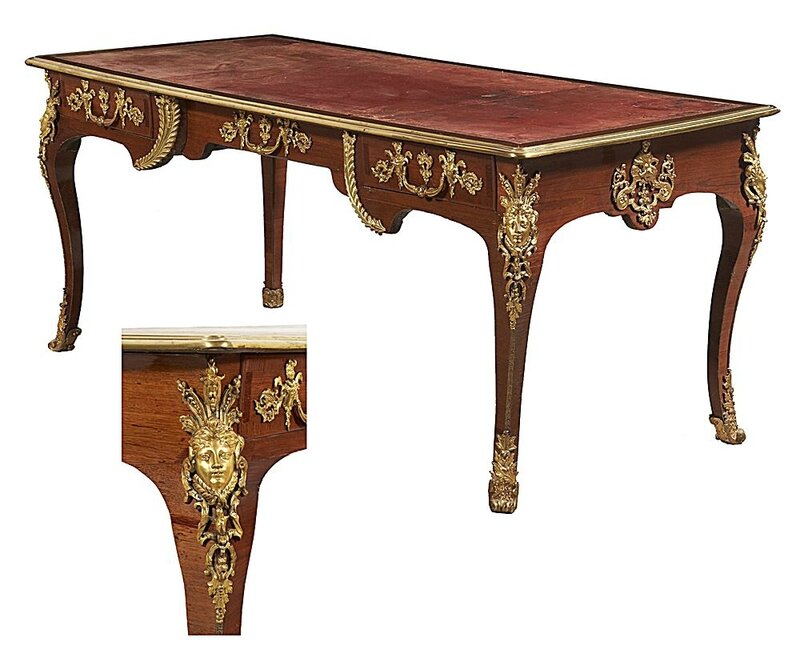 Bureau plat, France, Regence period. Stamped by Noël Gérard (1690-1786), active as cabinetmaker circa 1710-1736. Ormolu-mounted amaranth wood. H 77.8 x W 179.5 x D 84.5 cm. © Galerie Berger
Galerie Berger at BRAFA, 27 Jan - 4 Feb 2018, Stand 105c. 10 Place de la HalleFR-21200 Beaune. t +33 (0)3 80 22 09 79 - m +33 (0)6 08 28 05 05 - contact@galerieberger.com - www.galerieberger.blogspot.com