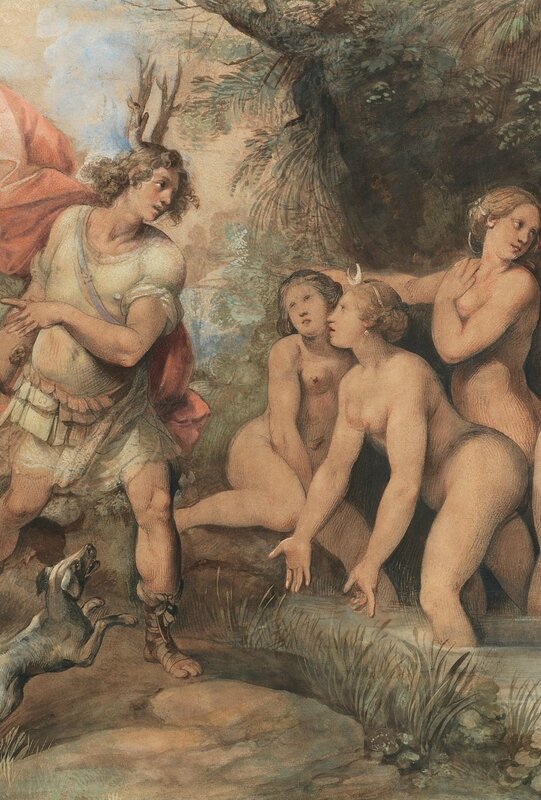 Lot 27. Giuseppe Cesari, called Cavaliere d'Arpino (Arpino 1568-1640 Rome), Diana and Actaeon, black and red chalk, watercolor, heightened with white, 19 7/8 x 27 in. (51.5 x 69.5 cm). Estimate USD 400,000 - USD 600,000. © Christie's Images Ltd 2018
Provenance: Possibly seized from the artist on 30 July 1607 by Cardinal Scipione Borghese, Rome (1577-1633).
Failla Lemme Collection, Rome 2002.
Anonymous sale; Sotheby's, London, 6 July 2010, lot 199.
Literature: A. De Rinaldis, 'Le opere d'arte sequestrate al Cavalier d'Arpino', in Archivi. Archivi d'Italia e rassegna internazionale degli archivi, III, no. 2, 1936, p. 115.
H. Röttgen, Il Cavalier Giuseppe Cesari d'Arpino. Un grande pittore nello splendore della fama e nell'incostanza della fortuna, Rome 2002, pp. 113, 346-347, under no. 109, no. 184, ill.
S. Loire, Musée du Louvre, Département des Peintures. Peintures italiennes du XVIIe siecle du Musée du Louvre: Florence, Gênes, Lombardie, Naples, Rome et Venise, Paris 2006, p. 92.
M.S. Bolzoni, Il Cavaliere Giuseppe Cesari d'Arpino. Maestro del disegno. Catalogo ragionato dell'opera grafica, Rome 2013, p. 124, fig. 103, no. 250.
Note: Marking a firm point in the history of colored drawings in Early Modern Italy, Cesari's Diana and Actaeon stands out in his corpus of drawings for its size, level of finish and prestigious provenance. In this depiction of Ovid's myth (Metamorphoses, III:165-205) the scene takes place in an idyllic grotto, with verdant plant life silhouetting the naked bodies of Diana and her nymphs, bathing in their secluded waterhole. They are accidentally discovered by Actaeon while out hunting, and he is immediately cursed by the goddess and transformed into a stag.
Characterized by a 'subtle sensuality' (Bolzoni, op. cit.), the present work replicates in reverse a composition that Cesari developed about 1602-16066 as a small-format painting, known today in two versions in the Louvre and in the Szépmuvészeti Múzeum, Budapest (Röttgen, op. cit., nos. 109-110, ill.). While Herwarth Röttgen dated the present drawing to the 1620s, new evidence regarding its provenance could suggest an earlier date (Bolzoni, op. cit.). This work has been convincingly identified with that listed among the works of art infamously seized from Cesari by Cardinal Scipione Borghese on 30 July 1607 and described in the inventory compiled the following day under no. 83 as 'Un Disegno d'Atteone in Carta Reale' (a drawing of Diana and Actaeon on royal size paper; De Rinaldis, op. cit.). Both subject matter and paper size match the present work - as the carta reale format ranges from 44.8-45.2 to 61.5-61.7 cm. If this identification proves to be correct, this drawing would have certainly been executed before the Cardinal's raid in 1607 and possibly at the time of the two painted versions of the subject in Paris and Budapest.
As argued by Marco Simone Bolzoni, the drawing's technique follows Cesari's methodical design practice, with figures carefully modelled in black and red chalk through dense cross-hatching. Broad strokes of watercolor define the flesh tones of the nudes, while the lush vegetation of the background is carefully highlighted with touches of white applied with the tip of the brush.
A touchstone for the development of highly-finished colored drawings as an independent genre, Diana and Actaeon appears as an experimental exception in Cesari's work, yet it emerges as a peak of his sophisticated style and masterful drawing technique.
We are grateful to Prof. Herwarth Röttgen for confirming the attribution of the drawing based on digital photographs, and to Marco Simone Bolzoni for confirming the attribution based on direct inspection and for providing additional information on the drawing and its provenance.
Christie's. Old Master & British Drawings, 30 January 2018, New York