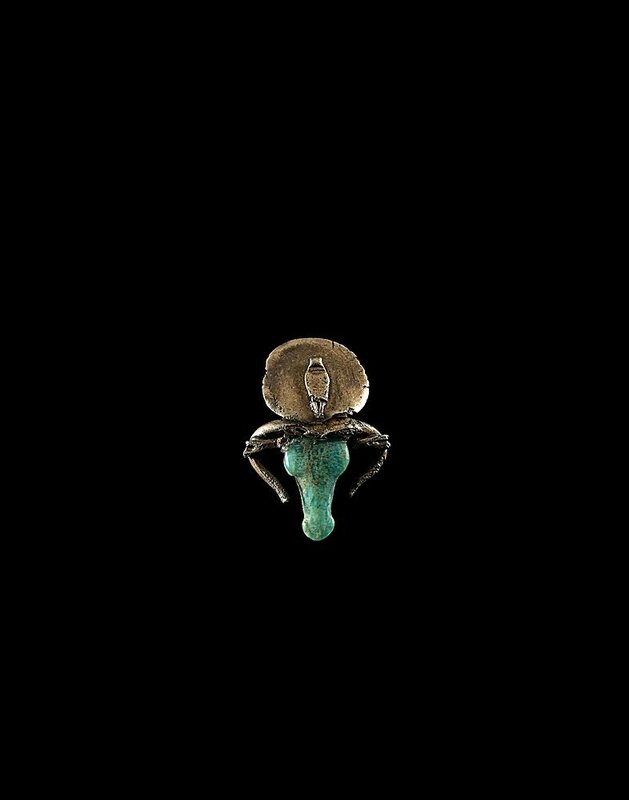 Ram's head amulet, Egypt, Nubia, 25th Dynasty, 722-655 BC. Gold and emerald. H 3.2 cm. © Galerie Eberwein
A royal amulet representing a ram's head wearing a sun disk with Uraeus, probably made for a necklace worn by one of the Kushite kings. Representations show these pharaohs wearing a ram's-head amulet tied around the neck on a thick cord, the ends falling forward over the shoulders
Provenance: private collection, Germany, acquired circa 1958
Literature: E.R. Russmann, The Representation of the King in the XXVth Dynasty, Fondation Egyptologique Reine Élisabeth, Brussels, Brooklyn, 1974; this piece will be published in P. Lacovara and Y. Markowitz, Nubian gold, ancient jewelry from Sudan and Egypt, 2017.
Mummy mask, Egypt, Ptolemaic Period, 306-30 BC. Polychrome and gilt cartonnage (layers of linen with plaster). The expressive eyes are inlays of glass and obsidian. H 47.5 cm. © Galerie Eberwein
Provenance: private collection, the Netherlands 1970; France, 1965.
Galerie Eberwein at BRAFA, 27 Jan - 4 Fev 2018, Stand 24c. 22 Rue JacobFR-75006 Paris. m +33 (0)6 72 90 40 70 - antonia.eberwein@egypt-art.com - www.egypt-art.com