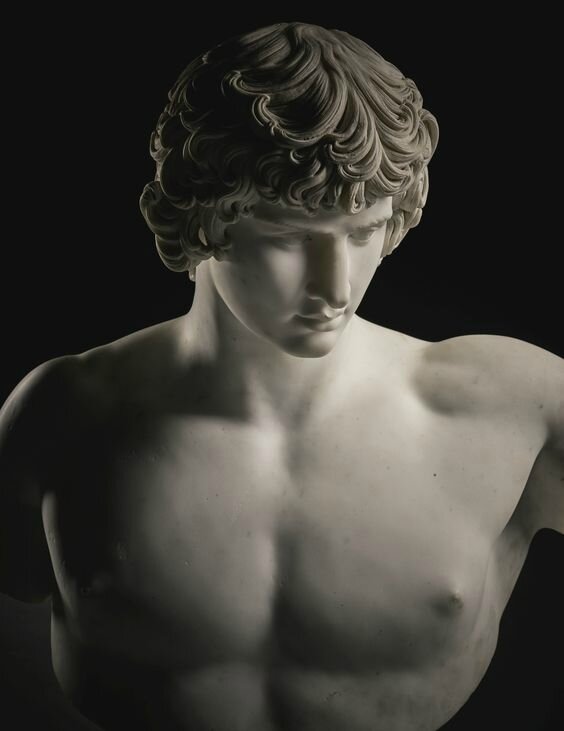 French, 18th century, After the Antique, Bust of Antinous, white marble, on a cippolino marble socle and column; bust: 75cm., 29½in.; socle: 18cm., 7 1/8in.; base: 6.5cm., 6½in.; column: 115cm., 45¼in. Estimate £100,000-150,000. Courtesy Sotheby's
LONDON.- Artists throughout history have been drawn to the human form. In the second edition of Sotheby's Erotic: Passion & Desire sale, Pre-Columbian sculpture will be paired with Picasso works on paper; masters of photography from Man Ray to Rankin will be set against 19th century marbles and antique reliefs; Gustav Klimt's sensual eroticism will jostle with Keith Vaughn's unrestricted erotic fantasies; each work charting the history of the subject from antiquity to modern day. The exhibition in Sotheby's New Bond Street galleries, on public view from 7 – 15 February, takes viewers on an art historical journey. Comprising 90 lots with a combined pre-sale low estimate of £3.8 million, this year's auction will be accompanied by an online sale, presenting an even wider range across continents and centuries. Erotic Art Online will be open for bidding from 2 – 16 February and includes prints, photographs, paintings, sculpture, drawings, Asian works of art and film posters.

Constantine Frangos, Head of Sale, said: "The story of erotic art is a story from many different times and many different lands, and our second Erotic sale brings together a broad range of artworks and objects which lay bare the history of human sexuality in all its guises. Following the success of last year's inaugural sale, we're thrilled to bring together another rich and diverse group, striking in both subject matter and artistic expression."

Tania Remoundos, Impressionist & Modern Art Specialist, said: "This auction provides an extraordinary insight into how some of the greatest names in art history engaged with the subject of erotic art. Francis Picabia's irreverent homage to French wartime glamour magazines is the perfect coverlot for the sale, as the avant-garde artist purposefully sets out to outrage the art establishment with his sun-drenched bathers."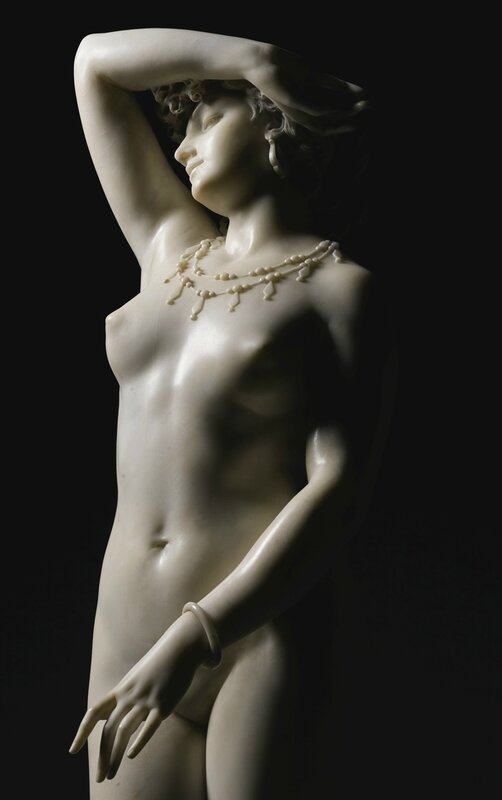 Lot 10. Francesco Barzaghi (1839 - 1892), Phryné, 1868, signed and dated: Barzaghi Frañ / 1868, white marble, on a faux marbre, bronze and gilt bronze revolving base; figure: 169cm., 65 3/8 in.; base: 82cm., 32 1/4 in. Estimate £400,000–600,000. Courtesy Sotheby's
A depiction of the famously beautiful courtesan of fourth century Ancient Greece, Phryné is an exquisite sculpture by Francesco Bazarghi – a leading proponent of the avant-garde Scapigliatura or 'bohemian' movement in Milan. Phryné was best known for her trial for impiety before the Athenian judges, where she was accused of the capitol offence of profaning the Eleusinian Mysteries. It is said that at the moment of sentencing, her advocate, the orator Hyperides, swept off her clothes – revealing a body so divine-looking that the judges were unable to condemn it to death. It is also thought that she was the model for her lover, the sculptor Praxiteles' statue of the Aphrodite of Knidos – the first life-sized nude statue of a woman from ancient Greece.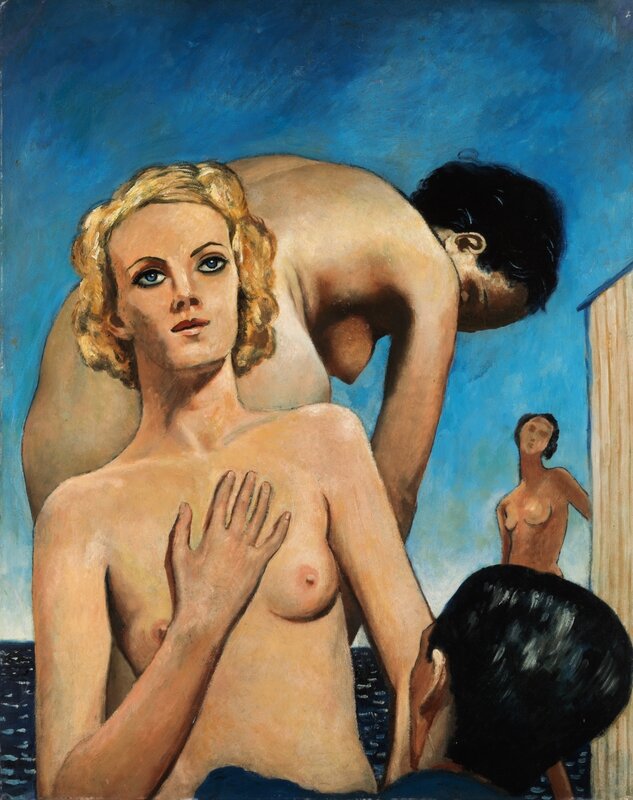 Lot 15. Francis Picabia (1879 - 1953), Les baigneuses, femmes nues bord de mer, oil on board, 92 by 72.5cm., 29 5/8 by 26 1/3in.. Painted in 1941. Estimate £400,000-600,000. Courtesy Sotheby's
Picabia was fascinated by the subversive power of eroticism, and in the 1940s his practice took a surprising turn as he began to paint nudes in the style of French glamour magazines. Living in the South of France, his sources included mass-produced erotica, postcards, and photo-novels as he used the traditional medium of oil painting to explore the dichotomy between low and high art. In an exaggerated manner, the artist parodied the 'high' genres of allegory, portraiture and mythological scenes.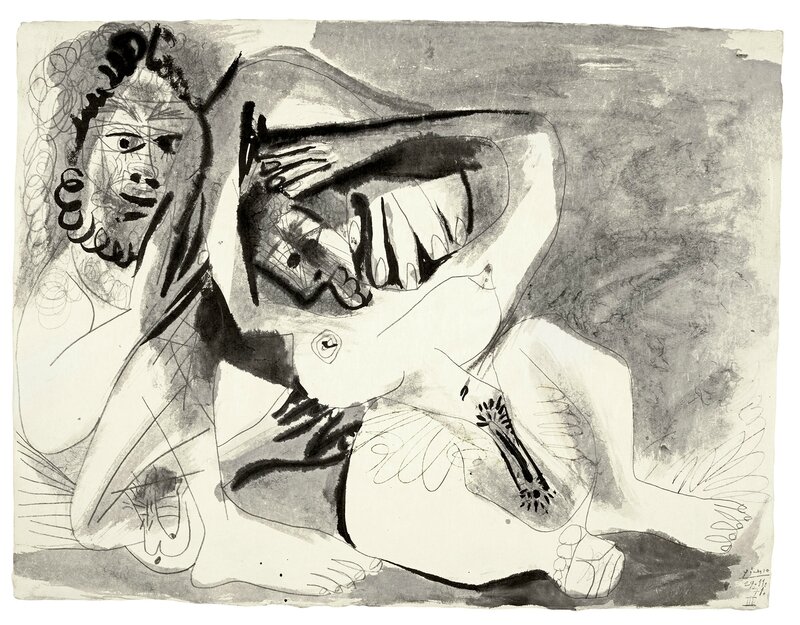 Lot 16. Pablo Picasso (1881 - 1973), Homme et femme nus, signed Picasso and dated 29.11.71. III (lower right), brush and ink, wash and pencil on paper, 51 by 66.5cm., 20 by 26 1/8in. Executed on 29th November 1971. Estimate £250,000-350,000. Courtesy Sotheby's
This work on paper is a powerful example of the extraordinary sensuality and eroticism in Picasso's late drawing – depicting a woman languorously enclosed within the embrace of a satyr-like male. In Picasso's works, artistic desire is an extension of an erotic drive, and here the underlying ripples of the struggles and physical hardships facing the ageing painter are given potent expression.
Lot 37. A Roman Terracotta Plaque with Brothel Scene, circa 1st Century A.D.; 32.5 by 59cm., 12 7/8 by 23 1/4in. Estimate £20,000-30,000. Courtesy Sotheby's
Testament to how representations of love and sex transcend time, a number of lots stretch back to ancient Rome – asserting the idea that there is no form of modern sexual behaviour that has not already been perfected by our forebears. This ancient Roman plaque is moulded in relief with an apparent narrative unfolding in three scenes from right to left divided by architectural elements, with various encounters between men and women.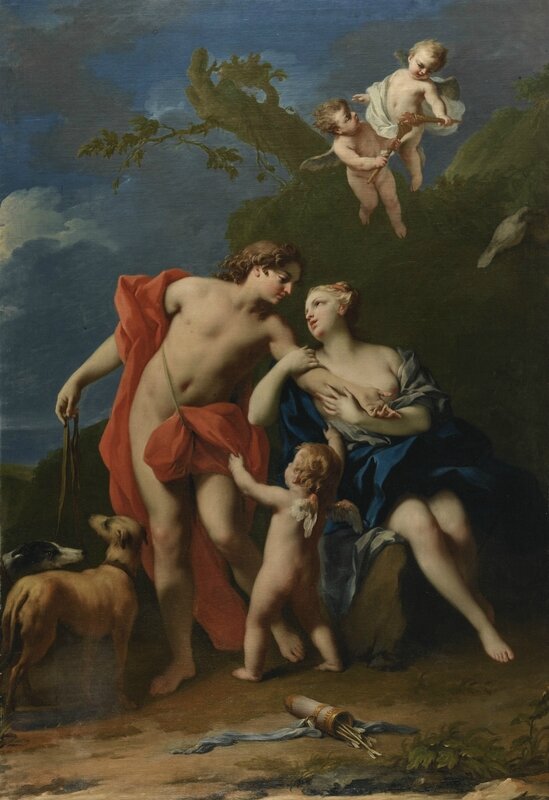 Lot 40.
Jacopo Amigoni (Naples 1682 - 1752 Madrid), Venus and Adonis, oil on canvas,

216 by 150cm., 85 by 59in.

Estimate £300,000-500,000.
Courtesy Sotheby's
One of the most exciting mythological works by Jacopo Amigoni, this magnificent and monumental canvas depicts the Roman goddess of love embracing Adonis – passionately gazing into his eyes and imploring him not to leave on the hunting trip where he would die. By using gentle emotion rather than drama to define the narrative, he has created his most tender and beguiling depiction of the myth. The graceful painting focuses on the carnal relationship between the two protagonists, the lovers physically intertwined in the centre of the canvas. This sensual work was originally part of a pendant pair created during the artist's English sojourn, its partner now hanging in the Metropolitan Museum of Art, New York. In the 1730s, Amigoni found an avid audience in the various courts of Europe, which had developed a taste for the charm of the Venetian Rococo – becoming one of the foremost and highly sought after decorative artists of his generation.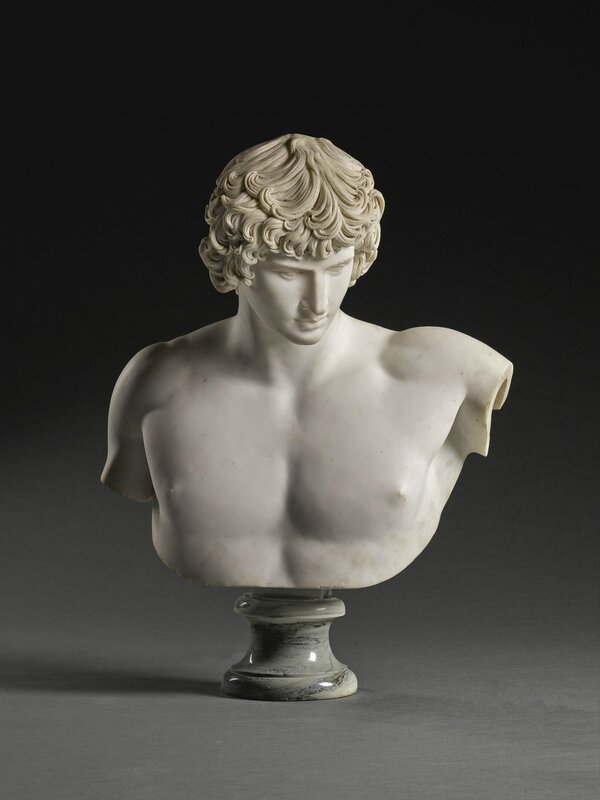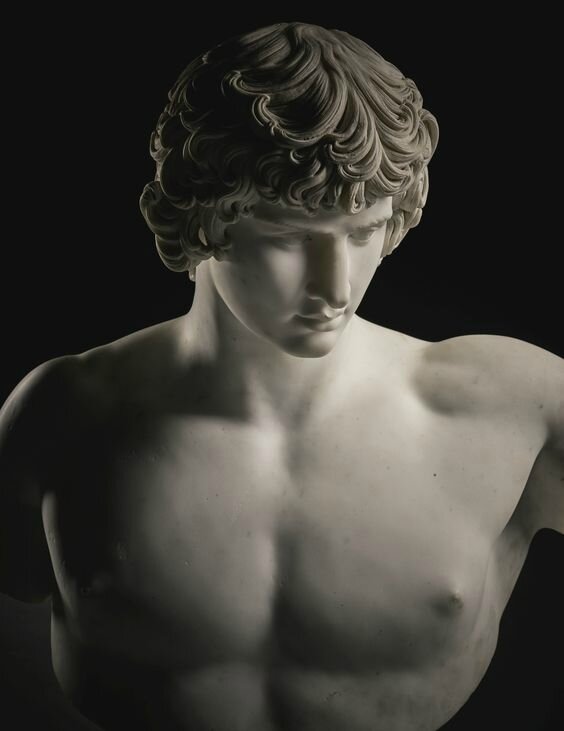 French, 18th century, After the Antique, Bust of Antinous, white marble, on a cippolino marble socle and column; bust: 75cm., 29½in.; socle: 18cm., 7 1/8in.; base: 6.5cm., 6½in.; column: 115cm., 45¼in. Estimate £100,000-150,000. Courtesy Sotheby's.
This rare and superbly carved marble bust depicts Antinous, the male lover of the Roman Emperor Hadrian, who has been celebrated throughout history for his good looks, and has subsequently become a symbol of same sex love. It combines the allure of the biographical portrait with an idealised classical representation of male beauty. In Rome, there was no clear distinction between heterosexual and homosexual love, and the relationship between Antinous and Hadrian – between a younger and an older man – would not have been unusual in Roman society. Antinous was in Hadrian's retinue by A.D. 130, but their story took a tragic turn when Antinous mysteriously drowned in the Nile at the tender age of 19, plunging the Emperor into prolonged mourning for his favourite. The effect of Antinous' death on Hadrian was profound – he established a city in Egypt, Antinoopolis, in the Grecian youth's honour, and even encouraged his veneration as a god.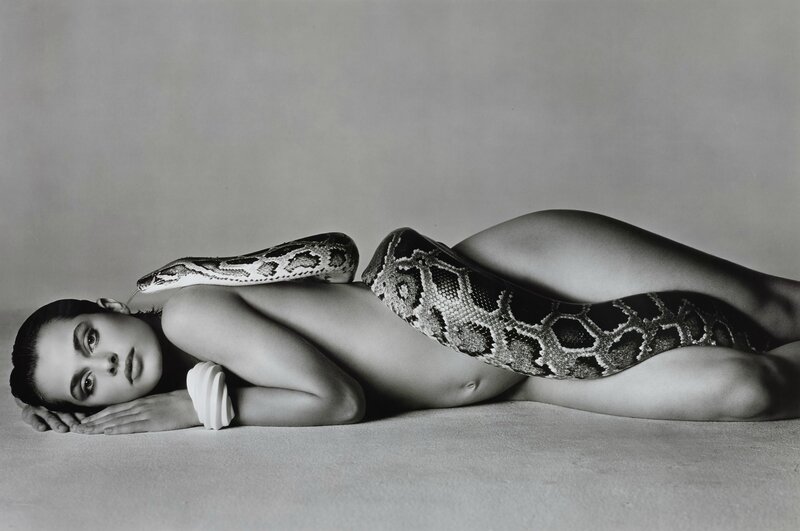 Richard Avedon (1923 - 2004), Nastassja Kinski and the Serpent, Los Angeles, California, 1981.

Oversized silver print, signed and numbered

52/200

in pencil on the mount. Mounted and framed.

Sheet: 72.4 by 108.6cm., 28 ½ by 42 ¾in. Estimate £50,000-70,000.
Courtesy Sotheby's.
Exuding a timeless eroticism, this iconic image was taken during a two hour shoot when Kinski was at the height of her career and Avedon was already a world renowned fashion photographer. Intertwined with a boa constrictor, grappling with temptation, seduction and power, Kinski is clearly referencing deeply rooted concepts in classical art and mythology, most notoriously the story of Adam and Eve and the serpent that tricked Eve to take an apple from the Tree of Knowledge. Commissioned for Vogue, the only fashion emblem present is the Patricia von Musulin bracelet which the editor of Vogue at the time noted she regretted including within the photograph.
Lot 14. Tracey Emin, R.A. (B.1963), How I Think I Feel, acrylic on canvas, 64.4 by 81.1cm. 25 3/8 by 31 7/8in. Executed in 2007. Estimate £50,000-70,000. Courtesy Sotheby's
Powerfully intimate and revealing, How I Think I Feel was one of a small selection of canvases chosen to represent Great Britain at the 52nd Venice Biennale in 2007. Not only a striking and sensuous image, it is also a deeply personal and moving insight into Emin's own psyche. The artist brilliantly employs her draughtsmanship to great effect; urgent brushstrokes delineate a female body to create an image which turns viewer into voyeur.
Playboy Entertainment for Men Issue #1, [December 1953] (est. £3,000-5,000)
The most iconic and recognisable first issue of any magazine ever, the inaugural issue of Playboy was published by Hugh Hefner in December 1953. The first issue is not dated, as Hefner was unsure there would be second. 50,000 copies immediately sold (for the price of 50¢ each) and Playboy was born.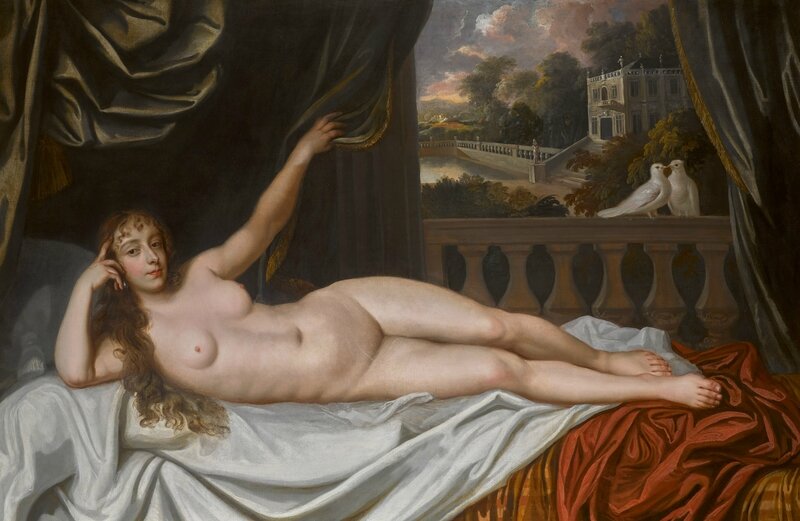 Lot 55.
Attributed to Sir Peter Lely and Studio (Soest 1618 - 1680 London), Portrait of Elizabeth Trentham, Viscountess Cullen, as Venus, Full length, nude, recumbent on a divan, drawing back a curtain to reveal a balustrade with a pair of doves, a villa and landscape beyond,

oil on canvas,

129 by 196cm., 50¾ by 77¼ in.

Estimate £80,000-120,000.
Courtesy Sotheby's
This alluringly provocative painting is exceptionally rare in British art of the 17th century – possibly the only fully nude portrait of a noblewoman painted in England in that century. Though its existence has been known, it is only sparsely documented in the literature and is not thought to have been seen in public since its original creation. Neither simply an allegorical representation of Venus nor an anonymous nude, the picture astonishes for the fact that it is a portrait. 'The beautiful Lady Cullen', Elizabeth Trentham, Viscountess Cullen (1640-1713) was Lady of the Bedchamber to Queen Catherine and a celebrated Restoration Court beauty of equivocal reputation – notorious for her physical charm, her extravagance and her immorality. The Restoration Court of King Charles II, and his brother the Duke of York (later James II), was notoriously licentious, though even by the standards of Restoration England, the painting is exceptional in its overt eroticism.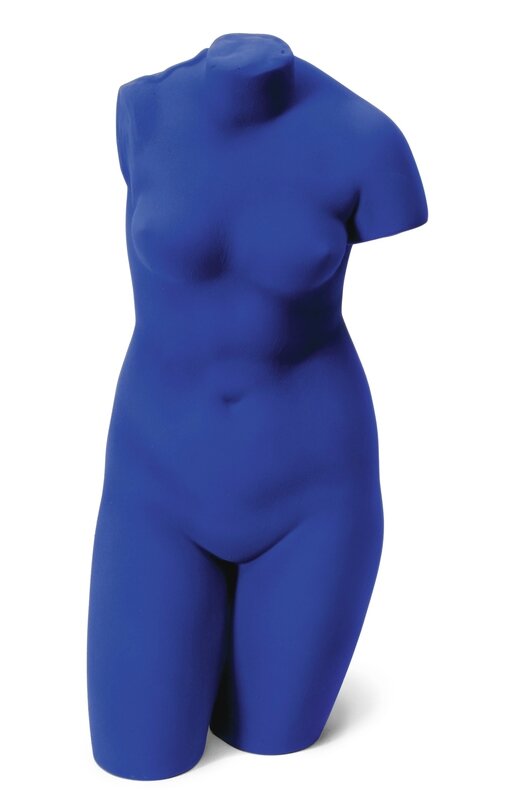 Lot 3.
Yves Klein (1928 - 1962), Venus Bleue (S41),

numbered

49/300

on the underside,

dry pigment and synthetic resin on plaster,

69 by 32 by 24 cm. 27 1/8 by 12 1/2 by 9 7/8in.

Conceived in 1962 and executed posthumously in 1982, this work is number 49 from an edition of 300, plus 50 hors-commerce proofs numbered I/L to L/L and 3 artist's proofs

. Estimate £50,000-70,000.
Courtesy Sotheby's
Known for his audacious experiments and provocative techniques, Yves Klein produced a series of beautifully poetic and intense works in his trademark ultramarine pigment, International Klein Blue.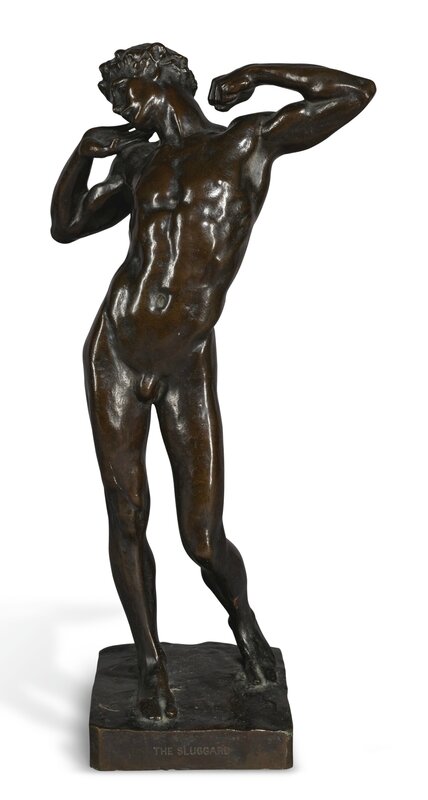 Lot 39.
Frederic, Lord Leighton (1830-1896), The Sluggard,

signed:

Fred

LEighton

and entitled:

THE SLUGGARD

and inscribed:

PUBLISHED BY ARTHUR LESLIE COLLIE / 39

B

OLD BOND STREET / MAY I

ST

1890.

and:

FOUNDED BY J. W. SINGER & SONS / FROME SOMERSET.,

bronze, warm brown patina,

54cm., 21¼in. Estimate £18,000-25,000).
Courtesy Sotheby's
The Sluggard is one of the iconic masterpieces of 19th-century British sculpture, its languid pose capturing the essence of male beauty and the masculine ideal. The subject was inspired when Leighton's muscular male model, Giuseppe Valone, began slowly stretching after a long sitting. He rapidly captured the pose in clay, which he exhibited at the Royal Academy in 1886. Originally titled 'Athlete awakening from sleeping', The Sluggard was conceived as the pendant to the artist's earlier masterpiece, 'An Athlete struggling with a Python', exhibited at the RA in 1877