MINNEAPOLIS, MN.- The Minneapolis Institute of Art collaborated with celebrated theatre director and visual artist Robert Wilson to organize a first-of-its-kind exhibition highlighting the drama, rituals, and opulence of the Qing Empire, the last imperial dynasty of China. The exhibition presents objects from Mia's renowned collection of Chinese art, including rare court costumes, jades, lacquers, bronzes, gold ornaments, paintings, and sculpture, displayed in an immersive, experiential environment conceived of by Wilson. "Power and Beauty in China's Last Dynasty: Concept and Design by Robert Wilson," presented by Sit Investment Associates, is curated by Liu Yang, Mia's Curator of Chinese Art, and is on view February 3 through May 27, 2018.

"The staging and storytelling involved in this exhibition speak to Mia's belief in art's ability to inspire wonder and fuel curiosity," said Matthew Welch, Mia's Deputy Director and Chief Curator. "Through the use of the theatrical elements of lighting, sound, and progression, we examine the layers of imperial life—from the external presentation of the court to the internal, private life of the emperor. We want visitors to feel as though they are part of this closed, ritualized, and sometimes even dangerous world."

During the Qing (pronounced "ching") court's reign (1644–1912), the arts flourished—rivaling that of Europe's great kingdoms. This backdrop of opulence served to affirm imperial power and prestige, and acted as stagecraft to enhance the emperor's leading role as the "son of heaven."

Costumes worn at court are given particular attention in the exhibition, including the display of exquisite robes heavily embroidered or woven with symbolic designs such as roiling waves and faceted rocks that evoke the earth's oceans and mountains, or stylized clouds that suggest the heavens. Dragons, a longstanding symbol of imperial authority and might, often cavort in the clouds, suggesting the emperor's rule of heaven and earth. These symbols are also repeated on other objects throughout the exhibition and help reinforce the sense of the imperial family's rule as mandated from heaven.

"Mia has one of the world's great collections of Chinese art outside of China," said Liu Yang, Mia's curator of Chinese Art and head of China, South, and Southeast Asian Art. "Our collection of Qing dynasty textiles is one of the most comprehensive in the West, and we have many other important objects associated with the Qing emperors and their courts. It is personally very exciting for me to be able to highlight these objects in an unexpected and fresh manner by working with Robert Wilson."
Exhibition Experience
The exhibition progresses through a series of ten galleries that lead visitors from the performative, external world of the imperial court to the intimate, interior world of the emperor. The sequence of galleries explores different aspects of imperial life, from the almost bureaucratic devotion to hierarchy and the emperor's omnipotent control of the court to the politically expedient splendor of religious devotional objects.
Objects highlights include:
A ceremonial twelve-symbol jifu court robe worn by the emperor
A formal court robe worn by the empress
A 640-pound jade mountain commissioned by the Qianlong emperor
A multicolor lacquered and carved imperial throne
A meditating Buddha carved from white jade enthroned within a Tibetan-style stupa of green jade
An imperial portrait of prince Duo Lou
A carved lacquer box adorned with nine auspicious dragons and bearing the Qianlong emperor's seal.
Each gallery also features an original soundscape created by Wilson, in collaboration with sound designer Rodrigo Gava, and dramatic lighting by designer A.J. Weissbard.
To set the stage, visitors enter a small, darkened gallery with a single illuminated object and a subtle soundscape, encouraging them to settle their minds and leave behind the 21st century as they enter the world of the emperor. In juxtaposition, the second gallery embraces the extreme of opposites. Brightly lit and displaying approximately 200 objects including: carved lacquer boxes, bronze altar pieces, jades, gold ornaments, gilt bronzes, porcelains, and furniture—the gallery emphasizes the range of artistic creation throughout China's long history and the force of this tradition on the Qing emperors.
An adjacent gallery seeks to recreate the sense of authority and awe inspired by meeting the emperor in his throne room. In this room with gold-leafed walls that evoke the opulence of the Hall of Supreme Harmony (Taihe dian) in the Forbidden City in Beijing, an imperial throne from the Qianlong period (1736-95) has been raised on a dais with stairs on three sides, four large pillars surrounding it, and a large dragon painted on the wall behind it. The soundscape emphasizes the fearsomeness of the emperor's power by relying on percussion instruments performing ceremonial music, punctuated by intermittent screams.
Another gallery focuses on the court life of noblewomen. This room highlights the artistry developing in gold and silver production in the Qing period and the development of sophisticated technology for clothing manufacture, which created a remarkable material culture of garments and adornments. The aluminum-foil wallpaper of the gallery is designed to suggest a lavish and extravagant lifestyle, yet with a poignant soundscape that undercuts the display. A sad, bitter melody is being played on the erhu (a twostringed instrument), but unexpectedly interrupted from time to time by the sound of female giggling—a symbolic reference to the destiny and experience of Chinese women in the imperial court.
Together, the galleries vividly bring to life an intimate and dramatic sense of the imperial court during China's last dynasty.
"Mia could not be more delighted to work with Robert Wilson on the creation of this exhibition," said Kaywin Feldman, Mia's Nivin and Duncan MacMillan Director and President. "His unique approach to exhibition design and his willingness to push the boundaries make him an ideal collaborator. His style often involves dramatic contrasts—brightness and darkness, fullness and emptiness—which bring a new perspective to these historic objects."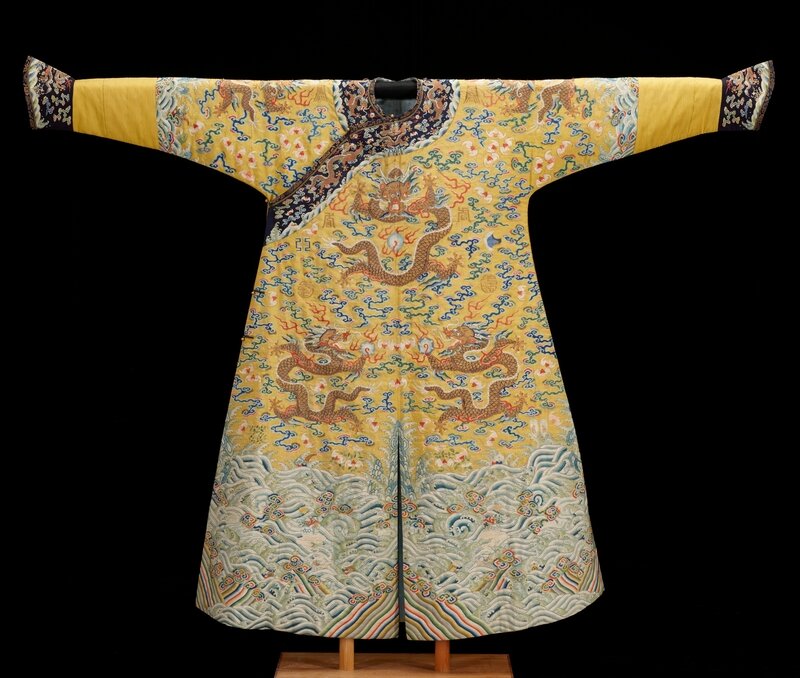 China, Qing dynasty (1644–1911), Manchu Emperor's Ceremonial Twelve-symbol jifu Court Robe, Yongzheng period 1723–1735. Silk tapestry (kesi). The John R. Van Derlip Fund 42.8.11, Minneapolis Institute of Art.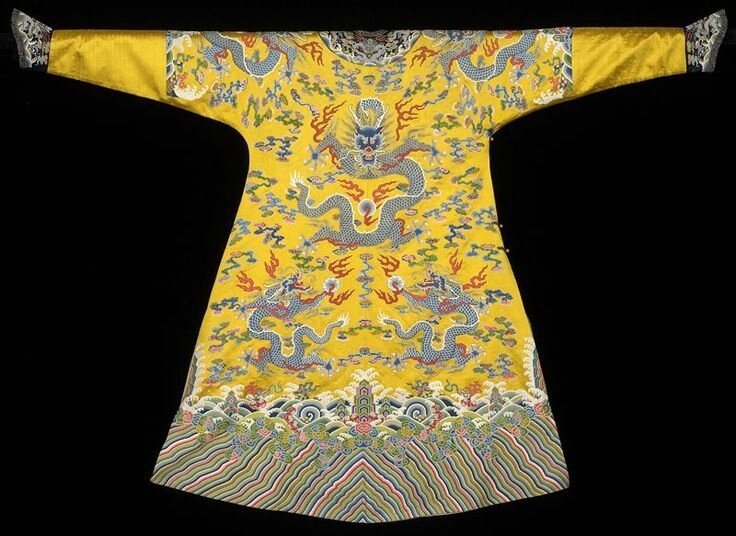 China, Manchu Empress's Semiformal Court Robe, Kangxi period 1662-1722. Silk tapestry (kesi). The John R. Van Derlip Fund 42.8.9. Courtesy Minneapolis Institute of Art.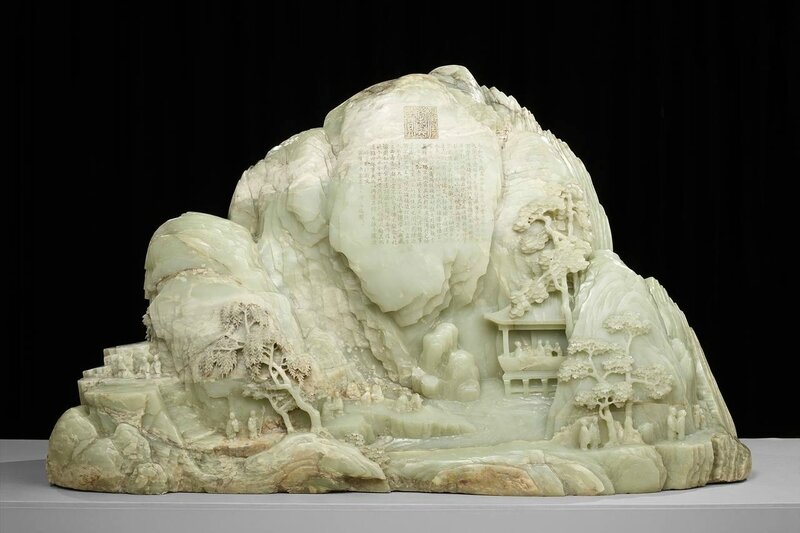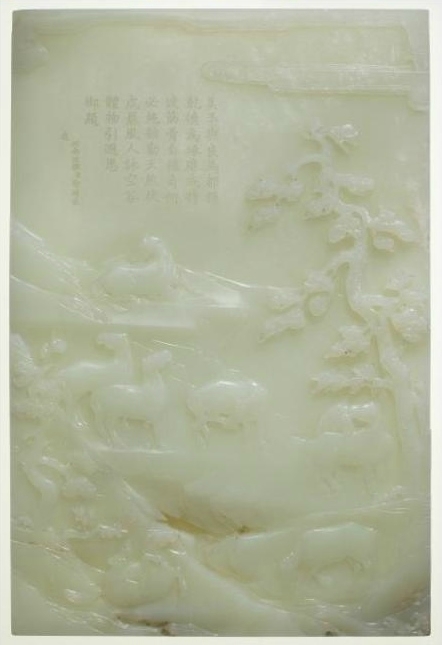 China, Jade Mountain Illustrating the Gathering of Scholars at the Lanting Pavilion, commissioned by the Qianlong emperor, 1790. Light green jade, 22 1/2 × 38 3/8 in., 640 lb. (57.15 × 97.47 × 290.3 cm). The John R. Van Derlip Fund and Gift of the Thomas Barlow Walker Foundation 92.103.13. Courtesy Minneapolis Institute of Art.
China, Qing dynasty (1644–1911), Imperial Throne, Qianlong period (1736–1795). Polychrome lacquer over a softwood frame, 22 1/2 × 38 3/8 in., 640 lb. (57.15 × 97.47 × 290.3 cm). Gift of Ruth and Bruce Dayton 93.32a-d. Courtesy Minneapolis Institute of Art.
China, Amitabha, 19th century. White and mottled green nephrite. The John R. Van Derlip Fund and Gift of the Thomas Barlow Walker Foundation 92.103.14a,b. Courtesy Minneapolis Institute of Art.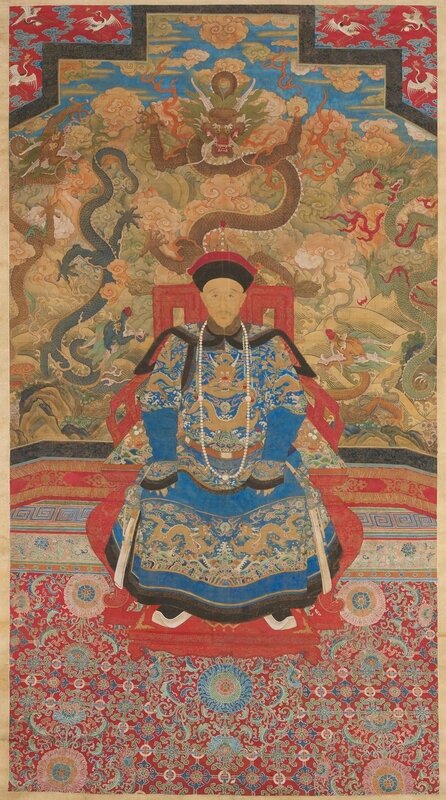 China, Imperial Portrait of Prince Duo Luo, c. 1775, Qing dynasty, Qianlong period (1736-1795); Ink, color, and gold on silk; 117 x 75 in. (297.18 x 190.5 cm). Gift of funds from Louis W. Hill, Jr., David Bradford, Myron Kunin, and Bruce Dayton 83.30. Courtesy Minneapolis Institute of Art.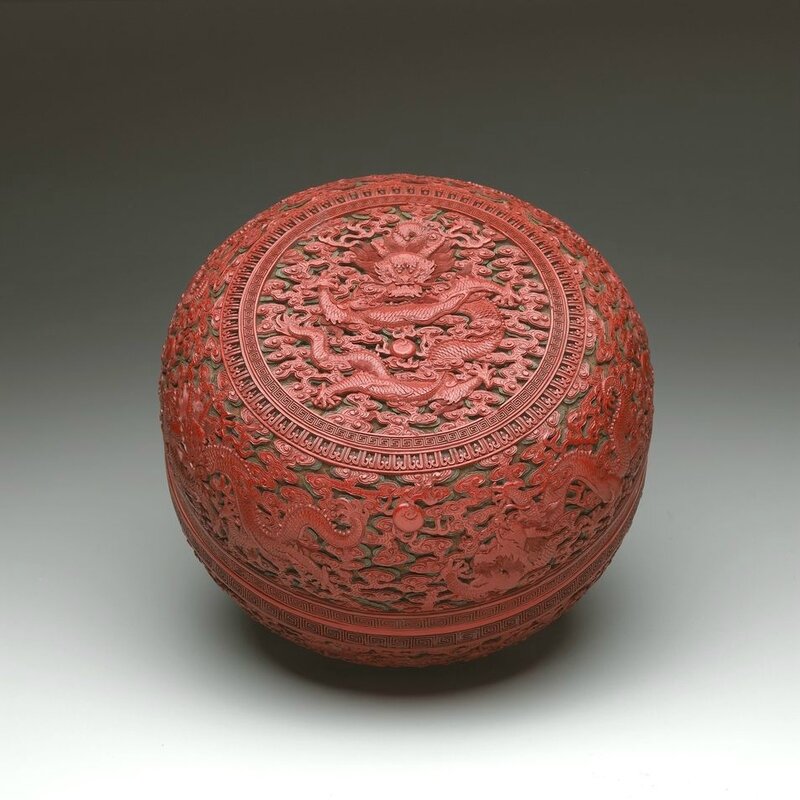 China, Nine Dragon Box, Qianlong six-character reign mark (1736-1795). Red, green, and brown carved lacquer (tixi), 8 1/4 x 11 1/4 x 11 1/4 in. (21 x 28.6 x 28.6 cm). Gift of Ruth and Bruce Dayton 2001.68.14a,b. Courtesy Minneapolis Institute of Art.