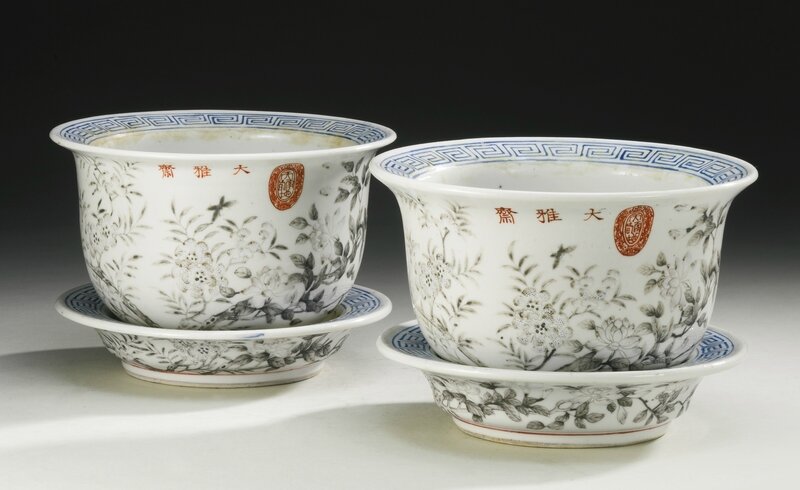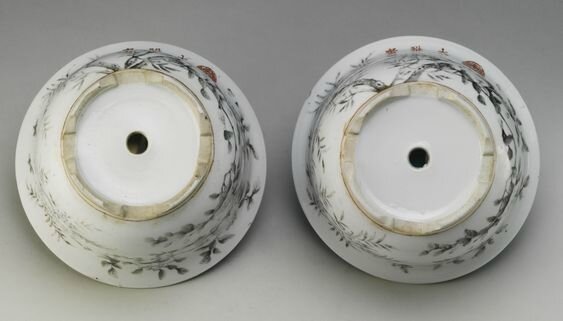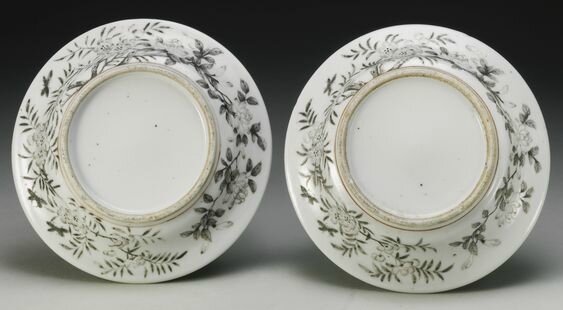 Lot 491. Two Dayazhai grisaille-decorated jardinières and underdishes, Qing dynasty, Tongzhi-Guangxu period (1865-1908). Height of jardinières 4 in., 10 cm, Diameter of underdishes 6 1/2 in., 16.5 cm. Estimate 5,000 — 7,000 USD. Lot sold 12,500 USD. Photo Sotheby's 2014.
each jardinière of circular form, the deep rounded sides rising to an everted rim and supported on four bracket feet, the stands with steep tapering sides and a wide everted rim, all similarly decorated on the exterior with finely painted sprays of China rose and peach blossom, the rims with overglaze blue key-fret pattern, each planter with the three-character Dayazhai inscription and the oval seal reading tiandi yi jia chun in iron-red (4).
Provenance: Collection of John Story Jenks (1839-1923), Philadelphia and thence by descent.
Note: Mr. Jenks, an active philanthropist, served for many years on the Board of Trustees of the Philadelphia Art Museum as well as donating many Chinese works of art to its permanent collection.
Similar examples along with the illustrations of the original drawings for the designs from the Palace Collection in Beijing are published in Guo Xingkuan and Wang Guangyao, Guanyang Yuci: Gugong bowuyuan cang Qingdai zhici guanyang yu Yuyao, Beijing, 2007, pp. 194-195 and there is another illustrated in The Complete Works of Chinese Ceramics, Qing part II, Shanghai, 1999-2000, p. 200.
Pieces with this distinctive mark and decoration are considered to have been first commissioned by the Dowager Empress Cixi during the Tongzhi reign and continuing after 1875 when she installed her nephew Guangxu on the throne. The attractive pattern appearing on dinner services and jardinières features fine floral painting on either a white or colored ground and have always been highly regarded for their quality and striking patterns. The origin of the mark Dayazhai (Studio of the Greater Odes) is somewhat speculative. A plaque was found in the Imperial workshops bearing the characters Dayazhai and with one of two seals reading Tiandi Yijia Chun: see Guo Xingkuan and Wang Guangyao, Guanyang Yuci: Gugong bowuyuan cang Qingdai zhici guanyang yu Yuyao, Beijing, 2007, pp. 145-147. According to the authors, the timing for such a large commission would make sense as major renovation on Yuanming Yuan began in 1873 and a section was successfully rebuilt in 1888 at enormous expense and to the exact specifications of the Dowager Empress who would then be in need of new furnishings and decorations.