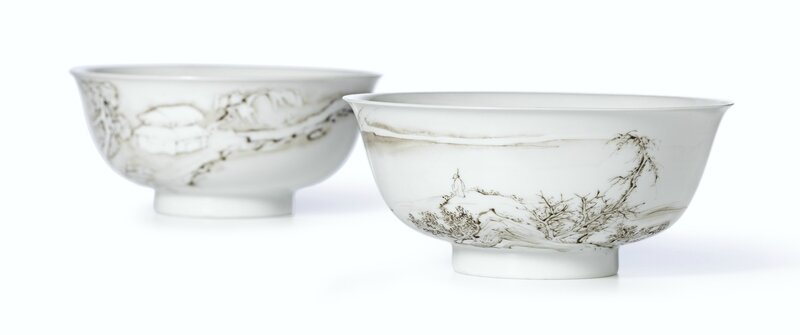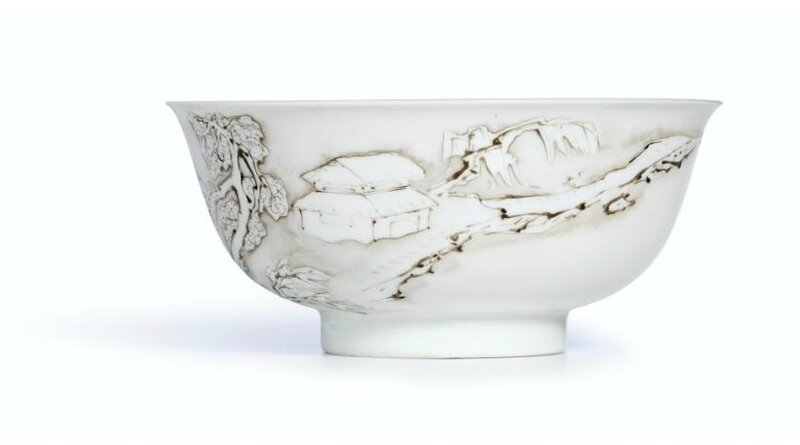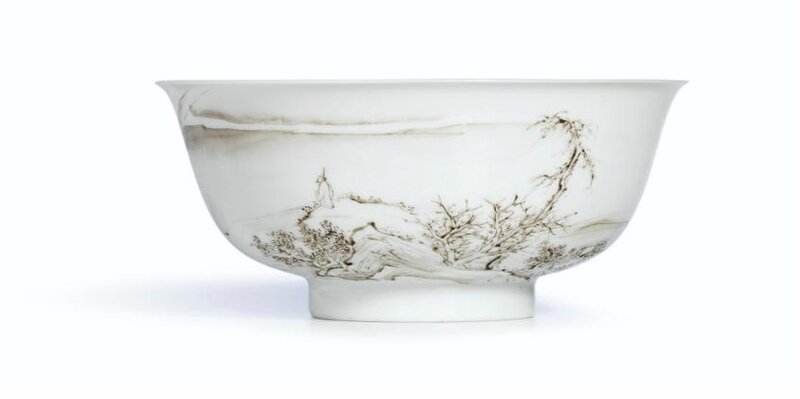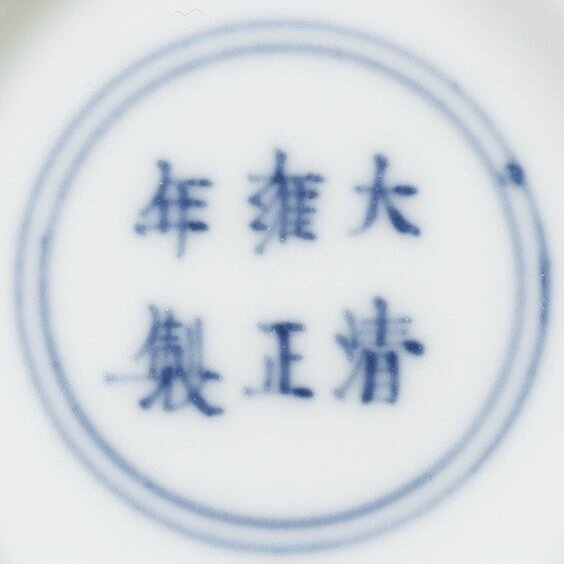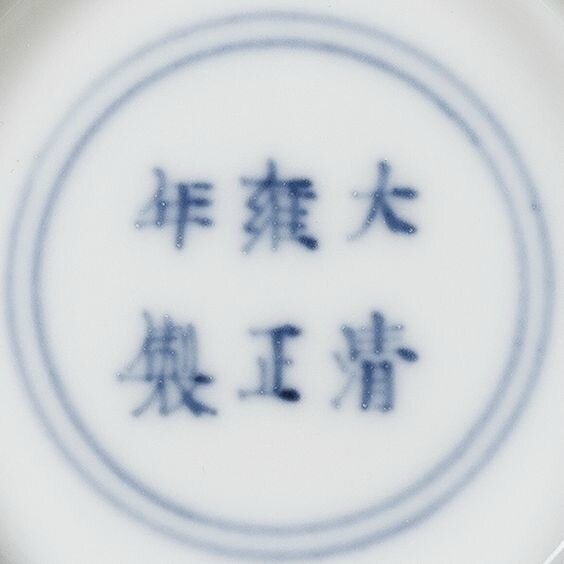 Lot 101. A fine and rare pair of grisaille-decorated 'landscape' bowls, marks and period of Yongzheng (1723-1735); 14.2 cm., 5 5/8 in. Estimate 2,000,000 — 3,000,000 HKD). Lot sold 3,800,000 HKD. Photo: Sotheby's 2015.
each finely potted with deep rounded sides rising from a short foot to a slightly everted rim, finely decorated in a painterly manner with tranquil landscape scenes, one depicting a scholar standing on a peak overlooking a lake towards a fishing boat, the other with a house set in a snowy landscape, the base inscribed in underglaze blue with a six-character reign mark in three columns.
Provenance: Sotheby's Hong Kong, 31st October 1974, lot 302.
Sotheby's Hong Kong, 29th November 1978, lot 344.
Collection of T.Y. Chao.
Sotheby's Hong Kong, 19th May 1987, lot 321.
Sotheby's Hong Kong, 5th November 1996, lot 920.
Exhibited: Splendour of the Qing Dynasty, Hong Kong Museum of Art, Hong Kong, 1992, cat. no. 200.
Note: It was under the Yongzheng Emperor that decoration in black ink only, possibly influenced by European sepia wares, first appeared. It was also during this period that imitations of other materials in ceramics were first attempted. The Yongzheng edition of the Jiangxi tongzhi (General Description of the Province of Jiangxi) published in 1732 and compiled by Xie Min, governor of Jiangxi province between 1729 and 1734, lists the range of ceramic wares produced for the Imperial palace during the Yongzheng era under the supervision of Superintendents Nian Xiyao and Tang Ying. No. 40 in Xie Min's list mentions the making of porcelain decorated in black ink. This new technique allowed the painter to closely follow the style of traditional Chinese landscape painting, with details of figures, flowering plants and birds all executed with shading, so as to reproduce the light and dark strokes of brush-and-ink drawing. This category of wares would have been among the emperor's favourites, with the simplicity of the design accurately reflecting his very fine taste. It also satisfied his great fondness for traditional Chinese ink painting.
Cai Hebi, in her introduction to the Special Exhibition of Ch'ing Dynasty Enamelled Porcelains of the Imperial Ateliers, National Palace Museum, Taipei, 1992, p. 12, quotes an edict from 1732 in which the emperor praises the making of sepia wares and says, 'For Grand Minister Hai Wang to transmit the following edict: The enamel paintings in sepia are all exceedingly fine. Employ the two painters Tai Heng and T'ang Chen-chi as enamel painters and remove the paintings brought as samples of their works. Also remove the sample paintings by T'ang Tai. The work of the others is all fine, and they may remain. By Imperial Command. Have the painters Tai and T'ang transferred to enamel painting.'
The present decoration on this superb pair of bowls closely follows traditional handscroll paintings. The landscape on this piece appears to have been influenced by the Wumen School of Painting of the Ming dynasty which included Wen Zhengming. It shares the sense of perspective, use of bold black colouring and shading, and is painted in a similarly refined and elegantly meticulous style. For another closely related pair of grisaille decorated bowls, inscribed with similar underglaze-blue reign marks in three columns, see the pair from the estate of William and Jennifer Shaw, originally sold at Sotheby's London, 29th February 1972, lot 265, and in these rooms, 31st October 1995, lot 552, and more recently sold in our New York rooms, 11th/12th September 2012, lot 83. Compare also a smaller pair of bowls included in the exhibition The Wonders of the Potter's Palette, Hong Kong Museum of Art, 1984, cat. no. 57. Compare also the style of painting and similar Yongzheng reign mark on a faux-bois grisaille decorated brushpot illustrated in Sotheby's Thirty Years in Hong Kong: 1973-2003, Hong Kong, 2003, cat. no. 164, sold in these rooms, 2nd May 1995, lot 150 and again, 23rd October 2005, lot 207.
Sotheby's. Yongzheng – The Age of Harmony and Integrity, Hong Kong, 07 avr. 2015