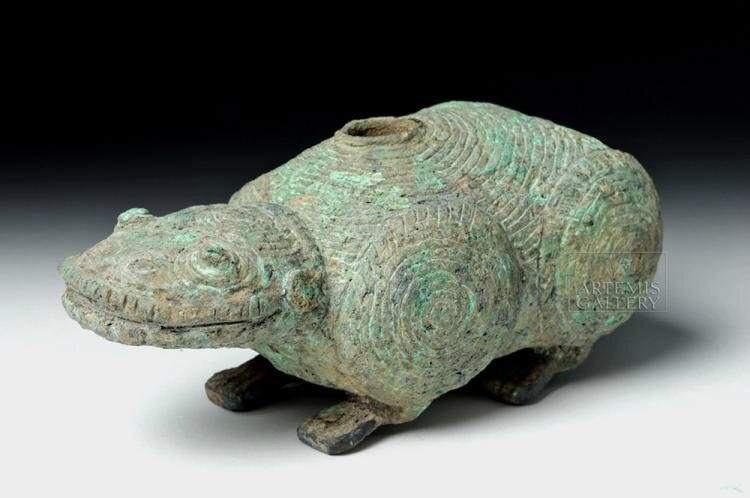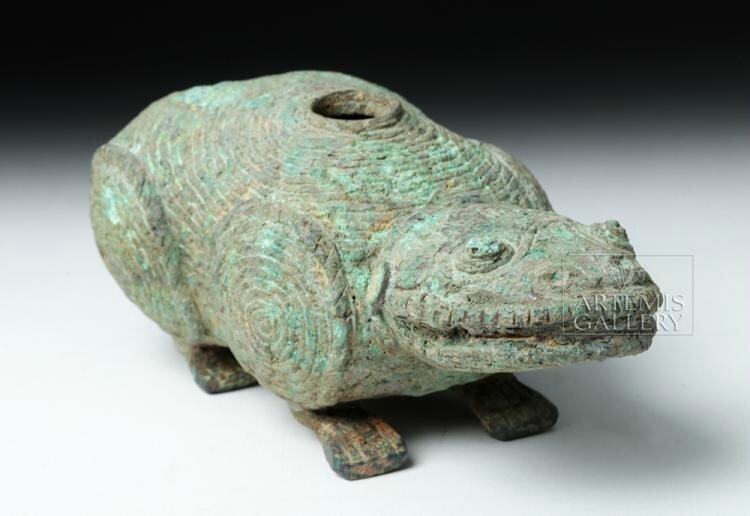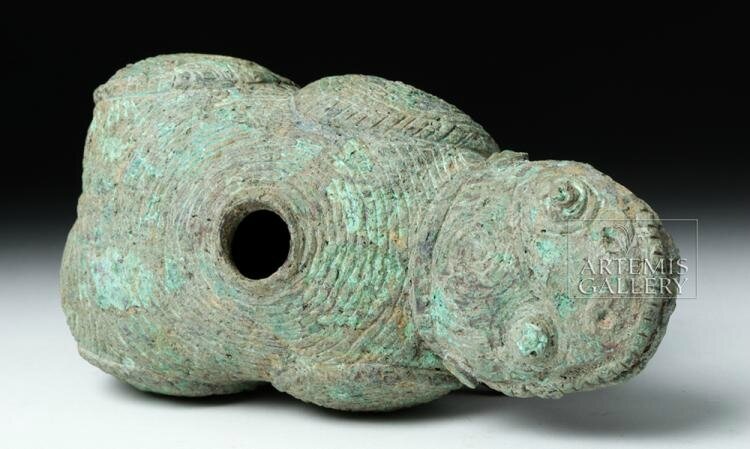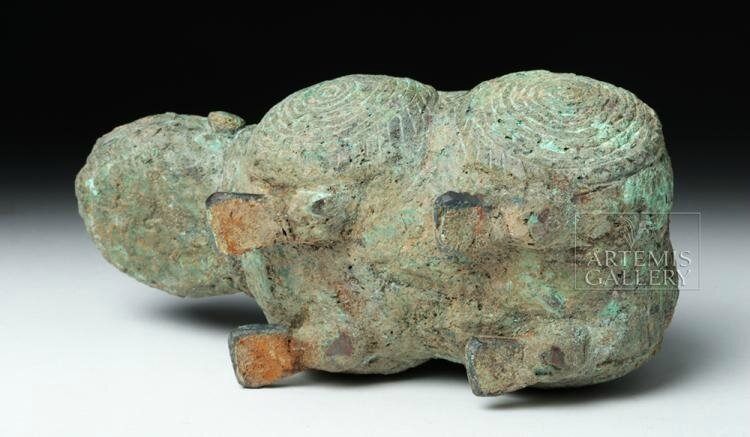 Lot 75D. Amphibian Lime Container, Vietnam, Đông Sơn culture, ca. 500 BCE to 0 CE; 6.5" L x 2.875" H (16.5 cm x 7.3 cm). Est: $1,500 - $2,000. © Artemis Gallery
An incredible and rare cast-bronze amphibious vessel used to contain lime powder. The composition of the container emulates the form of a stylized quadruped frog with each relief-coil leg retracted beneath its bulbous body. Its projecting head is comprised of beady eyes, discoid ears, impressed nostrils, full, striated lips, a small spout in the middle of its back, and a comical grin stretching from cheek to cheek. The vessel is adorned with a densely-congregated spiralized motif, and gorgeous layers of green and blue-green patina envelop the exterior. Lime paste is used to make an intoxicating chew from betel nuts, which is a common custom in central and southeastern Asia.
All four feet repaired and reattached with minor chips along break lines. Surface has been previously cleaned to remove some earthen encrustations. Expected age-commensurate surface wear and abrasions, fading to some details, with small nicks to face, body, and legs, otherwise excellent. Nice earthen deposits and beautiful green and blue-green patina throughout.
Provenance: private New York, New York, USA collection; ex-private Australia collection, acquired mid-1990s
Note: The Dong Son are famous for their bronzes and zoomorphic depictions. Animals are sometimes found as motifs on their large bronze drums, alongside motifs of boats, and other everyday items. Based on the fantastical characteristics of many of these representations, it seems likely that the artisans creating them saw some mythical role and purposes for these animals.
The casting technique for Dong Son bronzes was demanding artistically and technically, and it seems likely based on archaeological investigation that they were made by local workshops staffed by specialists. These specialists shared knowledge throughout their geographic region, and vessels like this one are constructed similarly to those from the Warring States period in China, with a distinctive Dong Son flare.
Dong Son bronzes have been found from around the Red River delta (where they were made) all the way south to Java and New Guinea, demonstrating a huge geographical trading spread. The Dong Son culture thrived in northern Vietnam and its burials, rich in bronze goods, demonstrate an elevated level of wealth relative to neighboring areas. As elsewhere in the Old World, there is a clear relationship between sophisticated bronze metallurgical technology and the development of a highly stratified society.