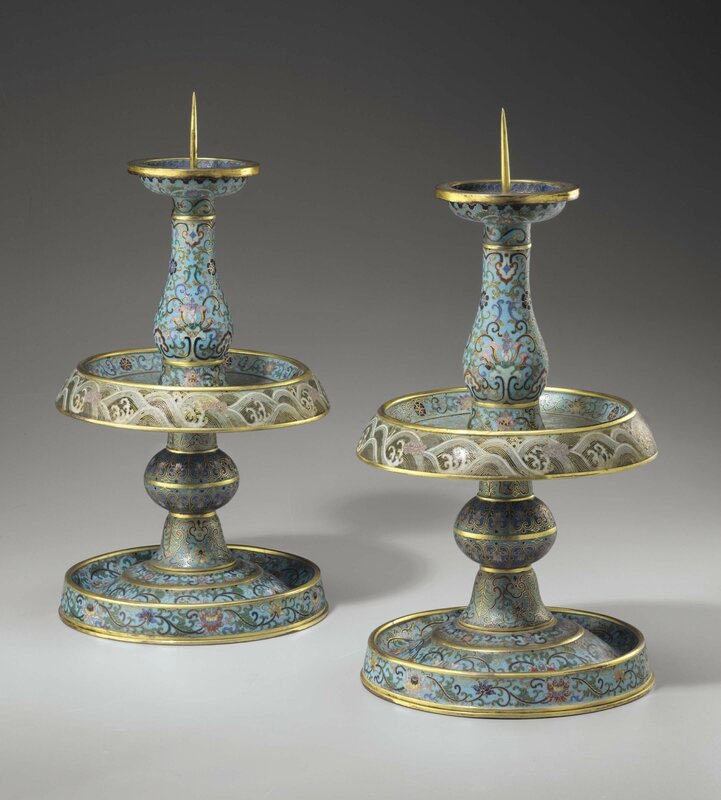 Lot 1003. An extremely rare pair of Imperial cloisonné enamel pricket candlesticks, Qianlong incised four-character marks within double squares and of the period (1736-1795), 15 ¼ in. (39.5 cm.) high. Estimate USD 200,000 - USD 300,000. Price realised USD 250,000. © Christie's Images Ltd 2017
Each candlestick has a slightly domed disk base superbly enameled with lotus scroll on a bright turquoise ground encircling a smaller band of stylized flowerheads around the central baluster-form shaft decorated with bands of detached flowerheads, foliate scrolls and pendant and upright petal lappets supporting two drip-pans, the larger inscribed with an imperial poem followed by a bingwu cyclical date corresponding to 1786, succeeded by two seals, Guxi tianzi and Youri zizi.
Provenance: The O'Rourke-Palmer Collection, Ireland, acquired in 1968 and thence by descent.
Note: The two seals following the poems may be loosely translated as "the Son of Heaven in his 70s" and "working diligently day after day."

The drip-pans of these extremely rare candlesticks are inscribed with a poem of five-character verse by the Qianlong Emperor, published in Qing Gaozong Yuzhi Shiwen Quanji (An Anthology of Imperial Poetry and Prose Composed by Gaozong of the Qing Dynasty), wuji, juan 29, p. 27, under the title, Ti hetianyu shuangyu xi (Inscribing the Khotan Jade Double-fish Washer). It expressed Qianlong's antiquarianism taste as the double-fish motif is based on Han dynasty (206 BC-AD 220) prototypes.

A small group of Qianlong-marked porcelain candlesticks of very similar form are also inscribed with imperial poems, including a blue and white example in the National Palace Museum, illustrated in Special Exhibition of K'ang-hsi, Yung-cheng and Ch'ien-lung Porcelain Ware from the Ch'ing Dynasty, Taipei, 1986, p. 168, no. 141, and a pair of yangcai examples, illustrated in Stunning Decorative Porcelains from the Ch'ien-lung Reign, Taipei, 2008, pp. 96-97, no. 24. According to the palace records, on the ninth day of the second month of Qianlong ninth year, "a blue and white candlestick and an imperial poem were presented", followed by an imperial decree: "Send this candlestick to Tang Ying and ask him to make candlesticks of this form but with imperial poems inside drip-pans; let him work on blue and white version and send them over first and then make some yanghua examples" (see Zijincheng de jiyi: tushuo qinggong ciqi dangan [Memories of the Forbidden City: Illustrated Catalogue of the Qing Palace Records of Porcelains], Beijing, 2016, p. 193, no. 3). It is likely that the Qianlong Emperor also ordered the imperial workshops to add imperial poems to cloisonné candlesticks of the present type.

The current pair of candlesticks appears to be unique, with no other cloisonné enamel candlestick with an imperial poem appearing to have been published. A pair of Yongzheng cloisonné enamel candlesticks of similar form but lacking poetic inscriptions and of smaller size (14 cm. high), was sold at Christie's Hong Kong, 31 May 2010, lot 1879. Compare, also, a pair of cloisonné enamel candlesticks of closely related form but also of smaller size (13.3 cm. high), in the Pierre Uldry Collection, illustrated by Brinker and Lutz, in Chinese Cloisonné: The Pierre Uldry Collection, New York, 1989, no. 280.
Christie's. Fine Chinese Ceramics and Works of Art, 14 - 15 September 2017, New York