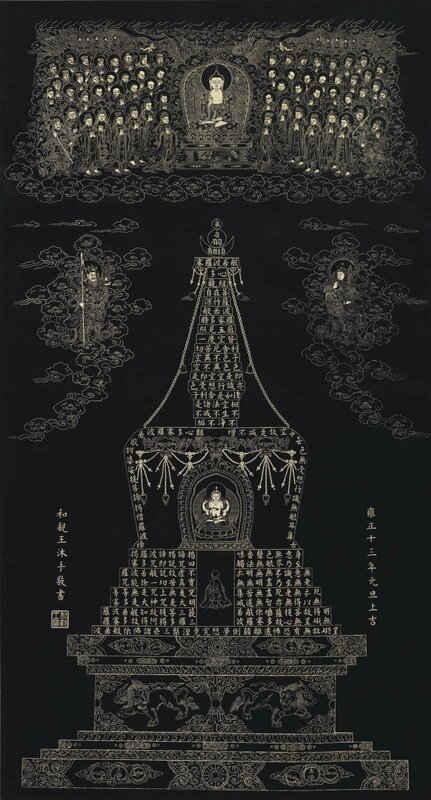 Lot 934. Anonymous (Qing dynasty), Rubbing of "Prajnaparamitahridaya" (The Heart of the Perfection of Transcendent Wisdom). Dated thirteenth year of the Yongzheng reign (1735) Inscribed and signed by Prince He (1712-1765), with one seal He qin wang bao. Hanging scroll, ink on paper, tielimu scroll ends. 56 ½ x 30 7/8 in. (143.5 x 78.5 cm.). Estimate USD 10,000 - USD 15,000. Price realised USD 85,000. © Christie's Images Limited 2017.
Provenance: Baron Alexander von Staël-Holstein (1877-1937) Collection.
Note: Baron Alexander von Staël-Holstein (1877-1937) was an early Western scholar of Sanskrit, Tibetan, and Chinese languages, who contributed to the translation of several important Buddhist texts. In the 1920s and 30s, he was a professor of Sanskrit, Tibetan and History of Indian Religions at Peking University in Beijing, and in 1928 was a visiting professor at Harvard, helping the Harvard-Yenching Institute to collect important books. A selection of the illustrated literature von Staël-Holstein brought with him from Beijing to Harvard were compiled by Walter Eugene Clark to form the seminal 1937 Two Lamaistic Pantheons, one of the earliest Western references of Qing-dynasty Buddhist iconography.
Hongzhou was granted the title "Prince He of the First Rank" (Chn:和碩和親王; Man: hošoi hūwaliyaka cin wang; Mon: χošui nayirtai čin wang хошой найртай чин ван) in 1733. In his childhood, he was adopted and raised by Empress Xiaojingxian. Unlike his brothers Hongli and Hongshi, Hongzhou chose to avoid being involved in rivalry over the succession to their father's throne. He was known to have pretended to be crazy and feminine.
Hongzhou (1712–1770), the Yongzheng Emperor's fifth son, held the title Prince He of the First Rank from 1733 to 1770, posthumously honoured as Prince Hegong of the First Rank.
Christie's. Fine Chinese Ceramics and Works of Art, 14 - 15 September 2017, New York