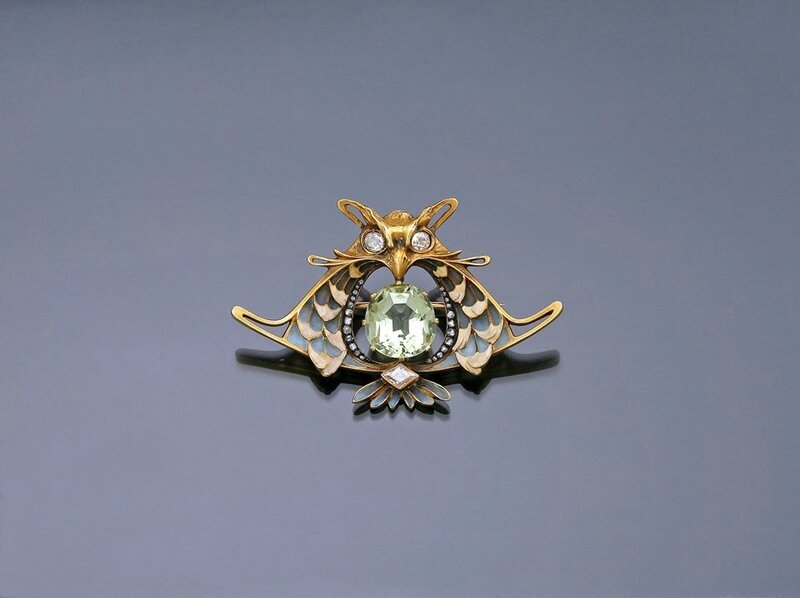 Lucien Gautrait. Owl Brooch-Pendant, Circa 1900. Gold, golden beryl, enamel and diamond; 4 x 6 cm (1.6 x 2.4 in.). Signed 'L. Gautrait'. A. Aardewerk Antiquair Juwelier (Stand 240). © TEFAF 2018
Designed as an owl centered by a mixed-cut golden beryl measuring approximately 14.0 by 13.0 by 9.3 mm, accented by old mine and kite-shaped diamonds weighing approximately .65 carat and numerous rose-cut diamonds, gross weight approximately 15 dwts, numbered 30154.
Literature: B. Furrer e.o., Pariser Schmuck, Munchen 1989, 218, 286.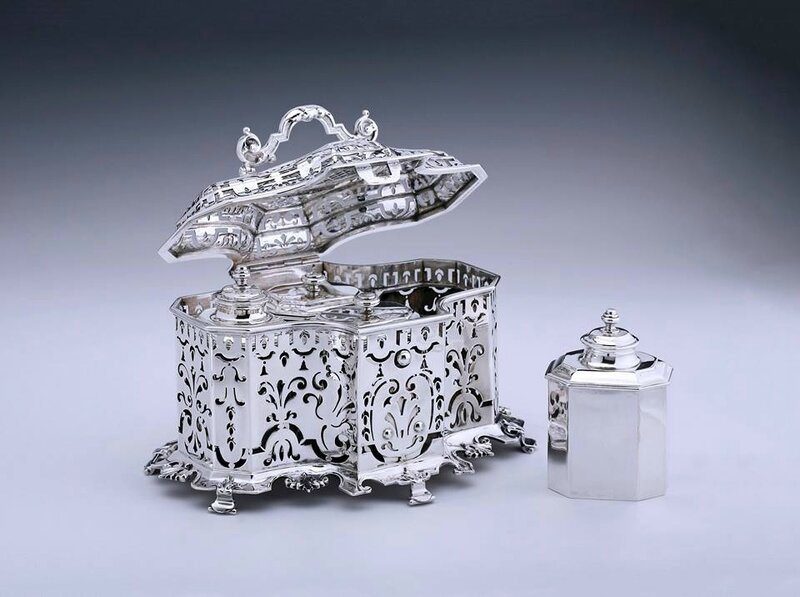 François Lambregts, Tea chest, Amsterdam, 1730. Silver, 17 x 22 cm (6.7 x 8.7 in.) Weight 1329 gr. Signed by François Lambregts. A. Aardewerk Antiquair Juwelier (Stand 240). © TEFAF 2018
This tea chest is the earliest and most elaborately ornamented Dutch silver example we know of. In creating this piece in 1730, the maker, François Lambregts, made an impressive tea chest for the client who commissioned it. It is the only known tea chest made entirely of silver in the first half of the eighteenth-century. Inside the chest itself are four tea caddies that are also made entirely of silver. This tea chest is thus the earliest known wholly silver example and an exceptionally expensive and elaborately decorated piece.

It has chamfered corners and is decorated with cast and applied ornaments of friezes and fleur-de-lis motifs along the base. The walls of the chest have openwork all round in a symmetrical pattern in Louis XIV style.
Provenance: Private collection, The Netherlands.