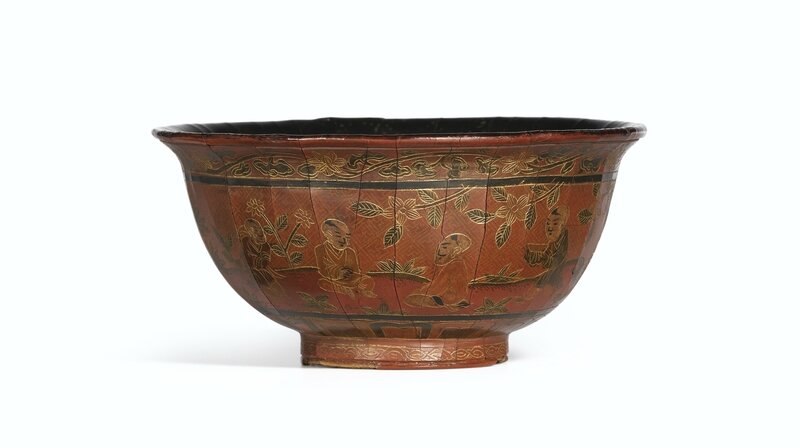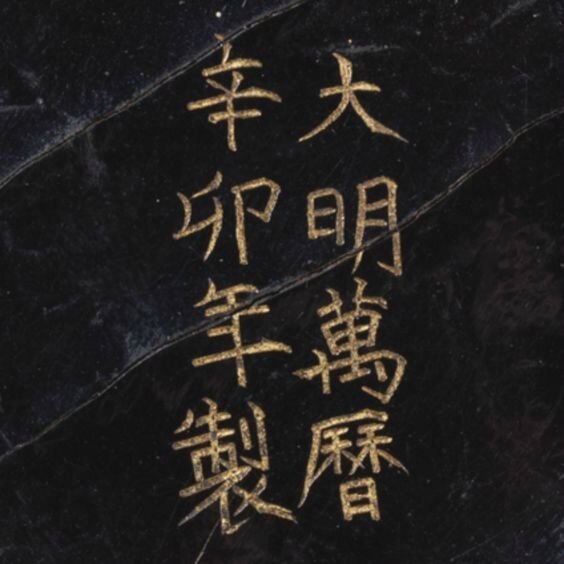 Lot 45. A 'Qiangjin' and 'Tianqi' Lacquer Bowl, Mark and Period of Wanli, dated in Accordance with 1591; diameter 12.9 cm., 5 1/8 in. Estimate 150,000 — 200,000 HKD. Lot sold 200,000 HKD. Photo Sotheby's 2014
with deep rounded sides rising from a short straight foot to a flared rim, the deep red cinnabar ground finely incised and gilt on the exterior in the qiangjin technique and further painted in tianqi polychrome enamels with a continuous scene of eight boys at play, one group of four conversing while the other group plays with a spinning top, the two scenes interrupted by flowering trees and pierced garden rocks issuing plantains, the sky finely textured with diapers enclosing wan symbols, all between a foliate lotus scroll encircling the rim and polychrome petal panels alternating in black, green, yellow and red, the foot picked out with 'classic' scroll, the interior and the base lacquered in black, the latter dated with an incised eight-character reign mark in gilt.

Provenance: Christie's London, 14th December 1983, lot 60.
Exhibited: 2000 Years of Chinese Lacquer. Oriental Ceramic Society of Hong Kong and the Art Gallery, the Chinese University of Hong Kong, Hong Kong, 1993, cat. no. 86.
Layered Beauty: The Baoyizhai Collection of Chinese Lacquer, Art Museum, Institute of Chinese Studies, the Chinese University of Hong Kong, Hong Kong, 2010, cat. no. 19.
Note: The motif of children at play, emblematic of fertility is more commonly found in Jiajing period lacquer wares and porcelains, but was still popular in the Wanli period. For a Jiajing reign-marked dish, carved with a scene of a street vendor surrounded by boys depicted in a similar manner as on the current dish, see The Complete Collection of Treasures of the Palace Museum. Lacquer Wares of the Yuan and Ming Dynasties, Hong Kong, 2006, p. 171, no. 129. Lacquer wares inscribed with a Wanli reign-mark and dated in accordance with the yiwei year (1595) are frequently found, such as a lacquer box and cover decorated with double dragons in similar qianjin and tianqi technique, illustrated, ibid., p. 229, no. 181, but those marked with the xinmao year, as on the current dish, appear to be much rarer.
The '100 children robe' excavated from the tomb of the Empress Xiaojing, the Wanli Emperor's consort, is decorated with a scene of children playing with a spinning top. It is illustrated by Yang Zhishi, 'Cong hai'er shi dao baiziyi', Gu shiwen mingwu xin zheng I, Beijing, 2004, pp. 261-266.
For a Wanli reign-marked qianjin and tianqi dish sold at auction, see Christie's Hong Kong, 30th November 2011, lot 3062.
Sotheby's. The Baoyizhai Collection of Chinese Lacquer, Part 1, Hong Kong, 08 Apr 2014