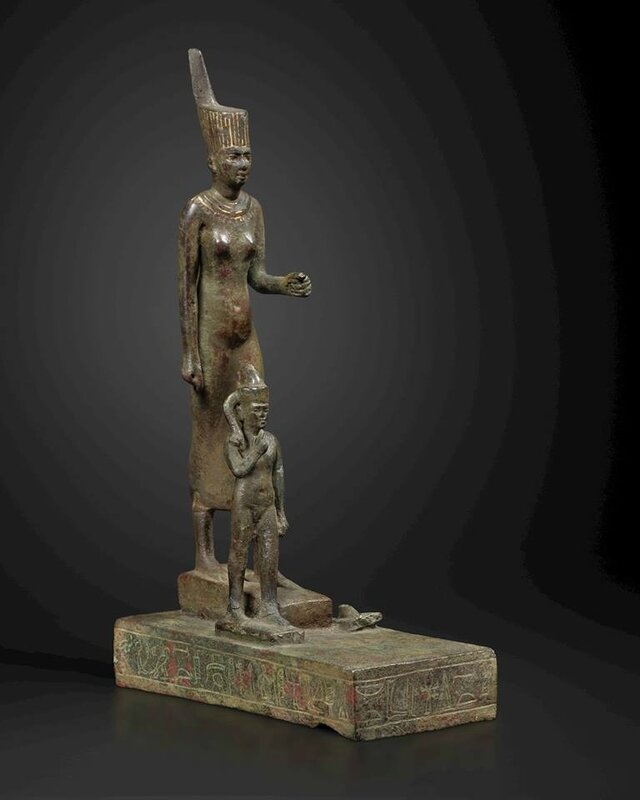 Group of Neith and her son Horus, Egypt, Late Period, circa 664-332 BC. Bronze with gold ??. Height 19 cm. Galerie CYBELE (Stand 435). © TEFAF 2018
The rectangular base says inscribed 'May Neith grant life, all prosperity, a long lifetime, a good old age for the revered one Tay-Neith daughter of Psamtek.' For a similar group of Neith and two child deities dedicated to Ouahibreseneb see the Louvre, cf. inv. no. E 7996, now exhibited.
Provenance: Private collection Mrs. H. S. collection, Switzerland, acquired prior to 1971.
Exhibited: On loan to the Antikenmuseum, Basel, 1971.
Figure of a Muse, Roman, ca. 2nd Century AD. Marble. Total height 65 cm. Galerie CYBELE (Stand 435). © TEFAF 2018
After a Greek original of the early 4th Century BC, standing with the weight on her left leg, and wearing an enveloping himation, the folds held in her right hand to her breast and against her hip by the left arm, a lock of hair falling on the left shoulder, the neck hollowed out for insertion of the head; no restorations.
The other known copies of this type, all headless, are in St. Petersburg (O. Waldhauer, Die antiken Skulpturen der Ermitage, vol. 3, 1936, p. 36, no. 276, fig. 34), in Madrid (Photographische Einzelaufnahmen, no. 1736), in Blenheim Palace (A. Scholl, et al., Die antiken Skulpturen in Farnborough Hall, 1995, pp. 18ff., no. B1, pl. 7), in the Musée Rodin (S. Reinach, Répertoire de la statuaire grecque et romaine, vol. 5, 1924, p. 360, no. 2), in Argos (J. Marcadé and É. Raftopoulou, Bulletin de Correspondance Hellénique, vol. 87, 1963, pp. 97ff., no. 78, figs. 42f.), and Sotheby's, London, December 4th, 1979, no. 119.
The original seems to have been a creation of the early 4th Century BC; cf. the maiden on an Attic grave stele: C. Clairmont, Classical Attic Tombstones, vol. 4, 1993, p. 166f., no. 5.280.
An old fragmentary label underneath the base reads "[...]-11929".
Provenance: Coins and Antiquities, London; Private collection, England, acquired from the above in the 1960s; Private collection, England, by descent from the above; London art market