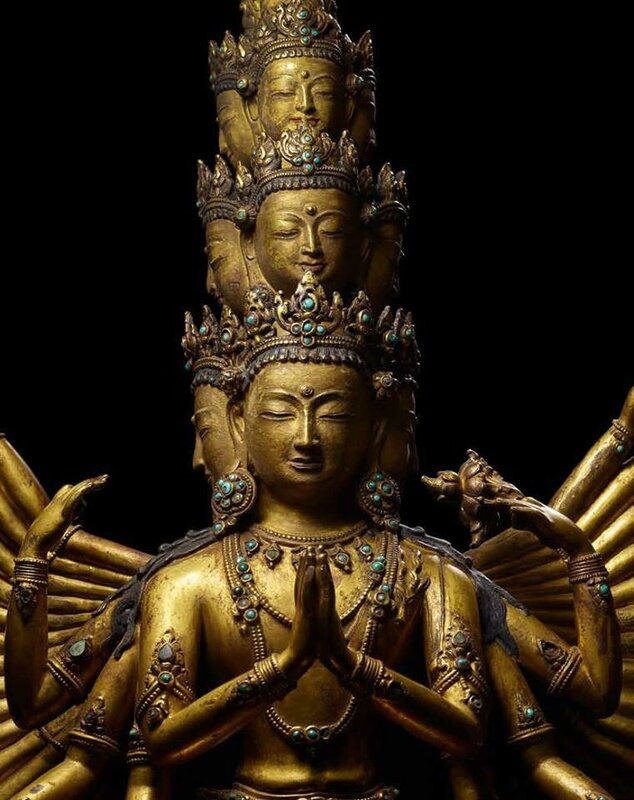 Lot 3033. A gilt copper alloy figure of Avalokiteshvara Sahasrabhuja Ekadasamukha by Sonam Gyaltsen (a.15th century), Central Tibet, circa 1430. Himalayan Art Resources item no.61516; 26 1/8 in. (67.7 cm) high. Estimate US$ 1,000,000 - 1,500,000 (€ 810,000 - 1,200,000). Photo: Bonhams
NEW YORK, NY.- Bonhams New York will present six carefully curated auctions during their celebration of the 10th anniversary of Asia Week New York in March. Featuring outstanding works of Chinese Paintings and Works of Art, Indian, Himalayan & Southeast Asian Art, and Japanese and Korean Art from several notable private collections, the auctions are set to take place at the Madison Avenue galleries from March 19-21. Touring highlights from upcoming sales at Bonhams Hong Kong will also be on view, as well as a special non-selling exhibition of Japanese art.

"This season Bonhams has once again partnered with Asia Week to present exceptional works of Asian Art. We have put together some of our best sales in recent history, filled with captivating and important pieces from across the continent," said Dessa Goddard, head of Asian Art, Bonhams North America.

Indian, Himalayan & Southeast Asian Art
The top lot of the Indian, Himalayan & Southeast Asian Art sale on March 19 at 3:00 p.m. is a groundbreaking gilded 15th century Tibetan sculpture of the thousand-armed Avalokiteshvara (estimate: $1,000,000-1,500,000). This radiant piece from the height of Tibetan sculpture features a previously unread inscription which was translated for the first time, revealing eye-opening information about the artist and for whom the piece was commissioned.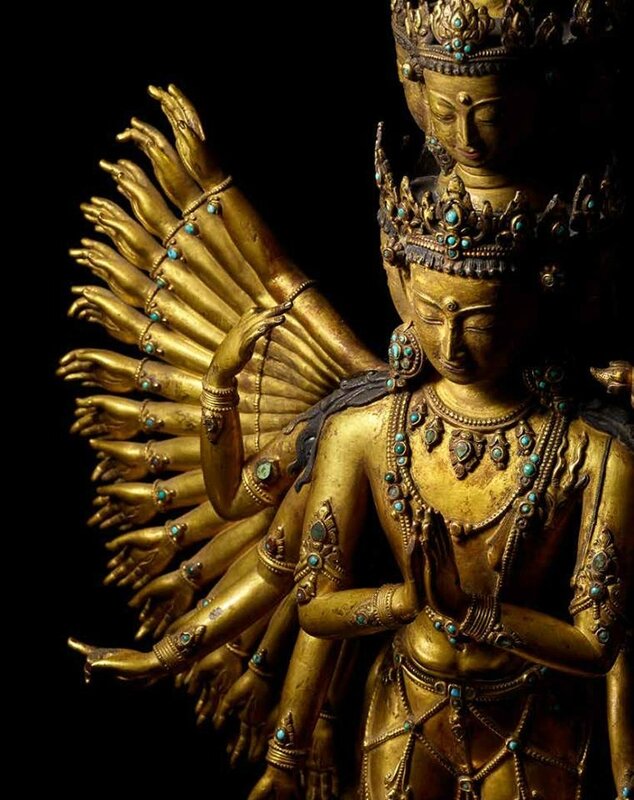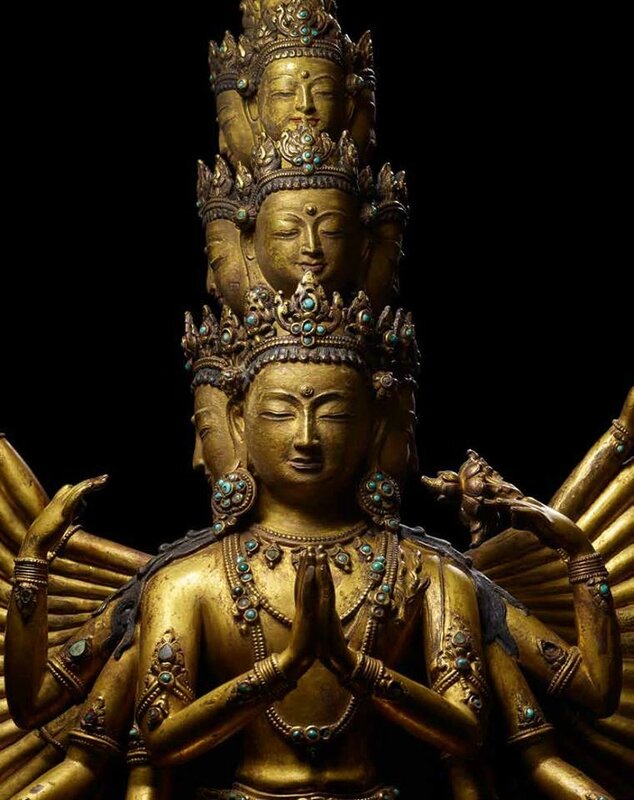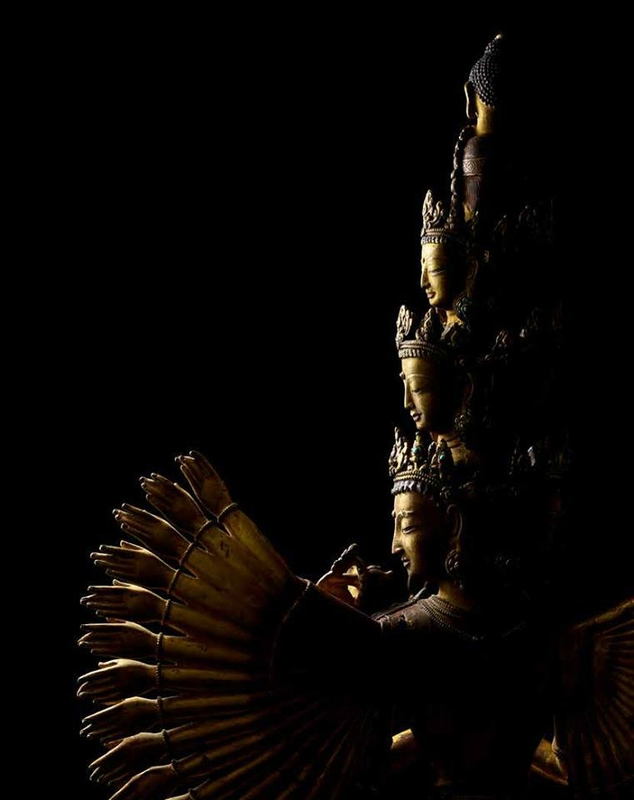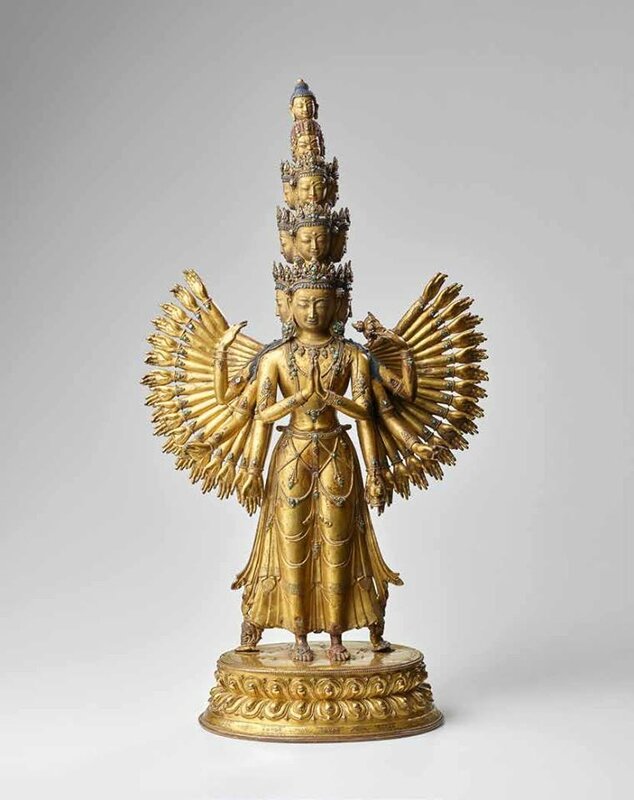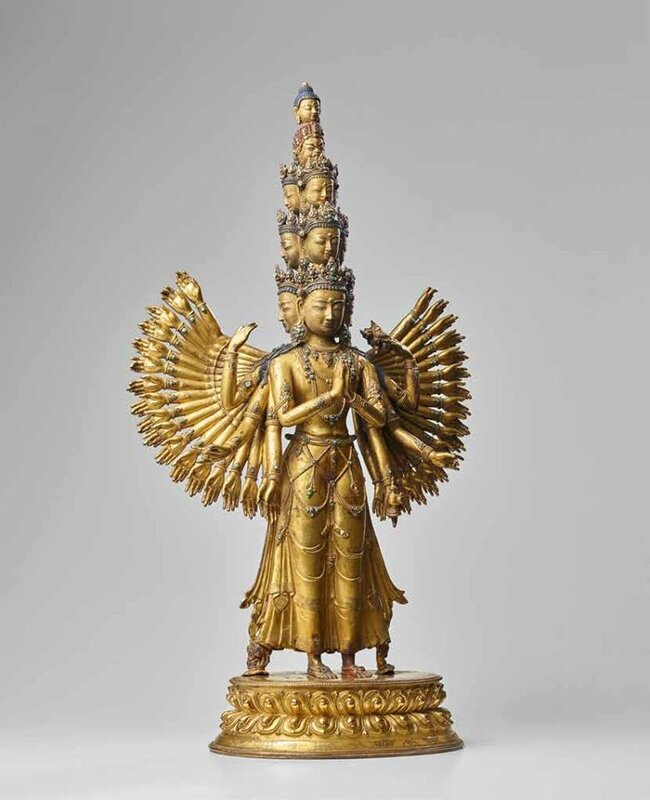 Lot 3033. A gilt copper alloy figure of Avalokiteshvara Sahasrabhuja Ekadasamukha by Sonam Gyaltsen (a.15th century), Central Tibet, circa 1430. Himalayan Art Resources item no.61516; 26 1/8 in. (67.7 cm) high. Estimate US$ 1,000,000 - 1,500,000 (€ 810,000 - 1,200,000). Photo: Bonhams
Published: Apollo, London, June 1968, p.CLX.
Apollo, London, August 1977, p.167, fig.10.
Ulrich von Schroeder, Indo-Tibetan Bronzes, Hong Kong, 1982, pp.452-3, no.124D.
Provenance: Oriental Antiques Ltd, London, by 1968
Sotheby's, London, 9 May 1977, lot 167
Private English Collection, 1977-2014
THE JAMCHEN AVALOKITESHVARA BY SONAM GYALTSEN
Written in collaboration with Jeff Watt, February 2018

Encapsulating the crescendo in Tibet's gilt bronze casting tradition occurring in the 15th century, this magnificent sculpture of the Lord of Compassion in his supreme form is a central masterpiece by the hand of Sonam Gyaltsen (active 15th century) made around 1430, upon the completion of Jamchen monastery in Central Tibet.

Remarkably, all of these details are mentioned in the sculpture's lengthy inscription. With yet another named artist coming to light from the study of inscriptions, the discovery of the master craftsman Sonam Gyaltsen provided by this bronze prompts us to consider a paradigm shift in the field of Tibetan art history, away from the ever-more questionable narrative of the ubiquitous 'anonymous' Tibetan artisan.

Although previously unattributed, other pieces now clearly by Sonam Gyaltsen have long been lauded among the prized possessions of numerous international museums for reflecting the zeitgeist of classical Tibetan gilded sculpture. They draw unmistakable comparison with the present bronze, which provides the key to revealing the master sculptor's identity for the first time.

Its inscription also brings to light the phenomenal patronage of the Rinpung dynasty (15th-16th centuries), as yet little discussed in Tibetan art history's popular circles, whose seat of power was in Shigatse, Central Tibet, and who mostly patronized the Sakya order. It names a famous Sakya teacher: Zhonnu Gyalchog; two brothers: Norbu Zangpo and Palzang; and the artist: Sonam Gyaltsen. Written in Tibetan U-chen script along the top of the lotus base's circumference, it reads:

༄༄།སྭསྟི། སྤྱན་རས་གཟིགས་དབང་དངོས་གྲུབ་འབྱུང་གནས་འདི། རྒྱལ་སྲས་གཞོན་ནུ་རྒྱལ་མཆོག་བཀས་བསྐུལ་ནས། མི་དབང་ནོར་བཟང་དཔལ་བཟང་སྐུ་མཆེད་ཀྱིས། ལྷག་བསམ་དག་པས་འཕགས་སྡེའི་མཆོད་གནས་བཞེངས། བསོད་ནམས་རྒྱལ་མཚན་ལག་པས་རྩེ་ལས་འཁྲུངས། དགེ་བས་འགྲོ་ཀུན་ཀུན་མཁྱེན་མྱུར་ཐོབ་ཤོག།

"This source of the attainments of Lord Avalokiteshvara, requested by the bodhisattva Zhonnu Gyalchog, [fulfilled] by the ruling brothers Norzang and Palzang, with pure motivation to build a place of worship for noble beings, [then, this sculpture was made] by the hands of Sonam Gyaltsen: May the accumulation of merit lead all beings to quickly attain the omniscient stage."

At the turn of the 15th century, Shigatse in Tsang province was the second most prosperous city in Tibet. Infighting within the ruling Phagmodrupa family allowed the local Rinpung clan to seize control of the city and establish their own dynasty, lasting until 1565. Norbu Zangpo (1403-66), referred to as 'Norzang' in the sculpture's inscription, was the third and most powerful monarch of the Rinpung dynasty, and ruled between 1435 and 1466. Because of his comparative importance, Norbu Zangpo is also simply known as 'Rinpungpa'. Less is known about his brother Palzang, but the fact that the two are mentioned together in the inscription suggests that Norbu Zangpo had not ascended the throne yet, placing its date before 1435.

The events leading to the creation of the sculpture described in the inscription also corroborate that Norbu Zangpo had yet to ascend the throne. The brothers were students of Zhonnu Gyalchog (b. 14th century; tbrc.org no.P1943), a prominent Sakya lama recognized for his treatises on mind training. He was a direct pupil of Je Tsongkapa (1357-1419). The 'place of worship' in the inscription undoubtedly refers to Jamchen Chode monastery near Shigatse, which was either founded or enlarged by Zhonnu Gyalchog and Norbu Zangpo in c.1427/1430 (cf. Czaja, Medieval rule in Tibet, Vienna, 2013, pp.481-4). The inscription records that the sculpture was created at the culmination of this project, thereby allowing us to narrowly date it to c.1430, along with similar bronzes by the artist that were possibly part of the same or adjacent iconographic programs within Jamchen monastery. The monastery was Sakya by tradition, but later fell into disrepair, being renovated, converted to Gelug, and renamed Jampa Ling by the Fifth Dalai Lama, Lobzang Gyatso (1617-82).

Lastly, the inscription unequivocally states that this spectacular sculpture was created by Sonam Gyaltsen. No other historic record of him is broadly known to date. We can only infer that he flourished by the second quarter of the 15th century, working at that time in the region of Greater Shigatse. Moreover, it is likely that his work at Jamchen monastery would have won him considerable renown, if his fame had not already secured him this prestigious commission in the first place.

The large sculpture depicts Avalokiteshvara Sahasrabhuja Ekadasamukha - the All Seeing, All Sided Lord with One Thousand Hands and Eleven Faces, who looks in every direction to save all creatures. Since the first Dharma King of the Yarlung Dynasty, Songtsen Gampo (604-50), Avalokiteshvara has been the primary tutelary deity of Tibet, incarnating spiritual and political rule. Here he appears in his supreme cosmic form expressing his infinite capacity with a multitude of heads and arms. The iconography follows either the Palmo or Jowo traditions of depicting the deity with benign expressions except for the penultimate wrathful head. Despite the popularity and central status of Avalokitesvara, very few examples in the form of Sahasrabhujalokeshvara Ekadasamukha are extant, and none of this scale are known to be held in private hands.

A close formal analysis of his superbly cast masterpiece reveals a few idiomatic features of Sonam Gyaltsen's sculptural style, surmised as follows. The sculpture is exquisitely gilded over a pinkish copper alloy. The lotus base is completed in the round and includes engraved patterns of foliate imagery on a band above the foot rim. Its petals are exquisitely modeled with symmetrically curling plump inner corolla terminating in curlicue tips, set within swelled outer petals with pointed tips, in turn flanked by jagged chased sepals. While surviving unsealed, a gilded edge to the foot rim underneath suggests that Sonam Gyaltsen may have gilded his consecration plates.

The physiognomy of his deity is slender and nimble, but not attenuated, and with rounded joints between the limbs. Great care is taken to portray the anatomy of every finger, always modeled in a position different from the next. Hair descends naturalistically in long tresses over the shoulders and arms, but is also more distinctively arranged into a thick fringe of rounded curls before the crown. In the case of this benign Avalokiteshvara, the deity wears silk garments that hug the legs below, but also drape on the sides to accentuate their weight and sumptuousness. These garments are also engraved with fine patterns on a broad hem or section, but otherwise left plain as a golden backdrop for the fine turquoise jewelry inlaid into each item of regalia.

Sonam Gyaltsen treats jewelry in a particularly unique and refined manner. Each inset stone is small and precisely cut in a round or teardrop shape, except for a rectangular central belt ornament. While inset into every piece of regalia, the components of which are uniform in Tibetan art (crowns, armbands, aprons, etc.), the stones are small (especially if one were to compare them to contemporaneous work at Densatil) and twinkle, like stars peppering a brilliant golden sunset.

The designs of bracelets and armlets on the deity's primary limbs, as well as his crown leaves are a most telling indicator of Sonam Gylatsen's hand. Each shares a common denominator that becomes richer and more complex as they near the head of the deity. Starting with the bracelet, from the band's beaded edge extend three lotus petals bearing a piece of inset turquoise at the center of a pointed five-lobed leaf. At the armlets this basic element is larger and more elaborate, supplemented with an additional piece of turquoise and foliate sprays framing the three initial lotus petals, and a further lotus-borne turquoise pendant hanging from a beaded chain below. Moving to the crown, the same element appears again, but now the five-lobed leaves are more pointed and rendered in openwork, while longer sprays flank the three lotus petals, and the central crown leaf is inset with four additional pieces of turquoise. Furthermore, the lowermost swags of his bejeweled apron also terminate with this same leaf motif. The aforementioned lotus-borne turquoise pendant swinging from the armlet is another distinctive marker for Sonam Gyaltsen's oeuvre, and is repeated throughout the apron.

Lastly, to address what many would concede is a sculpture's most important feature, Sonam Gyaltsen appears to depict a perfectly composed face for his subject, with a unique and enigmatic expression that evokes the ineffable spirit of the deity – in the present case, a beautifully-featured calm, gentle face at rest, with a soothing, compassionate smile.

A number of pieces in museum and private collections have long been regarded as similar, but can now be positively attributed to Sonam Gyaltsen given their obvious conformity to the aforementioned indicators of his work, underscored by the Jamchen Avalokiteshvara's inscription.

Chief among these are:
• A Guhyamanjuvajra and a Vajrabhairava, formerly of the Pan Asian and Berti Aschmann Collections, now in the Rietberg Museum (Figs.1 & 2; Uhlig, On the Path to Enlightenment, Zurich, 1995, pp.168-71, nos.113 & 114);
• A Yamantaka in the JPHY Collection, published in von Schroeder, Indo-Tibetan Bronzes, Hong Kong, 1981, p.451, no.123E, which most closely matches the present sculpture's double lotus base with engraved design;
• A Ghuyasamaja in The Qing Palace Collection of the Palace Museum, Beijing, published in Complete Collection of the Treasures of the Palace Museum, 60: Buddhist Statues of Tibet, Hong Kong, 1998 p192, no.183;
• A Purnabhadra in The Philadelphia Museum of Art (acc.#2001-44-1);
• A Chakrasamvara preserved in Tibet, published in von Schroeder, Buddhist Sculpture in Tibet, Vol. II, Hong Kong, 2001, p.964, no.232A;
• Another Chakrasamvara, sold by Bonhams, New York, 16 March 2015, lot 18;
• A Mahachakra Vajrapani also within this sale (lot 3034).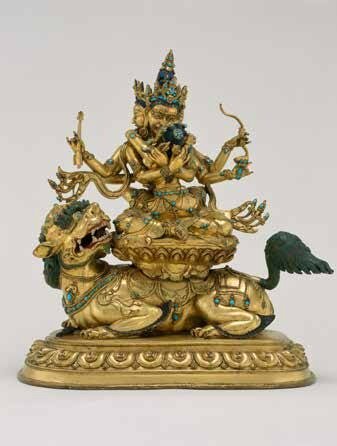 Fig.1. Guhyamanjuvajra, Tibet, 16th century. Height 25.5 cm. Museum Rietberg, Zurich (BA 113).
Fig.2. Vajrabhairava yab-yum, Tibet, 16th century. Height 24 cm. Museum Rietberg, Zurich (BA 114).
Whereas scholars have debated whether most of these sculptures should be dated to the 15th or 16th century, the Jamchen Avalokiteshvara is the linchpin that finally allows us to reattribute them with relative certainly to a concurrent timeframe. What is more, the group of sculptures mentioned above could well have appeared together in their original context as part of the same sculptural mandala, or as part of Jamchen monastery's broader sculptural program. The Avalokiteshvara, being more than double the size of the any comparable piece, and bearing the only dedicatory inscription known to date, very likely stood at the center of a chapel's ensemble. This would also be congruent with Avalokiteshvara's central position within the Tibetan Buddhist pantheon and cosmic form represented here.

However, our inscription only says so much, and Sonam Gyaltsen could also have been commissioned to produce sculptures for various monasteries throughout Tibet. We should also not jump to the conclusion that he was only confined to one medium. For instance, he might also have painted. His Avalokiteshvara Sahasrabhuja Ekadasamukha represents the Bodhisattva with a thousand arms symbolically, but its actual count is forty-two, with a complete set of eight primary arms and thirty-four encircling arms. This is a rarely seen configuration and perhaps the only other known example is the subject of a mural on the second floor of Gyantse Kumbum (Fig.3), which is part of a Sakya enclave no more than 60 miles from Shigatse. Founded in 1427, Gyantse Kumbum is contemporary with Sonam Gyaltsen's sculpture for Jamchen. This overlap of timing, geography, clergy, and iconography is enough for us to at least consider that Sonam Gyaltsen might have also been responsible for some of the incredible artistic products of Gyantse Kumbum.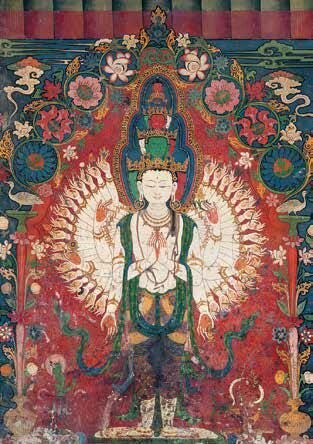 Fig.3. Avalokitesvara, Kumbum, Gyantse © Thomas Laird, 2018. Murals of Tibet, TASCHEN.
More information beyond this masterpiece and this initial inscription will hopefully come to light to help us better understand Sonam Gyaltsen's work and its relationship to the prevalent styles he would no doubt have been aware of and perhaps responding to, such as the Pala style murals of Shalu monastery with their foliate banded jewelry, the gilded tashi gomang stupas of Drigung and Densatil monasteries, and the imperial style of the Yongle court. Also, his relationship to other master artists, such as teachers and apprentices, or contemporaries that he might have collaborated with in catering to the great flourish in artistic patronage within Tsang Province in the 15th century. This pivotal sculpture begs us to presume these historic persons can be found the longer we look for them. The reading of its inscription promotes it to one of the most important surviving sculptures from Tibet of any period, identifying an artist we are now compelled to include among the legendary giants of Himalayan art.
The sale will also present a selection of sculptures and Indian miniatures, a rare group of early Tibetan thangkas, and one of the most significant Nepalese paintings to appear at auction. The various owner auction will also offer a rare selection of ancient Gandharan works from the Elizabeth and Willard Clark collection, including a large schist head of Buddha (estimate: $300,000-500,000).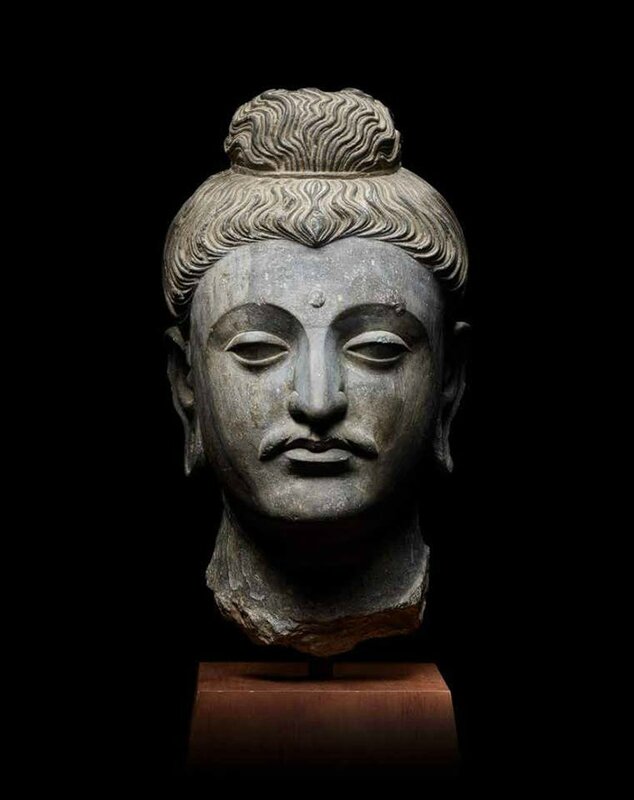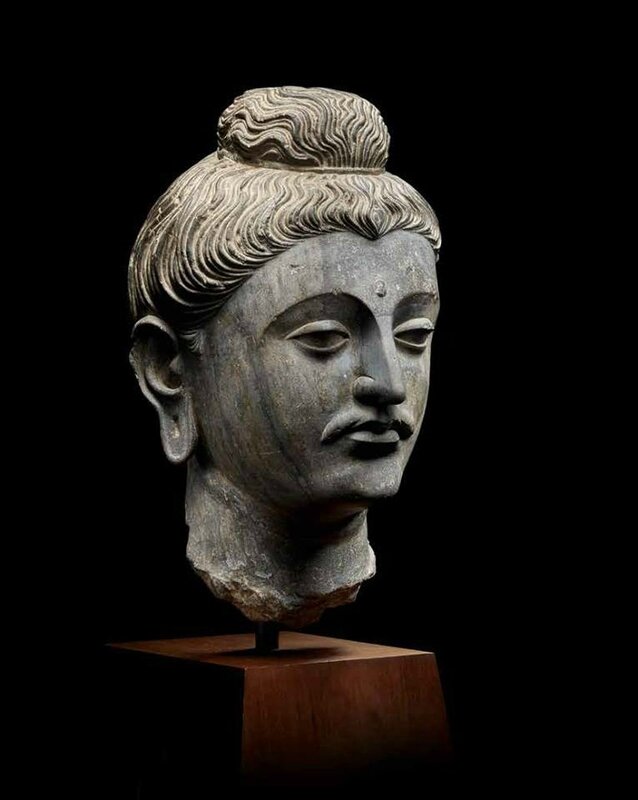 Lot 3078. A large schist head of Buddha, ancient region of Gandhara, 3rd-4th century; 18 3/8 in. (47.3 cm) high, from the Elizabeth and Willard Clark Collection. Estimate US$ 300,000 - 500,000 (€ 240,000 - 410,000). Sold for US$ 275,000 (€ 223,286). Photo: Bonhams.
Provenance: The Pan-Asian Collection, formed by Christian Humann, 1950s-70s
Robert H. Ellsworth, by 1981
Christie's, New York, 23 June 1983, lot 445
The Elizabeth and Willard Clark Collection, California
Published: Pratapaditya Pal, The Sensuous Immortals: A Selection of Sculptures from the Pan-Asian Collection, Los Angeles, 1978, p.28, no.7.
Exhibited: The Sensuous Immortals: A Selection of Sculptures from the Pan-Asian Collection, Los Angeles County Museum of Art, 24 October 1977 - 15 January 1978; Seattle Art Museum, 10 March - 23 April 1978; Denver Art Museum, 26 May - 30 July 1978; Nelson-Atkins Gallery, 15 September - 29 October 1978; National Gallery of Canada, 26 January - 12 March 1979; Toledo Museum of Art, 6 May - 24 June 1979.
Note: Of exceptional scale with a commanding presence, yet retaining Buddha's serene sense of introspection, this head is recognized as one of the great examples of its kind. Gandharan sculpture's Greco-Roman legacy and its evolution towards abstraction is seamlessly juxtaposed here with the naturalistic curves of his nasal sidewall, nostrils, and chin, and the crisp ridges defining his lips, philtrum, eyelids, and eyebrows.

Buddha's locks undulate in symmetrical waves from the center point and flow over the dome of his ushnisha. Close examples are held in the British Museum (see Zwalf, Gandhara Sculpture, Vol. II, London, 1996, pp.9, 10, & 32, nos.1, 3, & 39). Also compare another renowned example sold at Christie's, New York, 19 March 2013, lot 201.

More commonly found on images of bodhisattvas, a mustache is present in a rarer group of Gandharan Buddha images, including one in the British Museum and another in the Peshawar Museum (see op. cit., pp.9 & 32, nos.2 & 39; and Kurita, Gandharan Art, Vol.I, Tokyo, 1988, p.81, no.206; respectively.)

The size, well-preserved condition, and beautiful variation of colors within the stone of this remarkable head places it amongst the most important examples held in private hands. With the Rockefeller head at the Asia Society, New York at 14 1/2 inches, and the British Museum head at 15 inches, the present lot is one of the largest known (cf. op cit., p.32, no.39; and Proser, The Buddhist Heritage of Pakistan, New York, 2011, p.151, no. 59; respectively).
A special evening sale on March 20 at 6:30 p.m. will be dedicated to The Maitri Collection, which comprises of more than 40 paintings and sculptures. The collection's name, which means 'friendliness' and 'benevolence to all,' is a core virtue in Hinduism and Buddhism, and thematically unifies an otherwise diverse cross-section of artistic traditions from across Asia. Highlights include a cheerfully dancing Chola bronze figure of Krishna (estimate: $300,000-500,000) from the John D. Rockefeller III collection, and a rare Nepalese bronze of Manjusri Namansangiti (estimate: $250,000-350,000), of Heeramaneck provenance.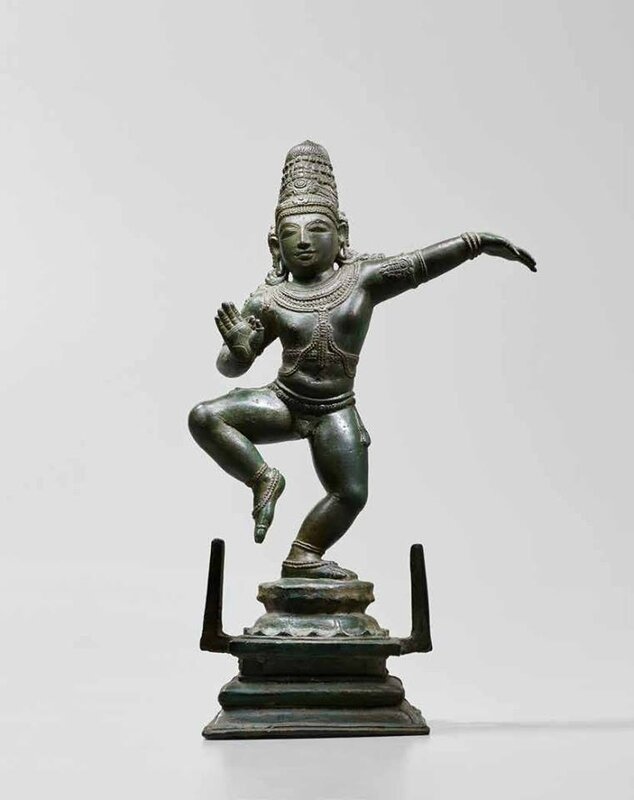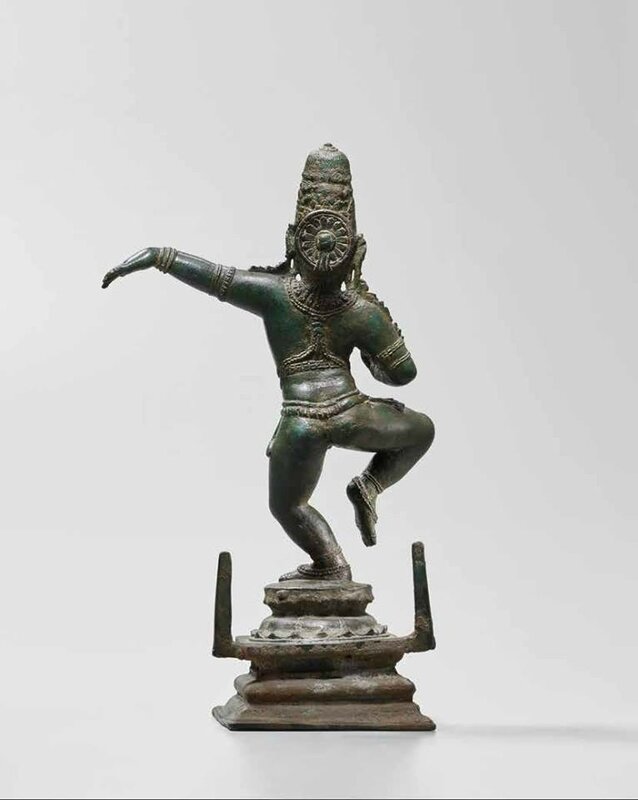 Lot 3231. A copper alloy figure of dancing Krishna, Tamil Nadu, Chola dynasty, circa 12th century; 15 3/8 in. (39.2 cm) high. Estimate US$ 300,000 - 500,000 (€ 240,000 - 410,000). Sold for US$ 492,500 (€ 399,886). Photo: Bonhams.
Provenance: Spink & Son Ltd, London
Mr. and Mrs. John D. Rockefeller 3rd Collection, New York
Sold to benefit Asia Society, New York, Sotheby's Parke-Bernet, New York, 3 May 1977, lot 7
William H. Wolff, Inc., New York, 23 October 1985
Robert and Bernice Dickes Collection
Carlton Rochell Asian Art, 22 March 2010
Published: Carlton Rochell Asian Art, Indian and Southeast Asian Art: Selections from the Robert and Bernice Dickes Collection, New York, 2010, no.8.
Note: This beautifully cast image depicts Krishna in his most popular form in South India - as a young dancing boy. His hair is arranged into a kesabhandha, reserved especially for juveniles and female figures, wherein rows of curls are stacked upon each other, one of the most attractive elements found in fine Chola sculpture. He is naked but for sumptuous jeweled ornaments, also betraying his status as a pampered, royal child, yet the sculpture does anything but infantilize the deity, who offers the viewer a gesture of reassurance (abhaya mudra) with his right hand and darshan with his still, confident expression.

The overall effect is one of skill and dignity, further emphasized by the flawless modeling of his dancing pose, balancing each limb with effortless control above a crisply modeled lotus base. His outstretched left arm provides a graceful counterbalance to his upraised right foot, prompting the eye to trace the attractive contours of his torso and thighs, and rejoice maternally in the supple health of this divine child. For in this form, otherwise known as Balakrishna, the deity so effectively fuses feelings of affection and love with awe and reverence – an association adroitly encouraged by the present sculpture.

Following the schema outlined by Sivaramamurti, the jeweled tassels hugging Krishna's ears and descending towards makara-shaped earrings resting on his shoulders indicate the mature Chola style of the 12th century (South Indian Bronzes, New Delhi, 1963, pp.28-9). Being one of the best examples of the subject in private hands, it compares most favorably to 13th-century examples of Balakrishna in the Sarabhai Foundation (Nagaswamy, Timeless Delight, Ahmedabad, 2006, pp.224-7, no.24) and of Sambandar in the Linden-Museum, Stuttgart (Dehejia, Chola, London, 2006, pp.98-9, no.16). Similarly, the Maitri Dancing Krishna stands taller than, and just as gracefully as the two comparable Sambandars: one formerly of the Heeramaneck and Pan Asian Collections sold at Christie's, 1 December 1982, lot 192; the other sold more recently at Christie's, New York, 16 September 2016, lot 416.
Lot 3203. A gilt copper figure of Manjusri Namansangiti, Nepal, 13th-14th century. Himalayan Art Resources item no.58573; 6 1/4 in. (15.8 cm) high. Estimate US$ 250,000 - 350,000 (€ 200,000 - 280,000). Sold for US$ 672,500 (€ 546,037). Photo: Bonhams.
Provenance: Nasli and Alice Heeramaneck Collection, New York, early 1960s
Sotheby's, New York, 2 November 1988, lot 80
Private European Collection
Carlton Rochell Asian Art, New York, 15 September 2010
Note: This masterfully sculpted figure of Manjushri Namasangiti represents a pinnacle of Newari artistic expression. He has a magnetic aura centering on a handsome Newari face, and despite his complex array of arms, the subtle flection of each finger seems to return the viewer's gaze back towards his deeply peaceful expression.

Manjushri Namasangiti is one of the most important deities within the Newari Buddhist tradition of the Kathmandu Valley. As touched upon by the above excerpt, he is conceived as the spiritual progenitor of all Tathagathas and the entire Buddhist cosmos. As such his multi-armed form as Namansangiti here is a metaphor for his cosmic portent, providing him with six arms to represent each of the five Buddha families and Vajrasattva.

The highly contoured primary hands held in an open vyakarana mudra symbolize Vairocana's gesture of exposition. The second pair of hands gesture tarpana mudra sprinkling ambrosia into the bowl, while the fingertips touch the projecting head of Shakyamuni coming out of it in patrastha amrita kshepana mudra. The third pair in samadhi mudra supports the bowl in his lap containing amrita nectar. The fourth and fifth pair of hands, outstretched, would have held the attributes of the sword, the manuscript, and bow and arrow. The sixth pair is joined above the head in vajrachakra mudra, also referred to as Adamantine Circle, symbolizing Mount Meru (uttarabodhi mudra), in turn galvanizing the relationship with Vajrasattva.

The sculpture bears evidence of careful yet ardent worship over the past half millennia. The worn face is now honey-colored as the gilded layer has rubbed into the dark coppery surface underneath. Its smooth patina is indicative of reverent touching. Meanwhile, the legs and limbs, where the gilding is lost, are dark and rough owing to heavy applications of vermillion, curds and unguents, applied and cleaned in a constant cycle of veneration. By contrast, the rich gilded lustrous surface preserved at the back suggests the worship of this sculpture would have been conducted while it was installed in a small, possibly private shrine, and not handled in the round.

At the turn of the 13th century, North India was transformed culturally by a series of catastrophic raids that effectively eradicated Buddhism from the region. Monks and laymen connected with monastic universities (mahaviharas) perished or fled, many finding refuge in Nepal for a while. The Kathmandu Valley Buddhist community was immeasurably enriched by this influx of talent, scriptures, and small bronzes brought over by refugees, prompting the already rich tradition of artistic exchange between India and the Newars, stretching far back into the Gupta and Licchavi periods (c.5th-8th centuries), to flourish. It is possible that the Newar artist who created this Namasangiti sculpture was inspired by Pala art. The deity is unknown in India, yet the technical dexterity of casting resembles examples of multi-arm forms of Manjushri from Northeastern Indian medieval sculpture. For a possible Pala antecedent see von Schroeder, Indo-Tibetan Bronzes, Hong Kong, 1981, p.291, no.73C.

This representation of Manjushri is extremely rare and only known in Nepal, with no more than a handful of examples known and published. Two examples, dated to the 17th century, are held by the National Museum in Kathmandu, see Huntington, Circle of Bliss, Los Angeles, 2003, p.428, no.132; and Waldschmidt, Nepal, The Hague, 1967, no.43. Another smaller and less refined example is in von Schroeder, Indo-Tibetan Bronzes, Hong Kong, 1981, p.356, no.94A. An illustration from the 12th-century Paramartha Namasangiti manuscript in the Los Angeles Museum of Art depicts the deity in red color, and holding two upright staffs (acc.#M.83.7.3; Pal, Art of Nepal, Los Angeles, 1985, p.199, no.P5). A complex paubha of the deity is preserved in the British Museum (acc.#1949,1210,0.13), see Pal, The Art of Nepal, Leiden, 1977, no.92). It shows a complex retinue of deities associated with his practice.

Earrings with multi-stone insets defining the flower ornament, the crown type and armbands are common to Newari work of the early Malla period. For a close comparison in a Shadaksari, dated to the 14th century, with similar treatment of the projecting scarf elements, see von Schroeder, Indo-Tibetan Bronzes, Hong Kong, 1981, p.359, no.95C. In its superb casting, lustrous gilding, skillfully inset gems and size, the sculpture may be compared with the Yogambara sold at Bonhams, New York, 17 March 2014, lot 5. Also compare with a 13th-century group of Shiva Vinadhara and Parvati formerly in the Sporer Collection, sold at Christie's, New York, 15 September 2015, lot 2.
Chinese Art
Part II of The Dr. Sylvan and Faith Golder Collection of Fine Chinese Snuff Bottles, featuring a fine group of yellow jade bottles, will kick off the auction series on March 19 at 10:00 a.m., followed immediately by the Chinese Works of Art and Paintings sale at 12:00 p.m. Highlights include a fine and rare Tang dynasty silver bowl (estimate: $80,000-120,000), and an archaic bronze ritual wine vessel, Gu, (estimate: $70,000-100,000), from the Collection of Sally and Decatur "Deke" Miller. Also to be offered will be a select group of Chinese porcelains deaccessioned from the Currier Museum of Art, including a celadon glazed double gourd vase, Qianlong seal mark and of the period (estimate $60,000-90,000), a rare blue and white basin, Jiajing mark and of the period ($30,000-50,000), and a collection of porcelain from Tang Shaoyi, the first Prime Minister of the Republic of China.
The Chinese paintings section will be led by an iconic Horse painting (estimate: $150,000-200,000) by Xu Beihong from the collection of Dr. Gregory Dahlen, and a selection of Buddhist sculpture rounds out the top lots, including a contemplative gray limestone figure of Maitreya (estimate: $40,000-60,000) from the collection of Japanese diplomat Hidenari Terasaki.
Japanese and Korean Art
An extremely rare ink painting and poem of Rocks, Orchid and Bamboo (estimate: $150,000-250,000) by celebrated 15th century Japanese monk painter Ikkyu is the top lot of the Japanese and Korean Art auction at 2:00 p.m. on March 21. Ikkyu is known for his radical approach to Zen and was one of the most important religious leaders of Japan's later middle ages. The work is a prime example of the artist's minimal and life-like style, and feature's Ikkyu's signature subject of the orchid, as it symbolized the upright scholar alienated from the corruption of power.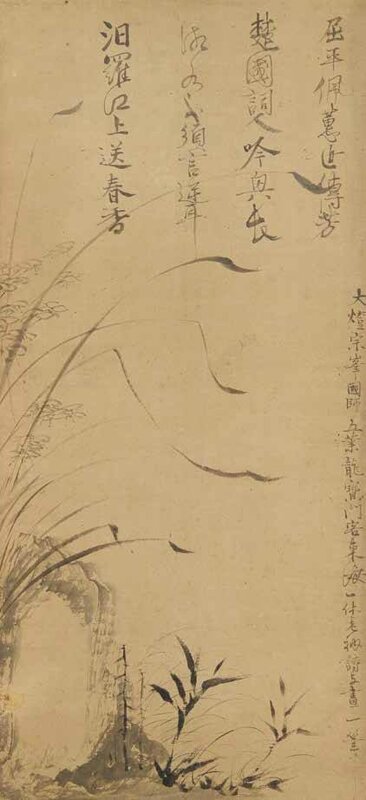 Lot 2083. Ikkyu Sojun一休宗純 (1394-1481), Wild Orchids, Rock, and Bamboo, with Calligraphy, Muromachi period (1333-1573), 15th century, Kakejiku (hanging scroll), ink on paper; inscribed at right: Daito Shuho Kokushi Goyo Ryuho monkyaku Tokai Ikkyu-ro no shi tomo ni ga ippitsu 大燈宗峯國師五葉龍寶門客東海一休老納詩与畫一筆 (Old Man Tokai Ikkyu, guest of Daito Shuho Kokushi Goyo Ryuho, offered this poem and painting from the same brush); Inscribed above with a Chinese poem: 屈平佩惠世傳芳 楚国詞人吟奥長 湘水不須言逆耳 汨羅江上送春香 (The fragrance of Qu's orchid passes from generation to generation / the verses chanted by this poet of Chu were wide and deep / the waters of the Xiang River ignored his words and blocked its ears to them / but they spread the scent of spring over the waters of Miluo); 33 1/4in x 15 1/4in (84.4 x 38.7cm). Estimate US$ 150,000 - 250,000 (€ 120,000 - 200,000). Photo Bonhams
With fitted lacquered-wood tomobako storage box dated Genbun gannen tatsu shichigatsu mikka 元文元年辰七月三日 (Third day of the seventh month of 1736) and inscribed to the effect that the painting has a certificate by the Daitokuji abbot Gyokushu 玉舟 (1599-1668); the documents accompanying this lot include the certificate by Gyokushu; another certificate with a label inscribed by Takuan Soho 沢庵宗彭 (1573-1645), also a Daitokuji abbot; an annotated copy of the Chinese poem, with glosses in Japanese; and a copy of the Tokyo Art Club price list of 1926 (see below)
Provenance: Kataoka Family Collection, until 1926
Takashi Yanagi, Kyoto
The Estate of George Gund III (1937-2013), from 1992
Published: Tokyo Art Club 東京美術倶楽部, Kataoka-ke shozohin rakusatsu takane-hyo 片岡家所蔵品落札高値表 (Prices [Above 300 Yen] Realized at the Sale of the Kataoka Family Collection), auction report, October 11, 1926, no. 14 (1,050 yen)
Michael R. Cunningham, Ink Paintings and Ash-Glazed Ceramics: Medieval Calligraphy, Painting, and Ceramic Art from Japan and Korea, exhibition catalogue, Cleveland OH: The Cleveland Museum of Art, March 19-May 28, 2000, cat. no. 3, pp.25-27
Note: Famed for his radical approach to Zen and his superficially dissolute lifestyle, Ikkyu Sojun was one of the most important religious leaders of Japan's later middle ages. Although better known for his voluminous and eccentric Chinese poetry, he painted a small number of expressive, gestural scrolls executed in ink on paper that feature plant forms, usually wild orchids, and appear to have been inspired by earlier Zen priest-artists such as Gyokuen Bonpo (1349-after 1420) who produced more than 20 such compositions; see Anne Nishimura Morse and others, Arts of Japan, Boston: MFA Publications, 2008, p. 64. Like Bonpo, Ikkyu chose the orchid as his subject because it symbolized the upright Chinese scholar alienated from the corruption of power.
The present lot is closely related to the right-hand half of a pair of scrolls in the Century Cultural Foundation, Tokyo which has a similar composition and is inscribed with the same poem except for some differences in the first line; see http://www.ccf.or.jp/jp/03museum/detail.html?SelectExsID=698. Ikkyu's poem relates to the great early Chinese poet Qu Yuan from the state of Chu in southern China. Following his unjust banishment from both court and state, Qu committed suicide by throwing himself in the Miluo River, a tributuary of the Xiang River on the eastern bank of Lake Dongting. As noted by Michael Cunningham, Ikkyu here likens Qu's understated "moral character to that of the scent of the wild orchid, which goes largely unnoticed in the world."
Additional Japanese highlights include an exquisite six-panel screen (estimate: $25,000-35,000) depicting a variety of garments draped on a rack against a gold leaf background, and a highly important Meiji-era solid gold short sword, or tanto, (estimate: $12,000-18,000) decorated with the deity Fudo Myo-o and other motifs. An 80-lot collection of fine Japanese smoking articles and accessories will also be offered in the Arno Ziesnitz Collection at 10:00 a.m.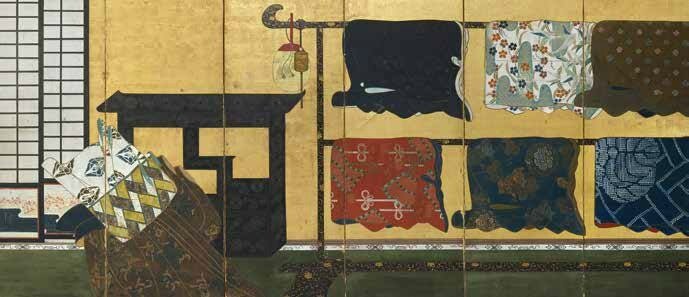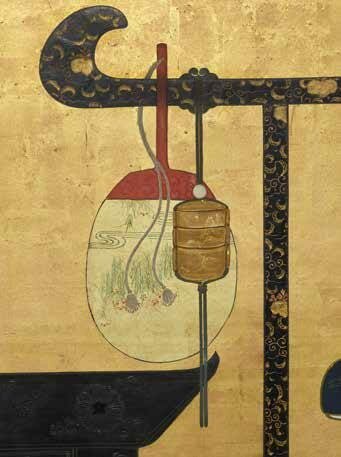 Lot 2076. Anonymous, Interior with Kimono, Clothes Racks, and Furniture, Edo period (1615-1868), late 17th/early 18th century; 61 1/4 x 136 1/2in (155.5 x 346.7cm). Estimate US$ 25,000 - 35,000 (€ 20,000 - 28,000). Photo: Bonhams.
Six-panel folding screen, ink, colors, and gold on paper with gold leaf, with silk surround and lacquered-wood frame, depicting a variety of silk kosode and other garments, decorated in tie-dye, stencil-dye, embroidery, and other techniques, an uchiwa fan, and an inro draped on a lacquered iko (clothes rack), to its left a shodana (set of shelves), a stylized pile of folded garments, and the beginning of a set of shoji screens.
Note: Known today by the collective title Tagasode (Whose Sleeves?), screens depicting garments, usually without human figures, were first painted around the early seventeenth century. While some of the earlier examples are painted with kosode draped on racks against a plain gold background, from the mid-seventeenth century some screens began to include other domestic interior elements. The composition of the present lot shares features with a pair in the Nezu Museum, Tokyo, in particular the shoji screens at the left and the stylized pile of kosode lying in front of the shodanashelves. As noted by textile scholar Kirihata Ken in connection with another pair of screens, these piles of kosode are depicted as if viewed from above in order to show the maximum number of different designs; indeed it seems as if the artists' overall purpose in these later screens was to create a kind of large-scale fashion album designed to appeal to female members of the Kyoto military and mercantile elite. See Takeda Tsuneo and others, Nihon byobu-e shusei(Survey of Japanese Screens), 14, Fuzokuga: Yuraku, tagasode (Genre Entertainments, Kimono Screens), Tokyo, Kodansha, 1977, cat. nos. 95-96, 103.
Lot 2266. Tanaka Kiyotoshi (1804-1876), A highly important solid-gold tanto, Meiji era (1868-1912), dated 1871; 10 1/4in (26cm) long (blade only), 13 3/4in (34.9cm) long overall. Estimate US$ 12,000 - 18,000 (€ 9,700 - 15,000). Sold for US$ 187,500 (€ 152,240). Photo: Bonhams.
The solid gold blade in hirazukuri configuration and decorated with Fudo Myo-o on the omote side and his attendants Kongara and Seitaka doji on the ura side, all in copper, gold, silver, and shakudo hirazogan, and carved in ke-bori and katakiri-bori, the nakago bearing kessho file marks and one hole, signed on the mune on the right side, Meiji yonen hitsuji [] [] rokujuhachi-juso Hogen kore o saku; fitted with a one-piece gold habakicarved with the Sanskrit characters representing Fudo and his attendants, and waves and clouds; the hardwood tsuka wrapped in blue-dyed chamois and fitted with solid-gold menuki carved as tigers and decorated in shakudo stripes, signed Yasu and chika, and a copper fuchiformed as a woven basket and decorated with chrysanthemums and grasses in iro-e takazogan, signed on the tenjogane Yasuchika, the shibuichi hamidashi tsuba decorated with bamboo in gold and shakudo takazogan and signed Zai nenrokujuhachi-juo and with a kao, with two shakudo seppa.
Korean highlights include a ten-panel screen (estimate: $35,000-45,000) depicting a bird's eye view of Pyongyang from the Joseon dynasty, as well as ceramics, lacquer, arms and armor, paintings, and a selection of Buddhist sculpture.
Non-Selling and Touring Exhibitions
Bonhams will also present a special non-selling exhibition of Masterpieces of Japanese Art from a private collection. Curated around the theme of "Birds and Flowers," the show will feature 30 outstanding works from the 17th century to the 20th century, including porcelain, lacquer, metalwork, and cloisonné enamel.

Additionally, nearly 30 touring highlights from the upcoming April 3 sales at Bonhams Hong Kong will be on view, including fine classical Chinese paintings from the single-owner sale of the Zhen Shang Zhai Collection, and selected works from the Kaikodo Gallery. Highlights from the various owner sale include exquisite Chinese paintings by Fu Baoshi, Huang Binhong and a Wu Changshuo work from the legendary Rong Bao Zhai scholar's studio supplies shop in Beijing, all from an important British private collection formed by a former diplomat stationed at the British Embassy in Beijing from 1970-72.

The Asia Week sales and exhibitions will be on view at Bonhams New York from March 15-20, with auctions taking place from March 19-21.