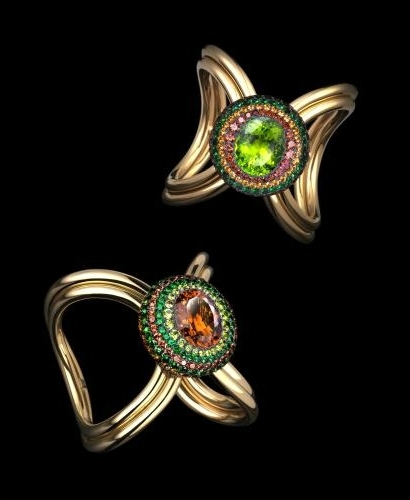 Lauren Adriana, XO Cuffs. Peridot, tourmalines, spinels, garnets, silver and gold © Lauren Adriana, photographed by Richard Valencia.
NEW YORK, NY.- Phillips announces Lauren Adriana, Jewels Now, a landmark exhibition of Lauren Adriana's work, taking place in New York and London. Lauren Adriana is a leading voice in a new generation of fine jewellers, creating unique, bold, abstract jewels in a dazzling array of gemstones. Her commitment to abstraction over naturalism sets her jewels apart from others and creates the graphic and sculptural quality that is becoming Lauren Adriana's signature. Phillips' exhibition will open to the public in New York from 8-14 March at 450 Park Avenue, before travelling to London, where it will be on view from 20-25 March at 30 Berkeley Square.
This immersive, selling exhibition of 50 jewels is the culmination of two years' planning and spans five years of work. It comprises new jewels created specifically for the show, but also past work, with jewels privately loaned from around the world. Lauren Adriana, Jewels Now is the first major contemporary jewellery exhibition held at Phillips in recent years, and will mark the first time these extraordinary pieces have been displayed in public.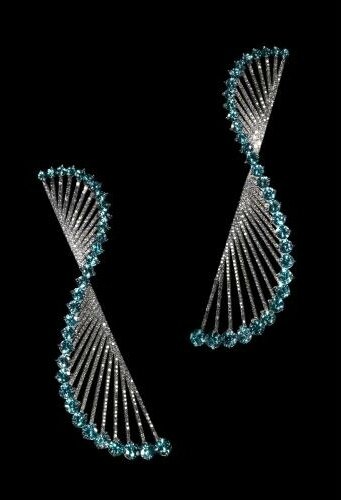 Lauren Adriana, GABO Earrings. Zircons, diamonds and gold © Lauren Adriana, photographed by Richard Valencia.
On the exhibition Sarah O'Brien, International Director, Jewellery, said: "Lauren Adriana, Jewels Now presents a new way of looking at jewels, setting a fresh dialogue for what jewellery should be in the decades to come. In addition to its role as an auction house, Phillips has a reputation for staging exhibitions within its galleries that are educational, accessible, and on the pulse of what is happening now. We are proud to collaborate with such a remarkable visionary in a rare exhibition of her stunning works of art, as we continue our mission of championing the best in jewellery design, both past and present."

On her work Lauren Adriana said: "I want to move jewellery away from its over-reliance on naturalism and historical motifs, towards a greater degree of abstraction. As an artist, I look to create new forms - to show in a jewel something that has not been seen before. Originality comes from embracing the future, not recreating the past."
Lauren Adriana, SHIELD Ring. Diamonds and gold © Lauren Adriana, photographed by Richard Valencia
Phillips has led the way in contemporary art, focusing exclusively on the creative output from the 20th and 21st centuries. Phillips is now strategically placed to expand its place in the jewellery market, recently appointing Susan Abeles as the Head of Jewellery for the Americas and Senior International Specialist and beginning plans for a New York jewellery auction in the fall season. With a dynamic ability to adapt to an ever-evolving market, Phillips builds its auctions and exhibitions to reflect the most current collecting trends. This unique collaboration with Lauren Adriana will show jewellery as an artistic endeavor and design collectible in its own right, continuing Phillips' mission to represent the very best of contemporary art and design.

Based in London, Lauren Adriana (age 32) creates a limited output of around 40 unique jewels each year. Lauren Adriana graduated from renowned art college, Central Saint Martins with a BA in Jewellery Design, before founding the business with her husband Nicholas Briggs. By creating unique and collectable jewels using the finest craftsmanship and remarkable gemstones, combined with a fiercely original vision, Lauren Adriana has, in less than five years, made a permanent mark on the jewellery world. Her singular aesthetic and remarkable designs are instantly recognisable, and have earned Lauren Adriana a prodigious reputation and a loyal clientele.
New York Exhibition 8-14 March. Monday-Saturday 10am-6pm - Sunday 12pm-6pm - 450 Park Avenue, New York (map)

London Exhibition 20-25 March. Tuesday-Saturday 10am-6pm - Sunday 12pm-6pm - 30 Berkeley Square, London (map)
Lauren Adriana, TORUS Earrings. Tanzanites, spinels, chalcedony, silver and gold © Lauren Adriana, photographed by Richard Valencia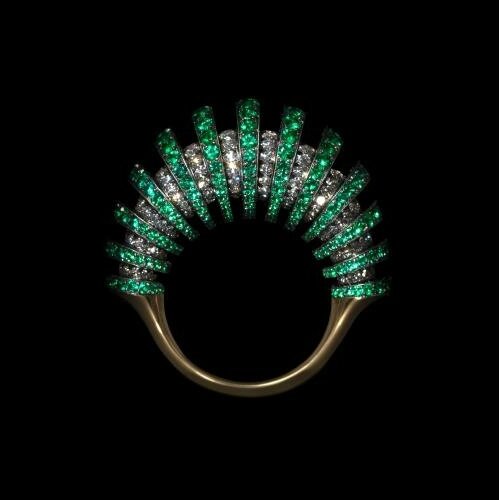 Lauren Adriana, TUBE Ring. Emeralds, diamonds and gold © Lauren Adriana, photographed by Richard Valencia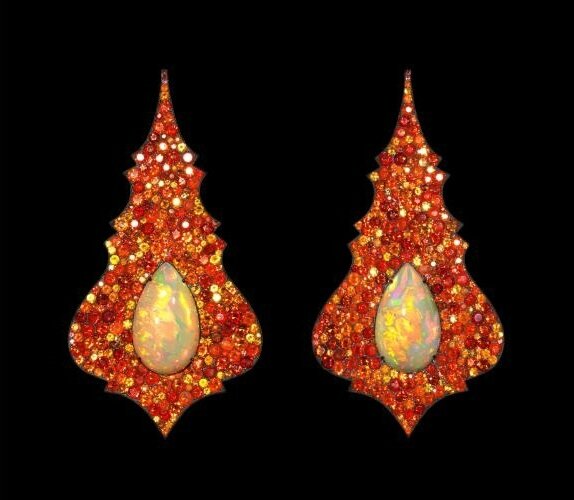 Lauren Adriana, CHANDELIER Earrings. Ethiopian opals, fire opals, silver and gold © Lauren Adriana, photographed by Richard Valencia
Lauren Adriana, RIBBON Ring. Sapphires, silver, diamonds and gold © Lauren Adriana, photographed by Richard Valencia