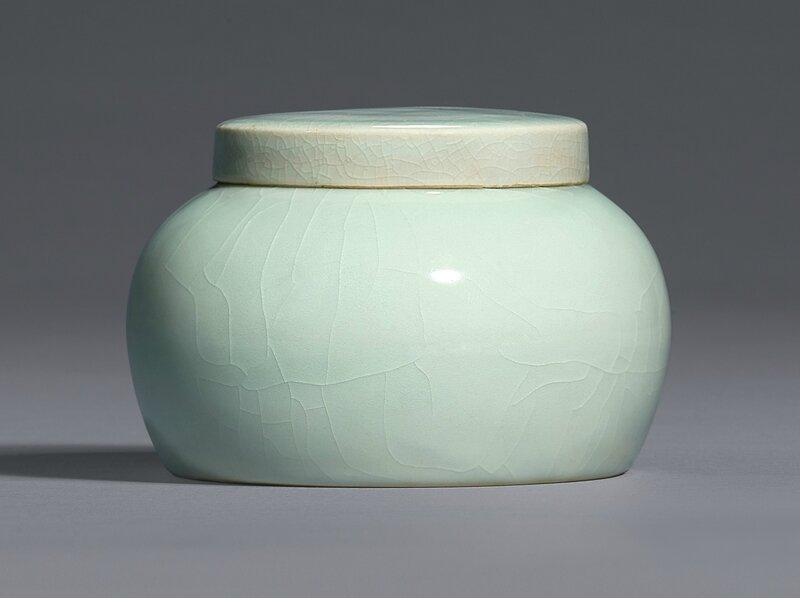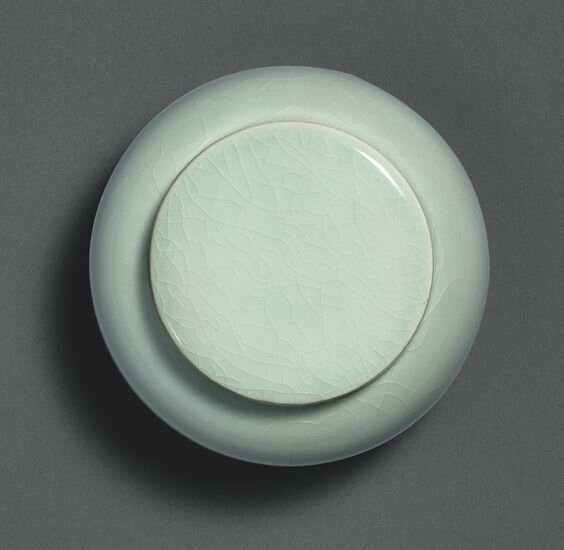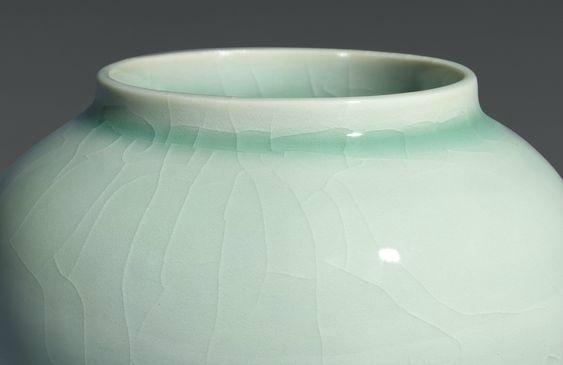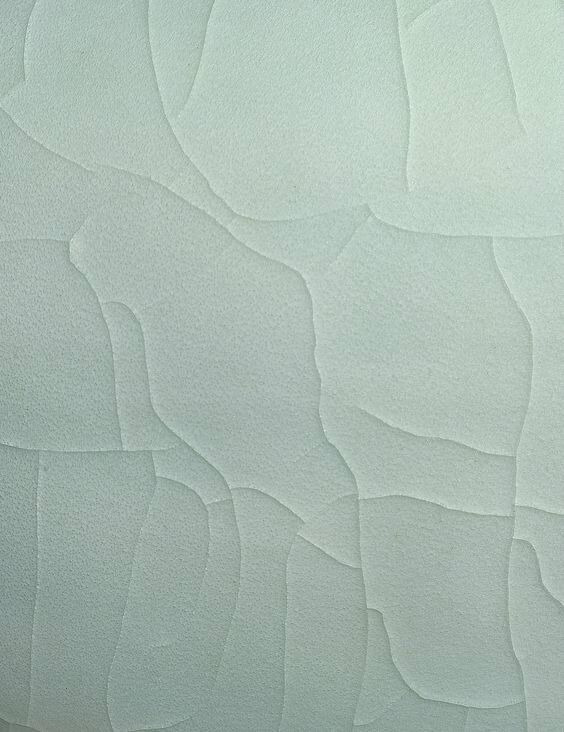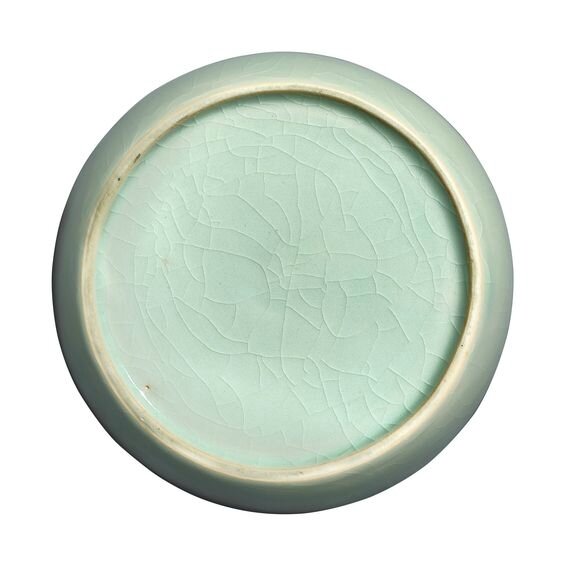 Lot 105. An Exceptionally Rare 'Wintergreen' Glazed Jar and Cover, Ming Dynasty, Yongle Period (1402-1425). Height 4 3/4 in., 12 cm. Estimate $1,5000,000-2,000,000. Photo: Sotheby's.
finely potted, the elegant jar of compressed globular form, with a broad flat base and tapered sides extending to the softly rounded shoulders and rising to a short straight neck, veiled in an exquisitely rich and silky 'wintergreen' glaze thinning at the mouth rim and pooling around the shoulders in a sea-green tone, suffused with a fine network of craquelure resembling silver threads across the surface, the low flat cover similarly glazed (2).
Provenance: Important Asian Private Collection.
Sotheby's Hong Kong, 8th October 2009, lot 1624.
A SOLITARY GEM IN JADEITE GREEN
Regina Krahl
It will be hard to find a porcelain vessel more pleasing in shape or more ravishing in color than this small covered jar from the imperial Yongle workshops of Jingdezhen in Jiangxi province. The smooth, bulging vessel with its softly rounded cover, enveloped in a luminous, glassy, blue-green tinted glaze, has a gem-like quality as encountered only in the Yongle period (1403-1424). With its superbly designed form, its outstanding material and its perfect execution, it is a masterpiece from a golden era of China's porcelain production. No other 'jadeite green' jar of this shape, complete with its cover, appears to be recorded; altogether only six pieces including this jar, dressed in this dazzling glaze, appear to be extant; and only two comparable jars have retained their covers, both from the Qing court collection and today preserved in the Palace Museums in Beijing and Taipei.
The reign of the Yongle Emperor, whose rule commenced in Nanjing and ended in Beijing, was marked by extraordinary innovation in technology, imagination in design, and rigorous pursuit of quality. Specially designated imperial workshops created not only porcelain, but also lacquerware, cloisonné, textiles, Buddhist gilt-bronzes and other works of art, all of unparalleled excellence, thus initiating an unprecedented flowering of China's arts and crafts. The imperial porcelain workshops at Jingdezhen in Jiangxi province increased quantity as well as quality of their production with awesome rapidity, as the excavations of the kilns' waste heaps have documented. As new glaze colors and firing techniques, new shapes and designs were tried out, the potters' technical leap forward was so immense, that thereafter no real innovation took place for centuries, until the introduction of foreign technology from the West in the eighteenth century supplied new impulses once more.
While many porcelains of the Yongle period were created specifically for diplomatic missions, to be distributed as imperial gifts to foreign potentates, and are characterized by larger sizes and a bolder aesthetic approach, more delicate and sophisticated wares such as this jar, were produced at the same time to cater to the needs of the imperial family and the court at large in the new palace buildings in Beijing. The present jar, which was probably designed to hold chess pieces, may have been destined for the Emperor's private quarters towards the back of the Forbidden City. Such pieces were made with the greatest care, in very small numbers.
Many different glaze colors were experimented with at the imperial kilns during this period, and even closely related, yet clearly distinguishable shades could be created with daunting precision. No less than three types of pale greenish glazes, for example, appear to have been developed and employed side by side in the Yongle reign, all of which look rather different in real life, but less so in illustrations. In the West all three are thus generally referred to as 'wintergreen'. In China, however, they are clearly differentiated by different terms.
The sparkling bluish-green glaze of the present jar – arguably the most desirable and the most prestigious green hue – is in China called cuiqing. Cui means 'kingfisher' and is used to denote any kind of blue green reminiscent of the bird's plumage, for example, that of a kind of green bamboo, or that of jadeite. What in China is generally called 'wintergreen' (dongqing), but also 'Eastern green' (dongqing written with a different dong character), is a more typical celadon color, more yellowish and less glassy, probably intended to imitate Longquan celadon, which is known from Yongle stem bowls. Finally, a paler, more watery, bluish-tinged glaze is seen on some deep conical bowls with incised lotus scrolls, which have been attributed to various fifteenth-century periods and in China are now generally dated to the Yongle reign. That glaze is called qingbai('bluish- or greenish-white'), thus again relating it to a ware of the past.
'Jadeite green', or cuiqing, porcelains are among the rarest monochrome pieces successfully created at that time. Only five other pieces glazed in this color appear to be recorded: The pair to this jar, of the same shape, but lacking its cover, is in the collection of the Palace Museum, Beijing, published on the Museum's website (http://www.dpm.org.cn/collection/ceramic/227414.html).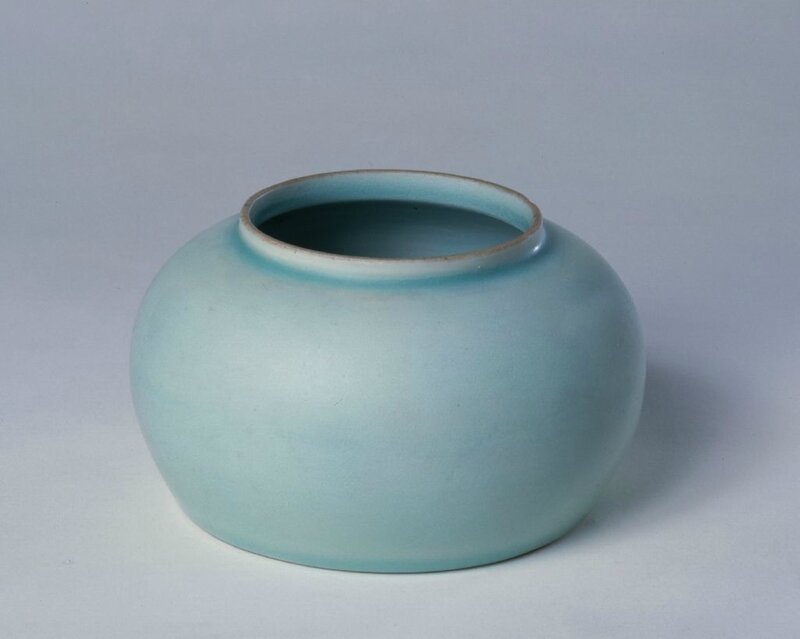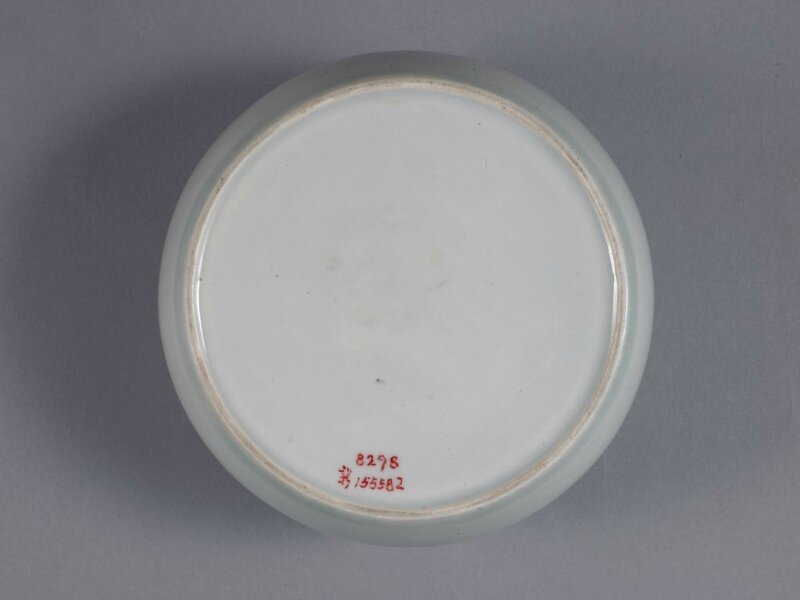 Green glaze jar, Ming dynasty, Yongle period, high 8.5cm, caliber 8.8cm, foot diameter 12.3cm, collection of the Palace Museum, Beijing
Two closely related jars with this kind of glaze are preserved from the Qing court collection, both of very similar form, with a similar cover, but with three small lugs attached around the shoulder: one now in the Palace Museum, Beijing, (fig. 1), is illustrated in Mingdai Hongwu Yongle yuyao ciqi/Imperial Porcelains from the Reigns of Hongwu and Yongle in the Ming Dynasty, Beijing, 2015, pl. 122; and again in The Complete Collection of Treasures of the Palace Museum: Monochrome Porcelain, Hong Kong, 1999, pl. 123; the other, now in the National Palace Museum, Taiwan, (fig. 2) was included in the Museum's exhibition Shi yu xin: Mingdai Yongle huangdi de ciqi/Pleasingly Pure and Lustrous: Porcelains from the Yongle Reign (1403-1424) of the Ming Dynasty, Taipei, 2017, catalogue, pp. 82-3. Two other jars of this latter shape have survived without a cover: one, retaining the three lugs, is now in the Museum of Fine Arts, Boston, (fig. 3) illustrated in Wu Tung, Earth Transformed: Chinese Ceramics in the Museum of Fine Arts, Boston, Boston, 1998, pp. 112-3 and on the dust jacket; the other, with the lugs ground down, has been sold at Christie's New York, 16th/17th September 2010, lot 1357.
fig.1. A covered jar with lug handles, Ming dynasty, Yongle period. Qing court collection, Palace Museum, Beijing © Palace Museum, Beijing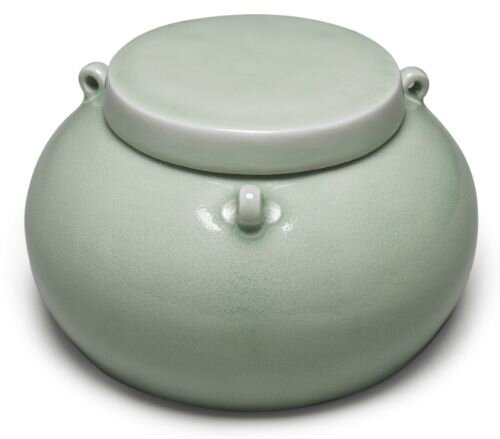 fig.2. A covered jar with lug handles, Ming dynasty, Yongle period. Collection of the National Palace Museum, Taipei.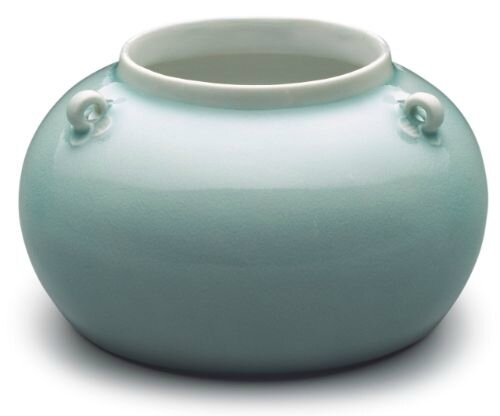 fig.3. A jadeite-green glazed jar with lug handles, Ming dynasty, Yongle period, Museum of Fine Arts, Boston. Photograph © 2018 Museum of Fine Arts, Boston.
After the Yongle period this subtle coloration, which requires impeccably prepared materials and utmost control of the firing, was abandoned and never properly revived, even though a large range of exquisite bluish-green glaze tones were created again three centuries later, in the Yongzheng reign (1723-1735), quite possibly modeled on pieces such as this jar, which undoubtedly would have caught the Yongzheng Emperor's eye.
The celadon glaze (dongqing) is known from five contemporary Yongle stem bowls: two in the Palace Museum, Beijing, illustrated in Mingdai Hongwu Yongle yuyao ciqi, op.cit., pl. 141 and The Complete Collection of Treasures, op.cit., pl. 124; and in Geng Baochang, ed., Gugong Bowuguan cang gu taoci ciliao xuancui [Selection of ancient ceramic material from the Palace Museum], Beijing, 2005, vol. 1, pl. 88; one in the Tibet Museum, illustrated in Xizang Bowuguan cang Ming Qing ciqi jingpin/Ming and Qing Dynasties Ceramics Preserved in Tibet Museum, Beijing, 2004, pl. 26; and two sold in our rooms, one with anhua dragons around the interior and a four-character Yongle mark incised in the center, sold in Hong Kong, 24th November 1981, lot 133, and again in these rooms, 22nd March 2001, lot 90; the other unmarked, sold in our London rooms, 7th April 1981, lot 252, and in our Hong Kong rooms, 11th May 1983, lot 105. For a pale bluish-green (qingbai) glazed piece in the Palace Museum, Beijing, see the bowl from the Qing court collection illustrated in The Complete Collection of Treasures, op.cit., pl. 125, there also attributed to the Yongle period.
The endearing shape of this jar is also extremely rare, but is similarly seen on monochrome 'sweet-white' jars with incised decoration, now all lacking their covers; one such piece, preserved in the Shanghai Museum, is published in Lu Minghua, Shanghai Bowuguan zangpin yanjiu daxi/Studies of the Shanghai Museum Collections: A Series of Monographs. Mingdai guanyao ciqi [Ming imperial porcelain], Shanghai, 2007, pl. 4-12 (fig. 4); another was sold in these rooms, 4th June 1985, lot 1, from the J.M. Hu Family Collection; and a third jar of this form in the National Palace Museum, Taiwan, was included in the exhibition Mingdai chunian ciqi tezhan mulu/Catalogue of a Special Exhibition of Early Ming Period Porcelain, Taipei, 1982, cat. no. 55, illustrated with a non-matching cover. Like the 'jadeite green' jars, these white jars with incised design were also made in two similar versions, with and without lugs; for the latter see an example illustrated in Bo Gyllensvärd, Chinese Ceramics in the Carl Kempe Collection, Stockholm, 1964, pl. 664.
fig.4. A tianbai-glazed jar, Ming dynasty, Yongle period. Shanghai Museum, Shanghai © Shanghai Museum
The shape may be following earlier jars for chess pieces, although the proportions and form of the cover were much adjusted in the Yongle period; for a Song (960-1279) example from the Yaozhou kilns compare the jar from the Le Cong Tang collection, sold in our Hong Kong rooms, 3rd October 2017, lot 2, illustrated together with a companion piece from the kiln site, fig. 1; for a Yuan (1279-1368) blue-and-white example see the exhibition catalogue Jingdezhen chutu Yuan Ming guanyao ciqi [Yuan and Ming imperial porcelain excavated at Jingdezhen], Yan-Huang Art Museum, Beijing, 1999, cat. no. 1.
Sotheby's. MING: Luminous Dawn of Empire, New York, 20 mars 2018, 10:00 AM