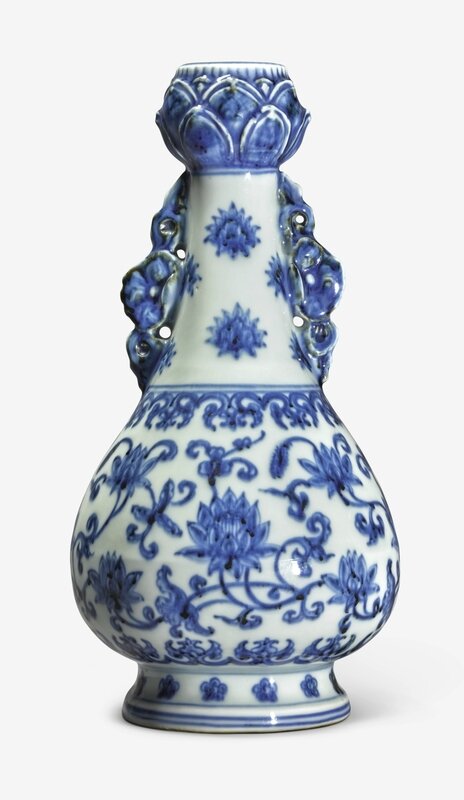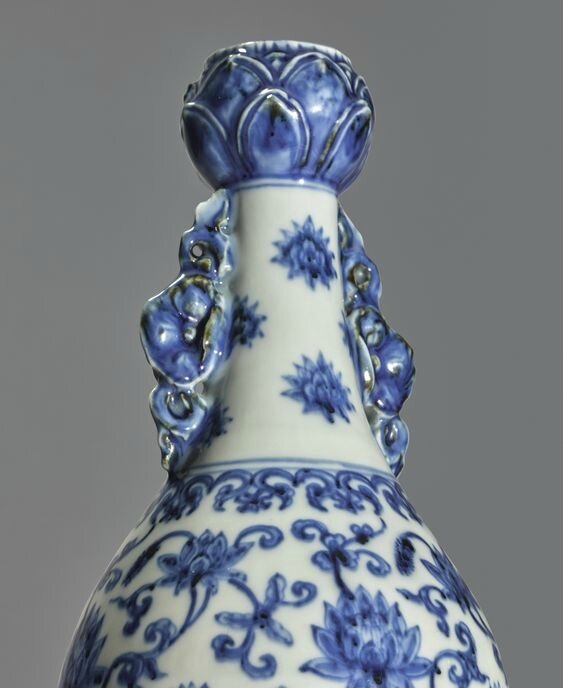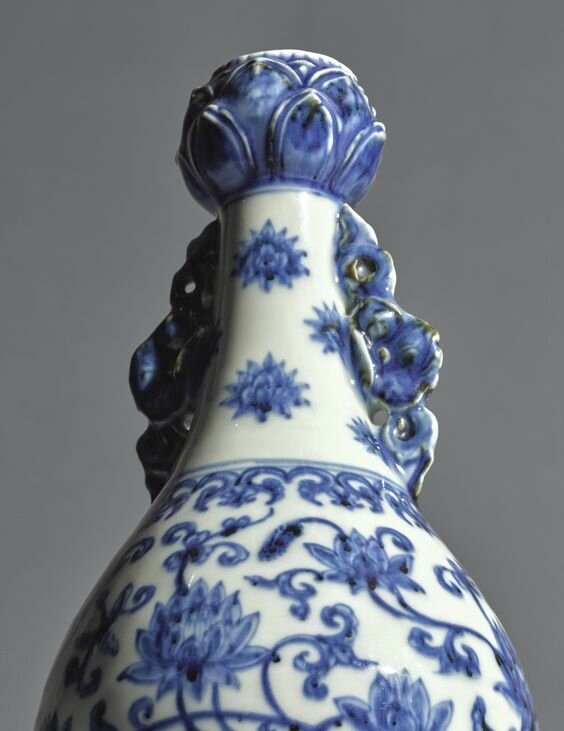 Lot 113. An extremely rare blue and white 'Lotus bud' vase, Ming dynasty, Chenghua period (1465-1487); Height 10 1/2 in., 26.6 cm. Estimate $1,000,000 — 1,500,000. Photo: Sotheby's.
the well potted pear-shaped body rising to a lotus bud-shaped mouth with raised overlapping layers of petals, the body freely painted in tones of soft cobalt-blue with lotus blooms on meandering leafy stems interspersed with occasional ears of millet, between bands of upright and pendent trefoils, the neck decorated with lotus florets and flanked by a pair of finely pierced and molded scrolling lotus leaf handles, the splayed foot encircled with florets, covered overall in a thick unctuous glaze.
Provenance: Acquired in New Jersey, circa 1979.
Offered at Sotheby's Hong Kong, 24th-25th November 1981, lot 71.
Literature: Geng Baochang, Ming Qing ciqi jianding [Appraisal of Ming and Qing porcelain], Hong Kong, 1993, col. pl. 33, and in a line drawing, p. 89, fig. 151 (3).
Note: The short Chenghua reign (1465-1487) is renowned as one of the most remarkable periods of China's porcelain production, where the body and glaze materials used at the Jingdezhen imperial kilns reached the highest quality and where the potters were particularly inventive in their designs. The present bottle – an extremely rare upright vessel from the imperial manufacture of this period – is most unusually fashioned and masterfully executed. Geng Baochang, who illustrates it in colour in his standard work on Ming and Qing porcelain, calls this bottle a model example (dianxing) of Chenghua blue-and-white (Ming Qing ciqi jianding [Appraisal of Ming and Qing porcelain], Hong Kong, 1993, p. 88).
The most distinctive feature of Chenghua porcelain is its superb, smooth, silky texture, which derives from an extremely pure material and is a delight not only for the eyes, but also to the touch, and unequalled by porcelains from any other period. The tactility of its surface is one of the features immediately noticeable when holding this piece.
The Chenghua period is not noted for its production of vases or any upright shapes and no such pieces, except for small covered jars and one small unmarked wine ewer, are included, for example, in the exhibition catalogue of Chenghua porcelains from the imperial collection now in Taiwan, Chenghua ciqi tezhan tulu/Catalogue of the Special Exhibition of Ch'eng-hua Porcelain Ware, 1465-1487, National Palace Museum, Taipei, 2003.
A neck fragment of a companion vase was, however, excavated from the Ming imperial kiln sites at Jingdezhen and is illustrated in Gugong Bowuyuan yu Jingdezhen taoci kaogu xin chengguo. Ming Qing yuyao ciqi/The New Achievements on Ceramic Archaeology of the Palace Museum and Jingdezhen. The Porcelain of Imperial Kiln in Ming and Qing Dynasties, Beijing, 2016, no. 091 and p. 387, fig. 4 (fig. 1), where it is stated, p. 386, that blue-and-white bottles in general are very rare in the Chenghua reign and that no heirloom or excavated bottle of this form is recorded. The imperial kiln sites also brought to light, however, fragments of one other unmarked blue-and-white flask, shaped like a holy water bottle, ibid., pl. 092.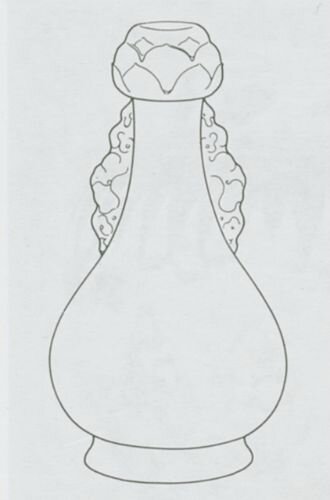 fig. 1. Line drawing of the present lot illustrated in Geng Baochang, Ming Qing ciqi jianding [Appraisal of Ming and Qing porcelain], Hong Kong, 1993, p. 89, fig. 151 (3).
The neck fragment of the present shape was discovered to the north of Longzhu Pavillion of Zhushan in Jingdezhen in a stratum containing both marked and unmarked Chenghua items, located immediately above a layer pertaining to the 'Interregnum' period (1436-1464), and below another Chenghua stratum, thus obviously belonging to the early Chenghua period. Porcelain production at the imperial kilns in the Chenghua reign is generally divided into an early and a late phase (with some scholars proclaiming a less distinctly defined third phase between the two), whereby the early phase is believed to have begun a few years into the reign, around 1468. This early production for the court, which in many ways still follows styles from the Xuande period (1426-1435), is particularly noted for its freely decorated blue-and-white wares, while the later period is most famous for its polychrome doucai style and its more formal blue-and-white 'palace' bowls.
While the painted decoration on the present bottle still echoes styles known from the Xuande reign, its shape, with its unexpected, playful, sculptural elements of a lotus-bud mouth and lotus-leaf handles with pierced openings, is totally innovative and does not seem to be following any precedents. Although the basic shape may have been inspired by bronze bottles, hu, from the late Bronze Age, the floral mouth and handles have nothing to do with such models; compare, for example, a silver-inlaid bronze hu of the Western Han period (206 BC – AD 9) from the Sze Yuan Tang collection, with garlic-shaped mouth with pendent leaf motifs and applied animal masks to hold ring handles, illustrated in Li Xueqin, The Glorious Traditions of Chinese Bronzes, Singapore, 2000, cat. no. 89.
The painted designs of the present bottle are drawn from Xuande blue-and-white, which reinforces the assumption that the piece was made in the early phase of Chenghua production. The lotus scroll that combines stylized foliate scrollwork with naturalistic lotus leaves and water weeds, can be found similarly on Xuande porcelains, see, for example, Jingdezhen chutu Ming Xuande guanyao ciqi/Xuande Imperial Porcelain excavated at Jingdezhen, Chang Foundation, Taipei, 1998, cat. no. 64; or Geng Baochang, ed., Gugong Bowuyuan cang Ming chu qinghua ci [Early Ming blue-and-white porcelain in the Palace Museum], Beijing, 2002, vol. 1, pl. 97, vol. 2, pl. 108. The formal curled scrollwork border around the shoulder reminds us of scroll borders on Xuande bowls, see Mingdai Xuande guanyao jinghua tezhan tulu/Catalogue of the Special Exhibition of Selected Hsüan-te Imperial Porcelains of the Ming Dynasty, National Palace Museum, Taipei, 1998, cat. nos 50 or 117; individual prunus blossoms around the foot can also be seen on Xuande bowls, ibid., nos 44 and 49; and the lotus blooms on the neck may be derived from detached lotus sprays, as they appear, for example, interspersed between Tibetan characters, on a Xuande jar in the Palace Museum, Beijing, see Geng, 2002, op.cit., vol. 2, pl. 109.
Only one companion bottle appears to be recorded, a bottle sold in our Hong Kong rooms 9th October 2007, lot 1557. Another bottle of this design, but somewhat differently executed and probably slightly later in date, was offered in our Hong Kong rooms, 8th October 2006, lot 1162; and in the Jiajing reign (1522-1566) this design was again copied by the imperial kilns: a similar bottle of Jiajing mark and period was included in the exhibition Enlightening Elegance. Imperial Porcelain of the Mid to Late Ming. The Huaihaitang Collection, the Art Museum, Institute of Chinese Studies, The Chinese University of Hong Kong, Hong Kong, 2012-13, cat. no. 36 (fig. 2).
fig. 2. A blue and white 'lotus bud' vase, Jiajing mark and period (1522-1566), Huaihaitang Collection.
When the Yongzheng Emperor (r. 1723-1735) tried to revive the production of the imperial kilns at Jingdezhen, he selected Song (960-1279) and Ming (1368-1644) porcelains either to be closely copied or to serve as inspiration for new, contemporary designs. In his reign a very tall blue-and-white bottle was produced, which looks like a compromise between the present vase and an archaic bronze hu, the former providing the lotus-bud mouth, the latter the animal-mask handles; see Sotheby's Hong Kong – Twenty Years, 1973-1993, Hong Kong, 1993, no. 171.
Sotheby's. MING: Luminous Dawn of Empire, New York, 20 mars 2018, 10:00 AM