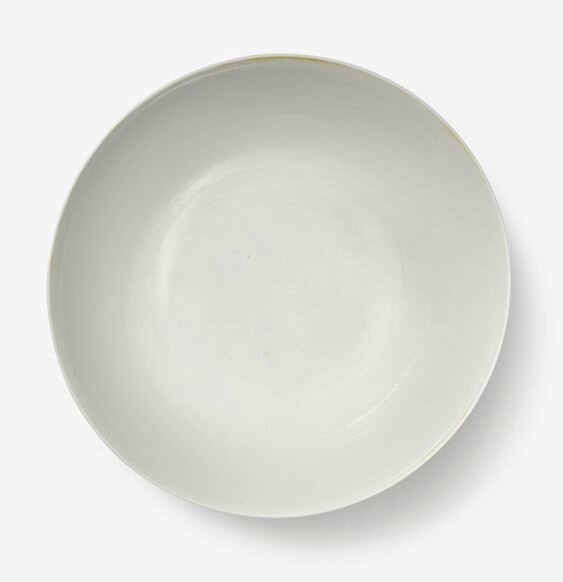 Lot 114. A white glazed bowl, Hongzhi mark and period (1488-1505). Diameter 7 3/4 in, 19.8 cm. Estimate $100,000 — 150,000. Photo: Sotheby's.
finely potted with deep rounded sides rising from a short slightly tapered foot to a gently flared rim, applied overall with a rich transparent glaze, the base with a six-character mark in underglaze blue within a double circle .
Provenance: Collection of Mrs. Alfred Clark (1890-1976), (no. 475).
Sotheby's London, 24th March 1953, lot 38.
Collection of Raymond F.A. Riesco (1877-1964).
Sotheby's London, 11th December 1984, lot 279.
Collection of Adele and Stanley Hertzman (1906-2001).
Exhibited: The Arts of the Ming Dynasty, Oriental Ceramic Society, London, 1957, cat. no. 93.
Note: Sophisticated in its simplicity, this bowl conveys calm and beauty, which seems entirely in accordance with the spirit of the Hongzhi Emperor's personal taste (r. 1488-1505). As a ruler, Hongzhi was known to be virtuous and conscientious. In his personal life he was reported to be unattached to luxury. Born in 1470 and made crown prince in 1475, he was a brilliant child, excelling in Confucian studies. When his father, the Chenghua Emperor, died, Hongzhi ascended the throne in 1488 and modeled his government on Confucian principles. By curtailing expenses, eunuch power and court intrigue, he managed to bring about a new era of transparency, peace and prosperity.
Hongzhi porcelain continued the legacy of Chenghua ware with its beautiful shapes, refined bodies and subtle glazes. The present bowl is an exemplary product of its time, displaying all these hallmarks. The lack of decoration moreover highlights the exceptional quality of the piece, its very fine potting, its perfectly proportioned shape with appeasing, deep rounded sides and its lustrous creamy glaze, which shows an attractive bluish tint on the base, inside the foot rim, due to reduction firing in the enclosed space where the bowl touched the firing support.
White bowls of this type may have been used for offering. Their color, white, played a special role in Confucian rituals. Ming monochromes were associated with sacrificial rites since the beginning of the Ming dynasty when porcelain replaced bronze as primary material for ritual vessels. Blue, red, yellow and white were the four colors assigned to the four temples in Beijing where the emperor conducted the offerings to the gods. White would have been connected with the Altar of the Moon. White-glazed vessels were also present in imperial ceremonies of ancestor worship within the Palace.
Relatively few Hongzhi pieces were made during the short reign period since porcelain production at the imperial kilns at Jingdezhen in Jiangxi province was deliberately kept low in light of Hongzhi's economic policy.
A similar, slightly smaller, bowl in the Palace Museum, Beijing is illustrated in Gugong Bowuyuan zang wenwu zhenpin quanji/The Complete Collection of Treasures of the Palace Musuem, Hong Kong, 1999, pl. 104. Another bowl in the Shanghai Museum is published in Lu Minghua, Shanghai Bowuguan zangpin yanjiu daxi/Studies of the Shanghai Museum Collections: A Series of Monographs. Mingdai guanyao ciqi [Ming imperial porcelain], Shanghai, 2007, pl. 3-73.
Equally exported, particularly to the Middle East, similar bowls are found in palace collections. Three bowls of this size from the Ardabil Shrine collection are now in the Iran Bastan Museum in Teheran. All three are inscribed with a dedicatory inscription of Shah Abbas, King of Persia from 1571 to 1629, one of these bowls is illustrated in John Alexander Pope, Chinese Porcelains from the Ardabil Shrine, Washington D.C., 1956, pl. 114, no. 29.714. Pope, ibid, p. 146, mentions a similar bowl in the Chehel Sotun in Isfahan, with the Shah Abbas mark, additionally engraved with the words Shah Jahangir Shah Abbas, which suggests that this bowl was a gift from Shah Jahangir (the Mughal emperor of India from 1605 to 1627) to Shah Akbar, it may be one of the two bowls illustrated in T. Misugi, Chinese Porcelain Collections in the Near East. Topkapi and Ardebil, vol. 3, Hong Kong, 1981, no. A 250. A similar bowl of slightly smaller size in Istanbul, is illustrated in Regina Krahl, Chinese Ceramics in the Topkapi Saray Museum, Istanbul, vol. II, London, 1986, pl.771.
Compare two similar pieces, one formerly in the collection of Sir John Addis and now in the British Museum, is illustrated in Jessica Harrison-Hall, Ming Ceramics in the British Museum, London, 2001, p.177, no. 7:1; the other in the collection of the City Art Museum of Saint Louis, Missouri was included in the exhibition Ming Porcelains, A Retrospective, China House Gallery, China Institute in America, New York, 1971, cat. no. 27 and is illustrated in Daisy Lion-Goldschmidt, Ming Porcelain, New York 1978, pl.94.
The present bowl has a remarkable provenance, having been in the hands of three important collectors. Mr. and Mrs. Alfred Clark started collecting in the 1920s. They were enthusiastic supporters of the Oriental Ceramic Society in London and lent their pieces generously to several of its exhibitions. They also donated to the British Museum. Parts of their collection were sold after Alfred Clark's death at Sotheby's in 1953, 1971 and 1975. Raymond F.A. Riesco began his Ming and Qing porcelain collection in 1918, later broadening his scope to the Neolithic period. He was also a keen member of the Oriental Ceramic Society in London and he lent the present bowl to the exhibition Arts of the Ming Dynasty in 1957. He donated as well to the British Museum, but most of his collection went to the Corporation of Croydon where he lived and is now in the Riesco Gallery at Croydon Clock House. The last notable collectors to have owned the present bowl were Stanley and Adele Herzman who collected Chinese ceramics from the Eastern Han through to the Qing dynasty. Stanley Herzman traveled to China many times, on business, bringing back interesting pieces. He donated to the Metropolitan Museum of Art in New York and to the Art Institute of Chicago.
Sotheby's. MING: Luminous Dawn of Empire, New York, 20 mars 2018, 10:00 AM