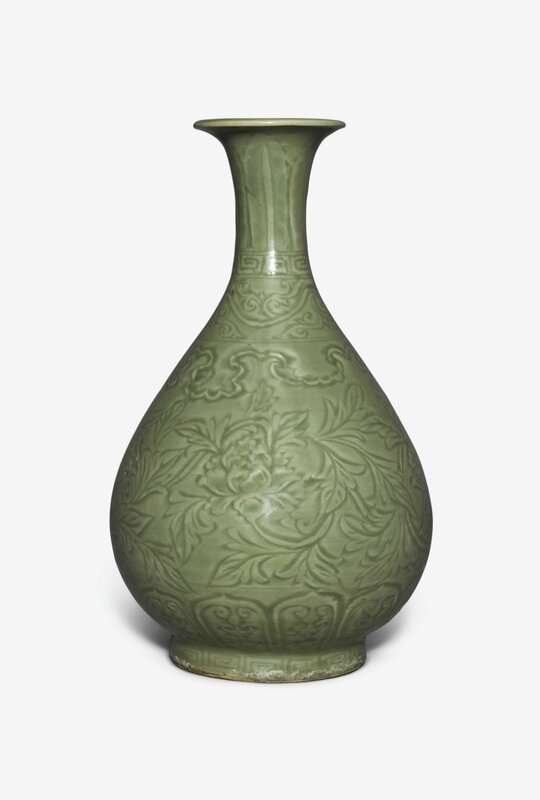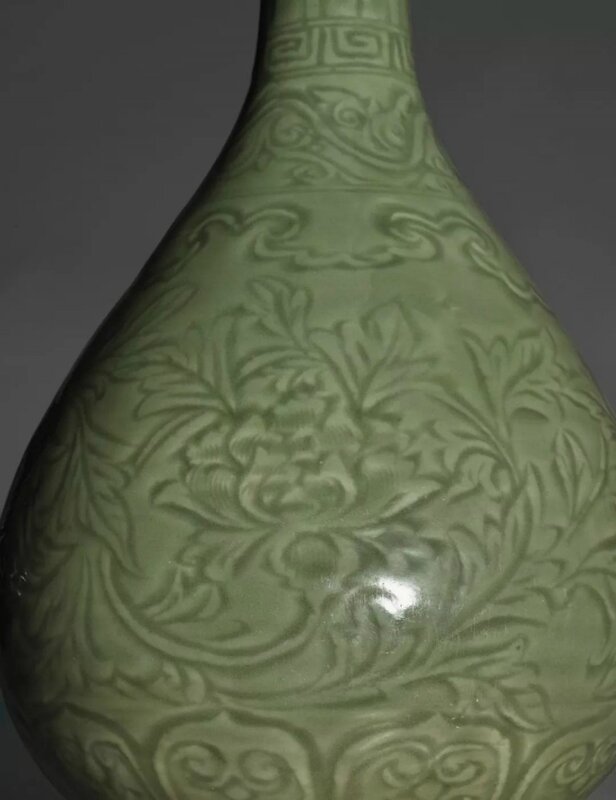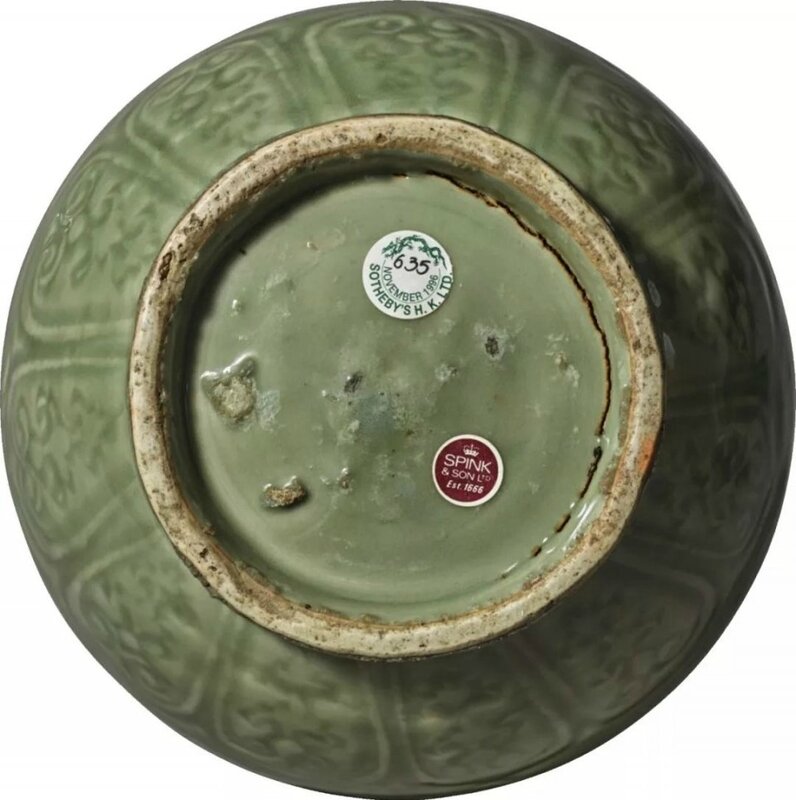 Lot 102. A finely carved 'Longquan' celadon-glazed 'Peony' bottle vase, yuhuchunping, Ming dynasty, Hongwu period. Height 13 in., 32.9 cm. Estimate 150,000 — 250,000 USD. Unsold. Photo: Sotheby's
the elegantly proportioned pear-shaped body rising from a slightly splayed foot, sweeping up to a tall waisted neck rising to an everted lipped rim, the body boldly carved with four large peony sprays borne on an undulated stem also issuing furled leaves, above a broad lotus lappet band enclosing ruyi heads, with a keyfret border at the foot, the shoulder encircled by a pendent ruyi head border, with classic scroll, keyfret and upright lappet bands at the neck, applied overall with an even olive-green glaze save for the foot ring.
Provenance: Sotheby's Hong Kong, 29th November 1976, lot 452.
Collection of Mr. and Mrs. Jack Chia.
Sotheby's Hong Kong, 5th November 1996, lot 635.
Literature: Julian Thompson, 'Chinese Celadons', Arts of Asia, November-December 1993, p. 70, fig. 14.
Note: his yuhuchunping, with its full blooms loosely carved among lushly rendered foliage, its jade-like glaze and its well-proportioned, elegant shape, exemplifies the Longquan potter's skill and creativity.
Longquan and Jingdezhen sourced from the same type of 'pattern books', assembled during the Hongwu Emperor's reign (1364-1398) when manufacture standards were regularized at both imperial kilns. Yet, some complicated designs may have been primarily designed for Jingdezhen, as they were more suitable for the painting brush than for the carver's tool. The Longquan carver copied the designs to the best of his ability, showing hereby his creativity. The present design, known from blue-and-white and underglaze-red yuhuchun vases of this period, is splendidly executed, in an even more naturalistic and free rendering than seen on its Jingdezhen counterparts. Here, the artist cleverly used his technique to its utmost advantage by fashioning the deeply incised pattern in such a way as to reveal a shading of darker green where the glaze pooled, giving the piece a most attractive appeal.
This type of pear-shaped vase was in demand both for the domestic and foreign markets, and continued to be popular into the fifteenth century, with a variety of carved designs. A similar example, fired for the court, in the National Palace Museum, Taipei, is illustrated in Tsai Mei-fen, ed., Bilü – Mingdai Longquan yao Qingci/Green – Longquan Celadon of the Ming Dynasty, Taipei, 2009, no. 52, where the vase is compared to an excavated piece from the tomb of Zhang Yun, dated to the 28th year of the Hongwu reign (1395) and to a vase, of simpler design, unearthed from the tomb of Chen Wen of Pingjiang in Anhui, dated to the 12th year of the Yongle reign (1414), together with similar examples, no. 51 and nos 53-58.
Excavations in Longquan, Zhejiang province have yielded similar vases. Compare two yuhuchunping reconstructed from shards illustrated in Ye Yingting and Hua Yunong, Faxian: Da Ming Chuzhou Longquan guanyao [Discovery: Imperial ware of the great Ming dynasty from Longquan in Chuzhou], Hangzhou, 2005, p.102 and p. 110, as well as several fragments of similar pieces with various incised designs, pp. 112-116.
The Ottoman court in Istanbul expressed their appreciation for a vase of this type, with scrolling lotus, by embellishing it with jewels and silver-gilt mounts, see Regina Krahl, Chinese Ceramics in the Topkapi Saray Museum, Istanbul, London, 1986, vol. I, no. 223. A similar vase also with a lotus design from the Alexander and Barlow collections was included in the exhibition The Barlow Collection of Chinese Ceramics, Bronzes and Jades, University of Sussex, Brighton, 1997, cat. no. 43.
Blue-and-white and underglaze-red counterparts of these yuhuchunping are in the Palace Museum, Beijing, illustrated in Qinghua Youlihong/Blue and White Porcelain with Underglaze Red (I), Gugong Bowuyuan Cang Wenwu Zhenpin Quanji/The Complete Collections of Treasures of the Palace Museum, Hong Kong, 2000, pl. 14 and pls. 196 and 197 with peonies and pl. 198 with lotus. Another blue-and-white example in the Philadelphia Museum of Art is illustrated in Margaret Medley, Yuan Porcelain and Stoneware, London, pl. 51b.
Similar vases in blue-and-white and underglaze-red are also known with a pattern of large hatched ruyi panels, rather than the band of smaller trefoils around the neck. One such example in underglaze-red, from the T.T. Tsui collection was sold in our London rooms, 7th June, 1994, lot 331.