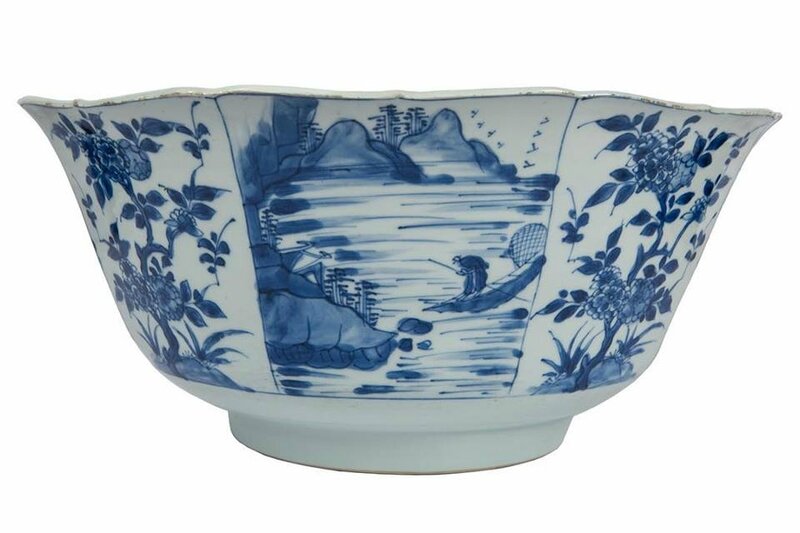 Large blue and white bowl with landscape and floral decoration, circa 1700, Kangxi period (1662-1722). H 6.5 in. (17 cm). Asking price: €10.267,52. © Bardith Ltd
Kangxi Chinese blue and white porcelain punch bowl, circa 1700. Painted in underglaze cobalt blue, the bowl is decorated to the exterior with alternating panels showing flowering fruit trees and scenes of mountains, along the seashore. The bowl has a traditional shape molded in the form of a lotus-flower, with a high side wall and a wavy slightly everted rim creating a deep form supported on a short foot. The bowl is divided into eight panels. The interior features a zigzag border, and at the bottom of the well is painted with a single sprig of peony within a traditional double circle of underglaze blue. In Chinese lore mountains were the source of the water that pours through the landscape nourishing the earth and filling the seas.
A Pair of Exceptional Chinese Blue and White Vases Painted in Brilliant Sapphire Blue, Qianlong period (1736-1795). H: 23.5 in. (60 cm). Asking price: €15.318,48 per set. © Bardith Ltd
A pair of exceptional Chinese Qianlong Blue and White vases hand-painted in brilliant sapphire blue with beautiful flowers set in panels. The vases are covered with a fine, thin, white, slightly bluish glaze typical of fine Qianlong porcelains. The covers are painted with similar decoration and topped with lotus bud finials. The shoulders are decorated with lambrequins. Above each base is a double band of panels with blue ground decorated with loosely strewn white flowers.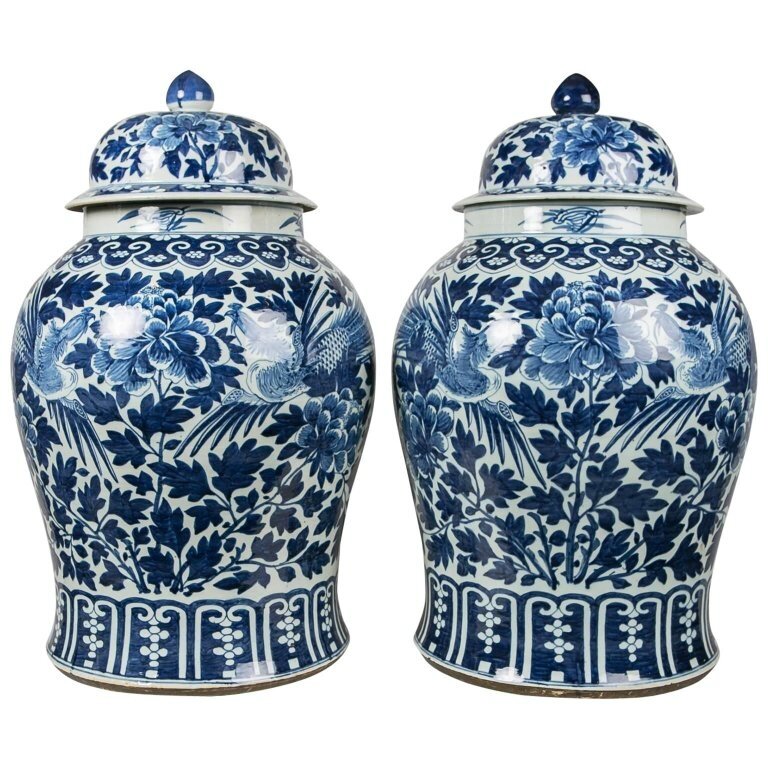 A Monumental Pair of Blue and White Jars Decorated with Phoenix and Peonies, Jiaqing period (1796-1820). H. 24.5 in (62 cm). Asking price: price $23,000. © Bardith Ltd
This monumental pair of Chinese Blue and White porcelain ginger jars are decorated in deep cobalt blue and feature phoenix among peonies. In Chinese tradition the phoenix only appear to announce good fortune and swift success. When depicted with peonies the phoenix also represent prosperity and righteousness. The shoulders of each jar are decorated with traditional ruyi head, a symbol of royal power. The covers are similarly decorated but with butterflies among the peonies. The butterflies symbolize yearning and love as they are thought to be in love with the flowers. Each vase is topped by a lotus bud finial. The jars were made in the reign of Jiaqing 1796-1820. They measure 24.5 inches tall x 15 inches at the widest point and 12.75 inches diameter at the base.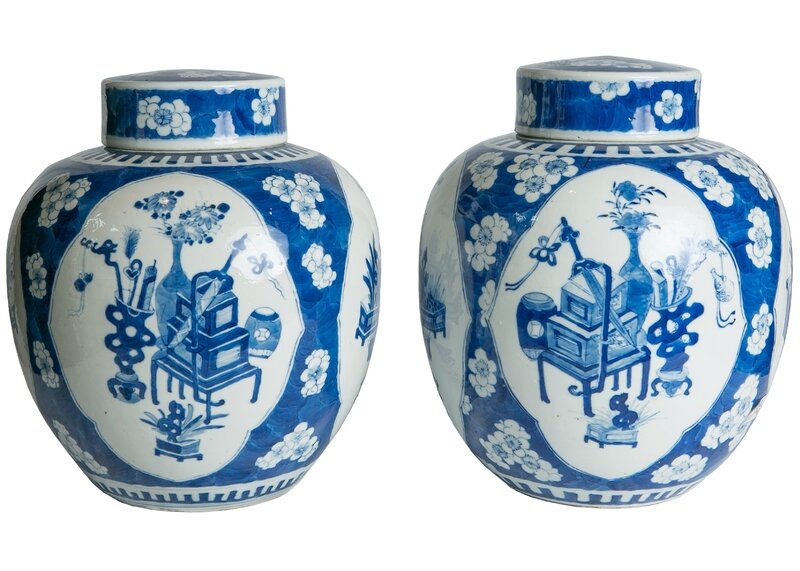 A Pair of Blue and White Chinese Ginger Jars, Qing Dynasty, Mid 19th Century. H: 11.5 in., D: 9 in. Asking price: €3.974,52 per set. © Bardith Ltd
Pair of Chinese blue and white porcelain lidded ginger jars painted with decoration dating to mid-19th century Qing dynasty. The design features panels containing the traditional objects of good luck, and white hawthorne blossoms reserved on a deep blue ground. The base of each jar with four character Chinese marks in underglaze blue.
Bardith Ltd. Exhibiting at 139 East 79th Street, New York 10075. T (212) 737 3775 - M (917) 864 5125 - admin@bardith.com - bardith.com - Instagram: @bardithnyc