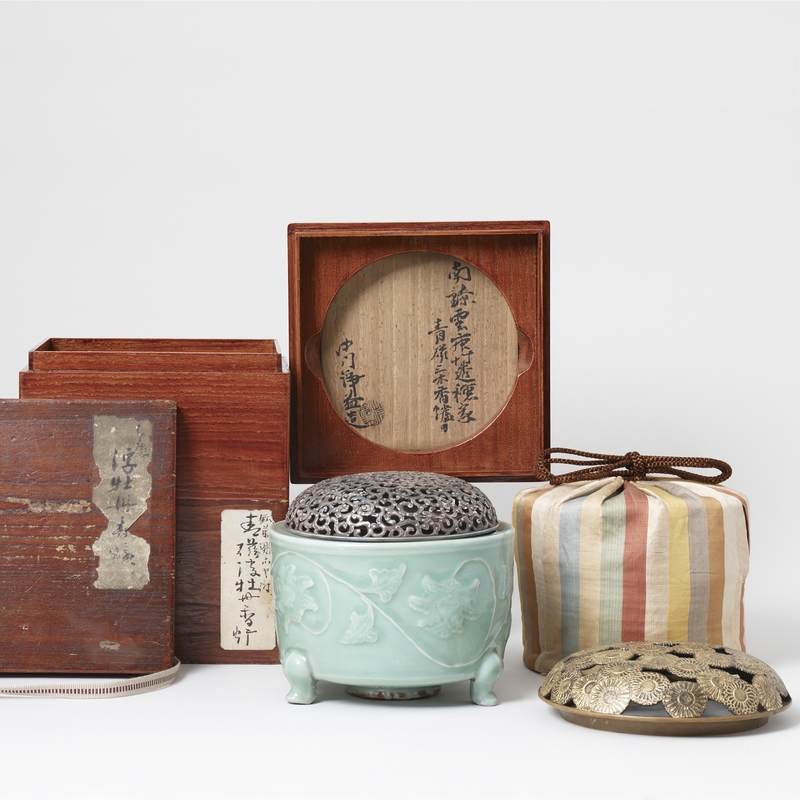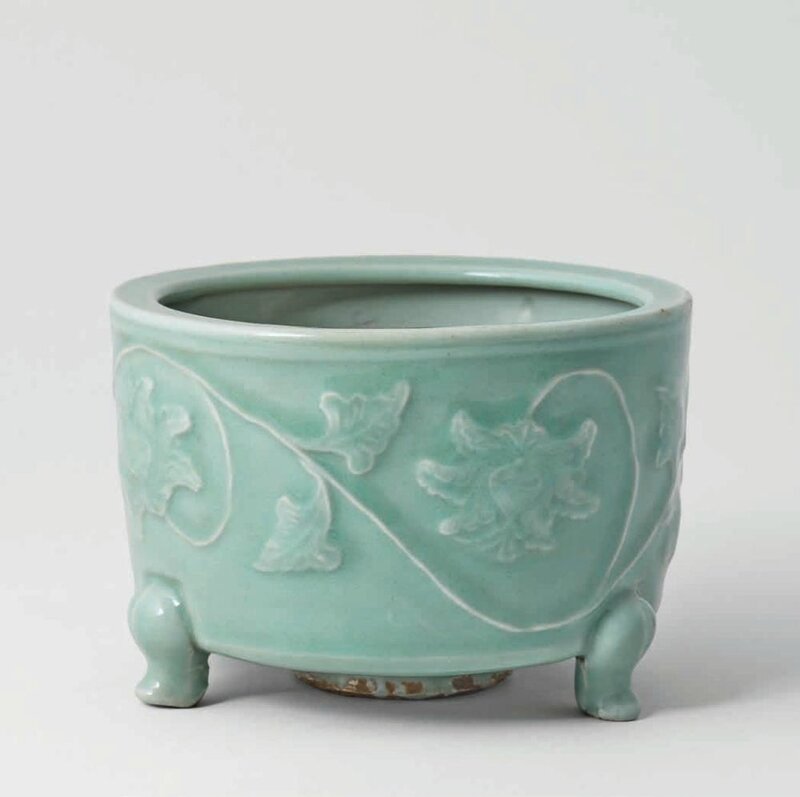 Longquan Celadon Censer with Applied Peonies, Southern Song - Yuan Dynasty, 13th - 14th century A.D. Height: 10.2 cm. Diameter: 15.25 cm © Zetterquist Galleries
A porcelaineous stoneware censer with steep-sided straight walls and a fattened mouth-rim. The piece sits on three stylized claw feet and has a foot-rim on the bottom, unglazed and revealing a pale stoneware body fred to a russet color. The exterior is decorated with applique scrolling peonies in high relief around the entire body. The piece is covered with an ideal Longquan celadon glaze of blue-green color and lustrous surface. From an old Japanese collection, it comes in a ftted, two-tier box with two separate custom ftted metal covers. One cover is from the Edo period, constructed of interconnected chrysanthemum bronze medallions and gilded on the top. The second cover is made of silver, and has a reticulated cloud pattern. This cover, made in the Meiji-Taisho Period, comes with the lid from its original inscribed box lid, signed by NAKAGAWA, Joeki (1880 – 1940).
A similar piece from the Nezu Museum appears in "Heavenly Blue: Southern Song Ceramics" Nezu Museum, 2010, pl. 50. Another is featured in Regina Krahl's, Meiyintang Collection, 1994 Vol. 1 pl. 568, where she explains: "Examples were found in a Song Stratum at Quanzhou in Fujian. Also a Yuan tomb at Quanzhou is illustrated in Longquan Qingci 1966, pl. 23." A third is illustrated in "Sailing from the Great Yuan Dynasty: Relics Excavated from the Sinan Shipwreck" Zhejiang Provincial Museum Wenwu 2012. Pl. 87. Also see "Sekai Touji Zenshu", Shogakukan 1981, Vol. 13, pl. 151 and"Celadons from Longquan Kilns" 1998 pl. 183, for other examples.
Celadon Bowl with Carved Lotus Petals, Southern Song - Yuan Dynasty, 13th - 14th century. Height: 6.7 cm Diameter: 13.7 cm. © Zetterquist Galleries
A steep sided bowl with a plain interior and fnely carved, elongated lotus petals on the outside walls. The entire piece is covered with a broadly crackled, luminous minty blue-green glaze of "Kinuta" color quality. The very bottom of the tall foot-rim is left unglazed, revealing a white porcelaineous stoneware body fred in places to a russet color.
The proportional diference between the narrow foot diameter to the relatively larger mouth diameter, together with the steepness of its walls, suggests a late Southern Song or early Yuan Dynasty dating for this piece. See similar examples in "Charm of Celadon" CIP Beijing, 2012. pg. 234. and "The Splendors of Chinese Celadons" ROC Society of Art Collectors, 1991. pl. 116.
From a private Japanese collection.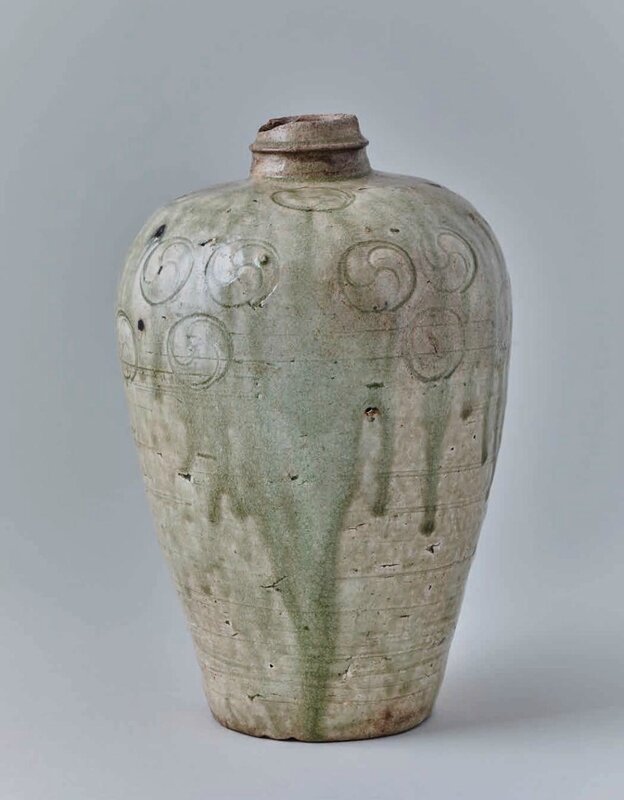 Koseto "Heishi" Bottle Vase, Kamakura Period, 14th century A.D., Japan. Height: 27 cm. © Zetterquist Galleries
A stoneware "Mei-ping" form bottle vase sitting on a fattened foot. The body tapers up to high shoulders, with a ridged neck, and is reminiscent of the form of Qingbai Mei-ping bottles produced in Southern China at the time. The top third of the vessel is decorated with impressed circular medallions containing a three-part "Tomo-e" style motif. The entire piece is covered with an intentional pale green ash glaze, which pools to a deeper green in a large splash on the front. (Large chip to one side of the neck.)
This important example of Ko-Seto ware represents the earliest of controlled and intentionally applied green glazes in Japan. Previous to this, green glaze appears as accidental blasts of ash during the fring process, as with Sueki pieces. In the present example, it is reasonable to assume that the pale green glaze around the entire body is applied, while the thicker green glaze splash and rivulets were from a fring event.
An example of similar form and identical decoration, but with brown glaze, can be seen in Sekai Touji Zenshu, Shogakukan 1977. Volume 3 "Japanese Medieval Period", pl. 8.
Zetterquist Galleries, 3 East 66th Street, Suite 1B, New York 10065. T (212) 751 0650 - inquiries@zetterquist.com - zetterquist.com - Instagram: @zetterquistgalleries