Lot 608. A teadust-glazed bottle vase, Qianlong incised six-character seal mark and of the period (1736-1795); 8 ½ in.(21.6 cm.) high. Estimate USD 40,000 - USD 60,000. © Christie's Images Limited 2018.

The vase has a compressed body raised on a slightly waisted foot with molded edge and is covered overall with a very finely mottled, matte glaze of olive-green color that also covers the base around the mark which is covered with a russet-brown glaze, and the foot is covered with a dark brown wash.
Provenance: Christie's Paris, 14 June 2006, lot 364.
The Studio of the Clear Garden.
COLOURS OF ANTIQUITY
TEA-DUST GLAZES
Rosemary Scott, Senior International Academic Consultant
While the greatly-admired Chinese monochrome glaze known as 'tea-dust' chayemo (茶葉末) is usually associated with imposing porcelain vessels of the 18th century, such as the handsome vases in the current sale, early versions of tea-dust glazes appeared on Chinese ceramics produced at kilns in north China - primarily in Shaanxi and Henan - as early as the 7th century. Tea-dust glazes on stoneware vessels can be seen amongst the Tang dynasty brown-glazed wares made at the Yaozhou (耀州)) kilns at Huangbaozhen (黃堡鎮) in Tongchuanxian (銅川縣) Shaanxi province, northwest of Xi'an. For example, vessels with tea-dust glazes, excavated from the Tang stratum at the Yaozhou kilns by the Shaanxi Provincial Institute of Archaeology (陝西省考古研究所)), are published in Tangdai Huangpu yao zhi, (唐代黄堡窑址)) Beijing, 1992, vol. 1, p. 182, fig. 95 and p. 515, fig. 284 (C); vol. 2, pl. 74, nos. 1-2. A Tang dynasty 8th- 9th century ewer, from the collection of Myron and Pauline Falk, with tea-dust glaze similar to that of the excavated vessels, was sold by Christie's New York in September 2001, lot 24. Another Tang dynasty ewer with tea-dust glaze from the collection of the Palace Museum Beijing, is illustrated in Porcelain of the Jin and Tang Dynasties, The Complete Collection of Treasures of the Palace Museum, vol. 31, Hong Kong, 1996, p. 139, no. 126.
The glaze composition on these Yaozhou tea-dust ceramics and their black-glazed contemporaries appears to be based primarily on local loess – a clastic aeolian sediment huangtu (黃土), literally 'yellow earth'. In Joseph Needham Science & Civilisation in China, vol. V:12, p. 587, table 110, R. Kerr and N. Wood provide a compositional comparison between Tang dynasty tea-dust glaze, Tang black glaze, and northern Chinese loess, based on analyses by Huang Ruifei, et al., in 'Study of the Tang Dynasty Tea Dust Porcelain', Science and Technology of Ancient Ceramics 2: Proceedings of the International Symposium (ISAC '92), Shanghai, 1992, p. 1, table 1; Yang Zhongtang, et al., in 'Research on the Molecular Network Structure in Glass Phases of Glaze from Ancient Yaozhou Celadon Ware and Blackware', Science and Technology of Ancient Ceramics 3: Proceedings of the International Symposium (ISAC '95), Shanghai, 1995, p. 56, table 3; and Ian Freestone, et al., in 'Shang Dynasty Casting Moulds from North China', Cross-craft and Cross-cultural Interactions in Ceramics and Civilization, vol. IV, Westerville, OH, 1989, p. 261, table 1. Kerr and Wood's table shows just how close the composition of the tea-dust glaze is to the composition of the original loess – with only minimal differences in silica and alumina and a small difference in calcium oxide. The use of this loess resulted in glazes which were much closer to the a more stable lime-alkali balance than had been achieved by previous dark brown/black glazed wares.
While potters in southern China, namely those at the Deqing kilns of Zhejiang, had found it difficult to achieve good black/dark brown glazes, the northern Chinese potters benefitted from an abundance of this extremely useful natural material – loess – which contained about 4-6% of iron oxides, relatively high soda levels (0.7%), and a convenient mixture of fluxes such as calcia, magnesia and potassia (see N. Wood, Chinese Glazes–Their Origins, Chemistry and Recreation, London/Philadelphia, 1999, p. 140, table 53). These northern potters did not, therefore, have to adjust previously unsuccessful glazes, but could create successful new ones using loess. This allowed them to create China's first dense, glossy black/dark brown glazes, and the variant known as tea-dust. The tea-dust effect is caused by the crystallization of iron and lime silicates in the glaze. As they go through the firing, most of the northern black glazes reach a tea-dust phase as the glaze melts. If the glaze is deliberately under-fired, the process can be halted and the tea-dust effect can be preserved. With the deliberate under-firing fine crystals develop during cooling, especially members of the pyroxene family such as augite and fasserite, giving a range of greenish, yellowish and brownish micro-crystalline effects. In these early tea-dust glazes, the fact that the loess contained a significant amount of magnesium oxide was an advantage in developing these micro-crystals, since magnesium oxide is an important constituent of pyroxene minerals (see N. Wood, Chinese Glazes – Their Origins, Chemistry and Recreation, op. cit., p. 140). As is so often the case, it is likely that the tea-dust glaze was discovered by accident when a black glaze was unintentionally under-fired. The effect was found to be pleasing and thereafter created intentionally.
Although versions of the tea-dust glaze can be seen as early as the Tang dynasty, and some examples are found amongst Song dynasty brown and black glazed wares, it was not until the Qing dynasty that the glaze seems to have been fully developed as a high-firing glaze on porcelain vessels at Jingdezhen. Qing tea-dust glazes appear to have flecks of different colours, but analysis of the glaze has shown that iron oxide is the only colourant used in a high-temperature base glaze. Qing dynasty tea-dust glazes are characterised by a colour range from dark golden brown to yellowish-khaki, each with micro-crystalline effects creating delicate variations on the surface. At the imperial kilns, tea-dust glazes were often simply designated 'workshop glaze' changguan (廠官釉), and this name has been adopted in some in modern catalogues (as in Monochrome Porcelain, The Complete Collection of Treasures of the Palace Museum, vol. 37, Hong Kong, 1999, pp. 264-75, nos. 242-52). However, depending on the precise colour, this type of glaze goes by many evocative names such a tea-dust, snake-skin green shepi lu (蛇皮綠) , eel-yellow shanyu huang (黃斑點), old monk's habit, and speckled yellow huang bandian (???).
Fine tea-dust glazed porcelains are particularly associated with the Qing dynasty reigns of the Yongzheng and Qianlong Emperors, and it is of interest to note that, like those vessels with robin's-egg glaze, tea-dust porcelains usually bear seal-script marks in both the Yongzheng and Qianlong reigns. The fine tea-dust glazes of the 18th century are linked to the most famous and revered of all the supervisors of the imperial kilns, Tang Ying (唐英 1682-1756). Tang Ying was a native of Shenyang in Liaoning province, but at the age of 16 he entered the Imperial Household Department in Beijing, rising to the rank of vice director by the time he was sent to Jingdezhen as resident assistant in 1728. Apart from a short period in Guangzhou, Tang Ying had close control of the imperial kilns until 1756. He became a skilled ceramicist in his own right as well as having considerable managerial ability and leaving for posterity one of the most informative documents on imperial porcelain production – his AD 1735 'Commemorative Stele on Ceramic Production' Taocheng jishi bei ji (陶成紀事碑記). This document provides information on some 57 types of porcelain ware, including 40 monochrome glazes. Amongst these there is reference to 'copy workshop glaze' fang changguan (仿廠官釉), i.e. tea-dust, and a listing of three variants: eel-skin yellow, snake-skin green, and speckled yellow. It is interesting that these are called fang or copies, since it suggests that the kilns were specifically copying an ancient glaze, most probably a Tang or Song dynasty original tea-dust glaze from north China. There are numerous records of items from the imperial collection in Beijing being sent hundreds of miles to Jingdezhen to be copied by the potters at the imperial kilns. Tang Ying was particularly famous for his success in copying ancient wares.
Undoubtedly one of the reasons for the appreciation of the tea-dust glaze by the court in the 18th century was the antique appearance it gave to the vessels on which it was applied. Tea-dust glazes were often used to imitate the patina of archaic bronze, sometimes with overglaze enamel colours applied to the surface to suggest verdigris, or even gold to suggest inlay. The Qing tea-dust glaze would seem to be quite closely related, in terms of composition, to another glaze with antique appearance – iron-rust red. The iron-rust glaze is a lime-alkali glaze containing an over-saturation of iron oxide (in the region of 16%), which is fired in a reducing atmosphere up to about 1280°C, then the firing continued in a strongly oxidising atmosphere, and finally the glaze cooled slowly, with the result that the glaze itself has a rust tone and fine iron oxide crystals appear on the surface. It seems probable that the tea-dust glaze was of similar composition to the iron-rust type, but was fired to a lower temperature of perhaps 1240°C, and then was also cooled slowly to facilitate the growth of micro-crystals. The antique appearance of tea-dust glazed porcelains explains why some of the finest examples, including those in the current collection, are made in shapes inspired by ancient bronzes.
Note: A Qianlong-marked teadust-glazed vase of this shape with a similar foot, but of larger size (13 in. high), was sold at Christie's New York, 17-18 September 2015, lot 2161.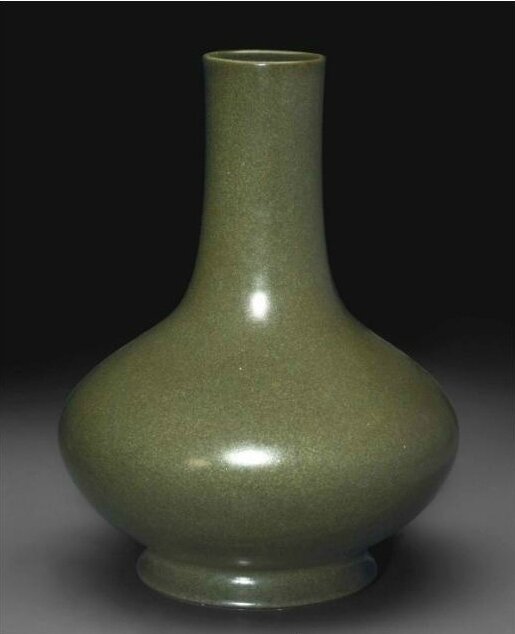 A teadust-glazed pear-shaped vase, Qianlong inscribed six-character seal mark and of the period (1736-1795); 13 in. (33 cm.) high. Sold for 68,750 USD at Christie's New York, 17-18 September 2015, lot 2161. © Christie's Images Limited 2015
Cf. my post: A teadust-glazed pear-shaped vase, Qianlong inscribed six-character seal mark and of the period (1736-1795)
Christie's. The Studio of the Clear Garden: Chinese Ceramics and Works of Art, 22 March 2018, New York