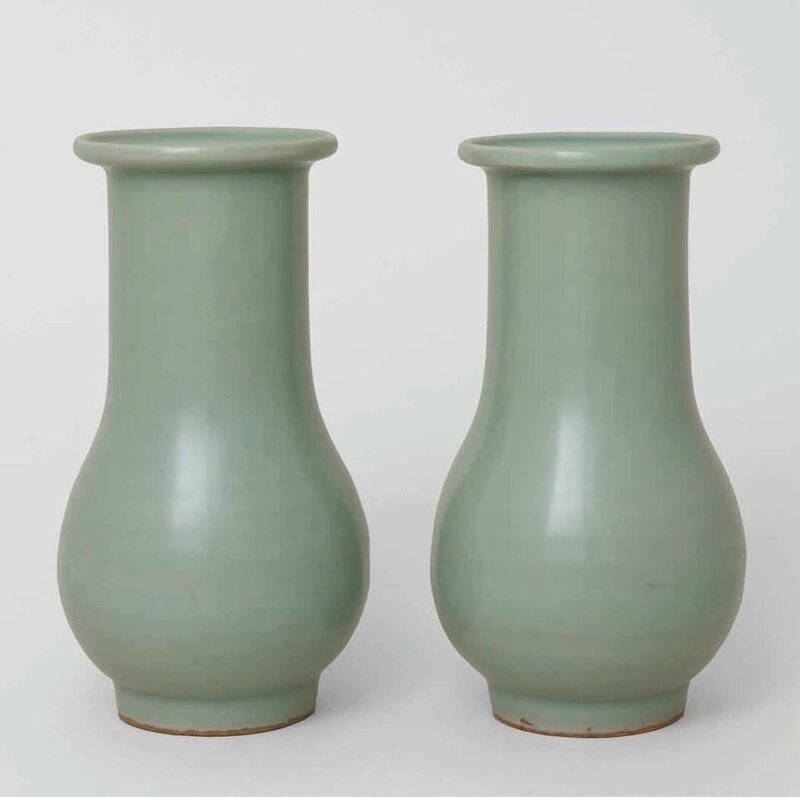 Pair of Longquan Celadon Vases, Southern Song Dynasty, 1127-1279 A.D., China. Heights: 15.9cm and 16.1cm. © Zetterquist Galleries.
A well-matched pair of baluster form vases with bulbous bodies sitting on a straight foot. The long necks end in a slightly cupped mouth-rim. Each piece is entirely covered in a beautifully realized pale green celadon glaze. The bottoms of the feet are unglazed revealing gray stoneware clay bodies fired to a russet color. (One foot with minute chip.) As these were likely produced as altar vases, they were intended to be seen as a pair, and we are fortunate to find two such well-matched pieces together.
A similar "kinuta" colored piece of same form and size published in Chinese Ceramics in the Karl Kempe Collection, Stockholm, 1964. pl. 96. Another similar example is published in Regina Krahl's 1994 catalog of the Meiyintang Collection, Volume 1, no. 555.
Provenance: Robert Hatfield Ellsworth, New York
ex. A.W. Bahr Collection from early 20th c.-early 1980's
Zetterquist Galleries, 3 East 66th Street, Suite 1B, New York 10065. T (212) 751 0650 - inquiries@zetterquist.com - zetterquist.com - Instagram: @zetterquistgalleries