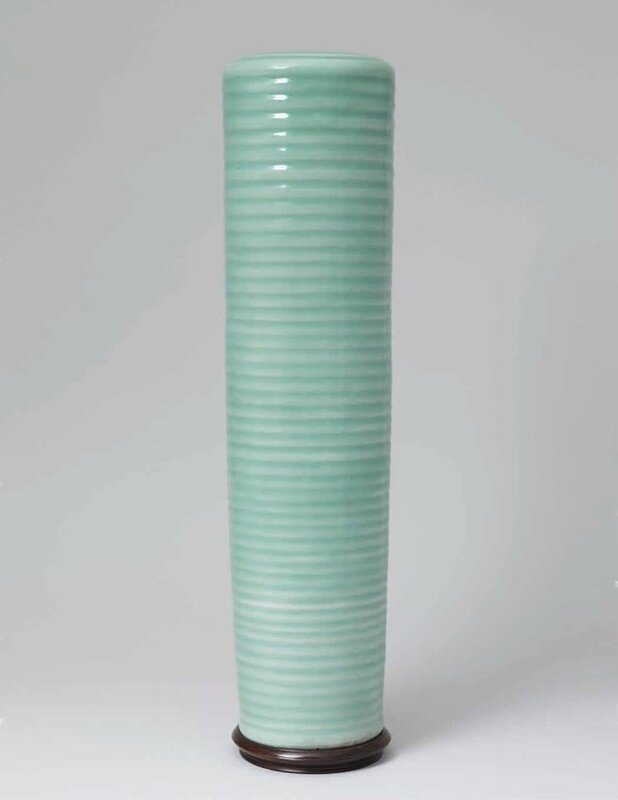 Large Nabeshima-Type Cylindrical Vase, Late Edo Period, Japan. Height: 47.6cm © Zetterquist Galleries.
A tall porcelain vase of cylindrical form with carved horizontal ribs overall. The entire piece is covered with a sweet blue-green celadon glaze. In an old fitted and inscribed Japanese wooden box.
The ribbed decoration of this piece appears on ceramic censers in the the neo-archaistic designs of Longquan celadons in the Southern Song Dynasty (1127-1279 A.D., China). It is likely that these celadons, imported into Japan in the 13th-14th centuries, influenced the Edo artists who produced our present example. There are Hizen ware examples of truncated cylindrical censers with similarly ribbed decoration. (See "Ko-Imari: A Catalog of Hizen Porcelain from the Nezu Museum's Yamamoto Collection", Tokyo 2017, pl. 349.)
The present example's modern-looking elongated cylindrical form, juxtaposed against its reinterpreted archaistic decoration tells a rich oldmeets-new, Pan-Asian story.
Zetterquist Galleries, 3 East 66th Street, Suite 1B, New York 10065. T (212) 751 0650 - inquiries@zetterquist.com - zetterquist.com - Instagram: @zetterquistgalleries