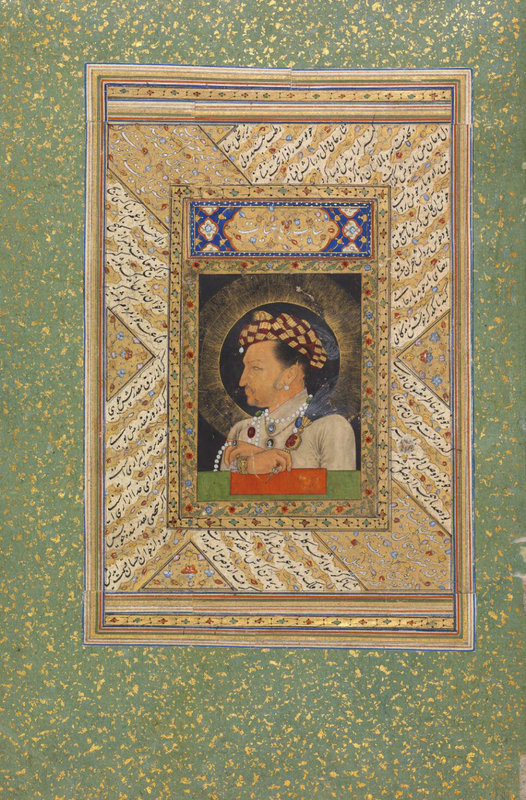 Jharoka Portrait of the Mughal Emperor Jahangir, India, 17th century. Opaque watercolor and gold on paper. 6.4 by 4.5 cm, 2 1/2 by 1 3/4 in. © Oliver Forge & Brendan Lynch Ltd
Jharokha or window portraits emerged in Mughal portraiture in the early seventeenth century as visual counterparts to the daily display of the emperors' person at the window of the palace to the people below. The idea was extended by Jahangir (1569-1627) to the throne platforms in the Divan-i 'Amm at agra and Lahore, so that he would appear set above and apart from the assembled nobles and
ministers below. The painted jharokha portraits are always bust portraits, head and shoulders only, the format coming from european portrait coins, medals and cameos introduced into the Mughal court in akbar's reign. To make the truncated portrait acceptable in a court where naturalistic portraiture was still in its infancy, Mughal artists introduced another european idea, the bust portrait appearing above the carpeted parapet of a window. The ideas and the iconography behind the images are explored in Losty, pp. 52-64. For two contemporary jharoka portraits of Jahangir in the cleveland Museum of art, see Quintanilla, pp. 213-6, no. 4.71 & 4.72.
Jahangir in this bust portrait is facing left, his hands crossed in front of his chest, the left holding a pearl necklace, the right resting on the parapet holding the handle of a large gold ruby-set sarpech with plume of feathers. he wears his usual loose turban of gold and red stuff with a pearl pendant in front, a pearl earring and pearl necklaces, one of them of large pearls interspersed with differently coloured stones: spinels, sapphires and emeralds, while another holds a european cameo pendant. a gold nimbus radiating rays surrounds his head against a dark ground.
The portrait reflects Jahangir's appearance in the early 1620s, as he appears in the boston durbar scene by Manohar (seyller, pp. 135-52, fig. 14) with his greying moustache and wispy beard but still with the curl terminating his sideburn, and definitely earlier than daulat's jharokha image of 1627 (beach, pp. 305-20, fig. 11). an original by Manohar may be the basis of this portrait, which seems a decade or two later than its subject.
Inscriptions: The panel of nasta'liq above Jahangir reads: kitab-i ruba'iyat 'book of Quatrains'. The surrounding text in the margins is from: yusuf va Zulaykha of nur al-din 'abd al-rahman Jami. on the reverses is a page from: haft Paykar (seven beauties) section of the khamsah of nizami ganjavi (d. 1209).
Provenance: Berthe Erni-Kofler (1914-2016), Lucerne, Switzerland
References: Beach, M.C., 'Daulat' in Beach, M.C., Fischer, E., and Goswamy, B.N., Masters of Indian Painting, Zurich, 2011
Losty, J.P., 'The carpet at the Window: a european Motif in the Mughal Jharokha Portrait' in Indian Painting: Themes, History and Interpretations: Essays in Honour of B.N. Goswamy, ed. M. Sharma and P. Kaimal, Ahmedabad, 2013
Quintanilla, S. R., Mughal Paintings: Art and Stories, Cleveland, 2011
Seyller, J., 'Manohar' in Beach, M.C., Fischer, E., and Goswamy, B.N., Masters of Indian Painting, Zurich, 2011.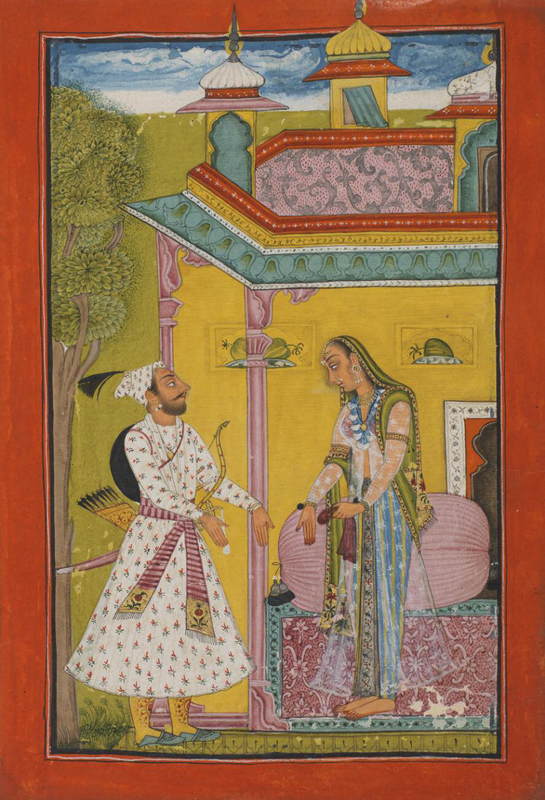 Illustration from a Ragamala series: Raga Agada, Bilaspur, India, 1690-1700. Opaque watercolour with gold on paper. Painting 7 ¼ by 4 ½ in., 18.8 by 11.9 cm. Folio 8 ½ by 6 in., 21.7 by 15.3 cm © Oliver Forge & Brendan Lynch Ltd
An exquisitely attired princess attended by a bevy of ladies reclines on a palace terrace at night as a prince arrives. Lucknow, India, circa 1780. © Oliver Forge & Brendan Lynch Ltd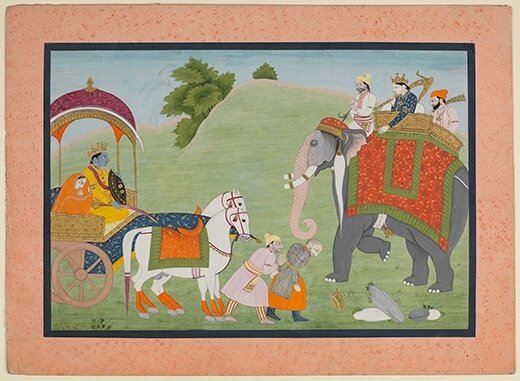 Krishna releases Rukma at Balarama's request. Kangra, India, circa 1820. © Oliver Forge & Brendan Lynch Ltd
Oliver Forge & Brendan Lynch Ltd. Exhibiting at 67 East 80th Street, Suite 2, New York 10075. T (212) 327 2479 - M +44 773 322 4531 - brendan@forgelynch.com - forgelynch.com - Twitter: @ForgeandLynch