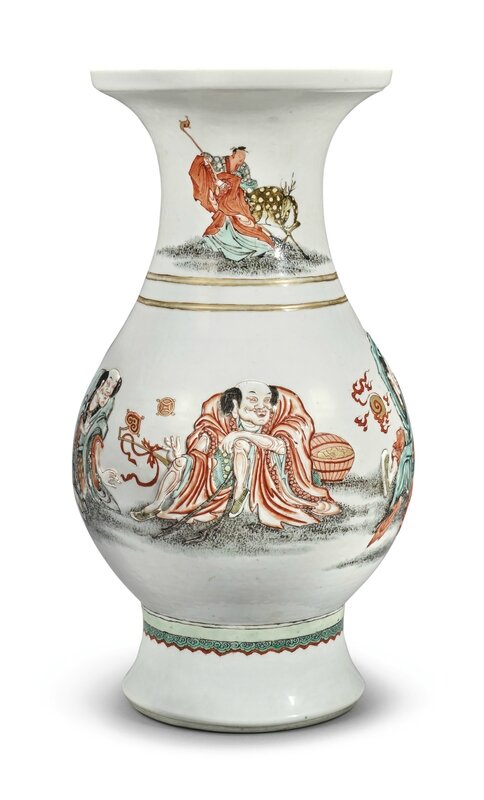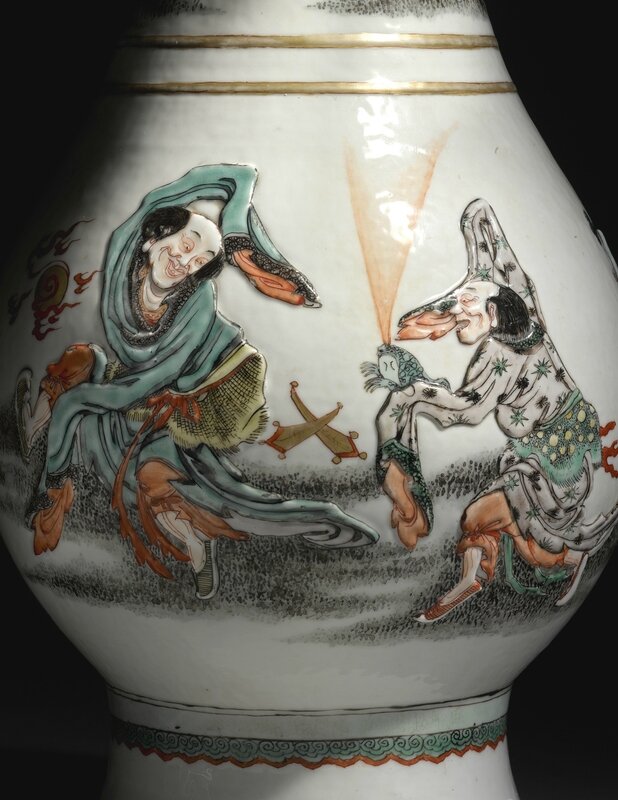 Lot 329. An extremely rare relief-decorated famille-verte vase, Qing dynasty, Kangxi period (1662-1722). Height 15 1/8 in., 38.3 cm. Estimate 80,000 — 120,000 USD. Lot sold 262,500 USD. © Sotheby's
the pear-shaped body rising from a high splayed foot to a galleried rim, finely molded and brightly enameled in relief with four lively Daoist figures, amidst a simple landscape and floating auspicious emblems, the deities similarly attired in long, flowing monk's robes, with tonsured heads and mirthful faces, the immortal Liu Hai, balancing a three-legged toad issuing its magical vapor atop one extended arm, a fellow immortal amused by the toad leaping joyfully nearby and the Hehe Erxian hunkered down observing the action, a basket of gold ingots and a long string of coins to each side, two raised gilt fillets at the shoulder above and a band of pendent ruyi heads below, the neck painted with an immortal shepherding a deer and another standing by a cluster of rocks, coll. no. 203.
The Jie Rui Tang Collection.
Provenance: Christie's London, 10th November 1983, lot 770.
D & M Freedman, London, 2000.
Exhibited: Embracing Classic Chinese Culture: Kangxi Porcelain from the Jie Rui Tang Collection, Sotheby's, New York, 2014, cat. no. 24.
Literature: Jeffrey P. Stamen and Cynthia Volk with Yibin Ni, A Culture Revealed: Kangxi-era Chinese Porcelain from the Jie Rui Tang Collection, Bruges, 2017, pl. 80.
Note: This resplendent vase celebrates the beneficent Daoist mythology dedicated to prosperity. Every aspect of the vessel, the opulent curving form, the meticulous relief work, the fastidiously-applied jewel-like enameling, the composition and iconography combine to create a rousing invocation for good luck, success and wealth. The precise identity of the figures remains elusive but the depiction of four similar figures bearing the attributes associated with Liu Hai and the HeHe Erxian is known. A pair of famille-verte rouleau vases with similar subject matter was sold in our London rooms, 6th November 2013, lot 415, and another in these rooms, 12th October 1984, lot 314.
The present vase, produced late in the Kangxi period, is distinguished by the superlative quality of its molded and carved decoration. The shallow figural forms were applied and then deftly finished with precise incisions defining strands of hair, arched eyebrows, crisp drapery and even finger joints.The use of black outlines and varying tones of iron red serve to define musculature and rhythmic folds of billowing robes while pale washes of iron-red and green give life to smiling cheeks and soft earth respectively. The literal sculptural quality of the main composition is retained in the bold rendering of the rustic figures above with energetic, confident lines complimenting the meaning and method of immortals below.
Relief decorated vases of this quality are extraordinarily rare and it appears there are no identical examples published. A famille-verte vase of slender ovoid form decorated with figures in high relief was sold in our London rooms, 13th December lot 526 and again at Christie's London, 2nd November 1987, lot 163. Another vase of this type decorated with molded figures in high relief from the Salting Collection is in the Victoria and Albert Museum, London and illustrated in Edgar Gorer and J.F. Blacker, Chinese Porcelain and Hardstones, vol. I, London, 1911, pl. 126. A rouleau vase with figures again in high relief is illustrated in R. L. Hobson, The Catalogue of the Leonard Gow Collection of Chinese Porcelain, London, 1931, pl. IX. A cylindrical famille-verte vase with finely molded appliques of the 'Hundred Antiques' from the Qing Court Collection is illustrated in The Complete Collection of Treasures of the Palace Museum, Porcelains in Polychrome and Contrasting Colours, Hong Kong, 1999, pl. 143.
Sotheby's. KANGXI: The Jie Rui Tang Collection, New York, 20 March 2018, 11:00 AM